Deprecated
: The PSR-0 `Requests_...` class names in the Requests library are deprecated. Switch to the PSR-4 `WpOrg\Requests\...` class names at your earliest convenience. in
/home/trave398/travelcookrepeat.com/wp-includes/class-requests.php
on line
24
Looking for unique brownie ideas? You've found one with our bourbon maple brownies. This is an easy brownie recipe with interesting flavors.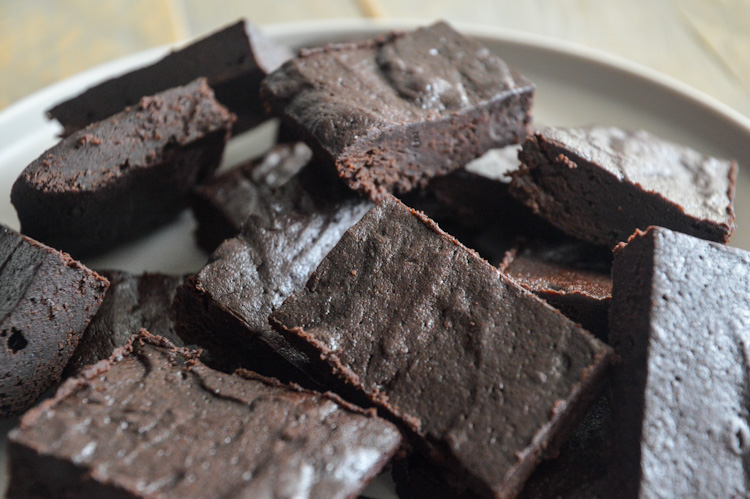 This is the thought process that went into making this easy brownie recipe.
Sarah said to herself, boy do I love cocoa brownies. They're so easy and quick but fudgy and decadent. But what could I do to make even more delicious brownies? How about making bourbon brownies? Or miso brownies? Or brownies with maple syrup? Oh wait, I know, I'll just combine those three ingredients into the best brownies recipe with cocoa powder the world has ever seen.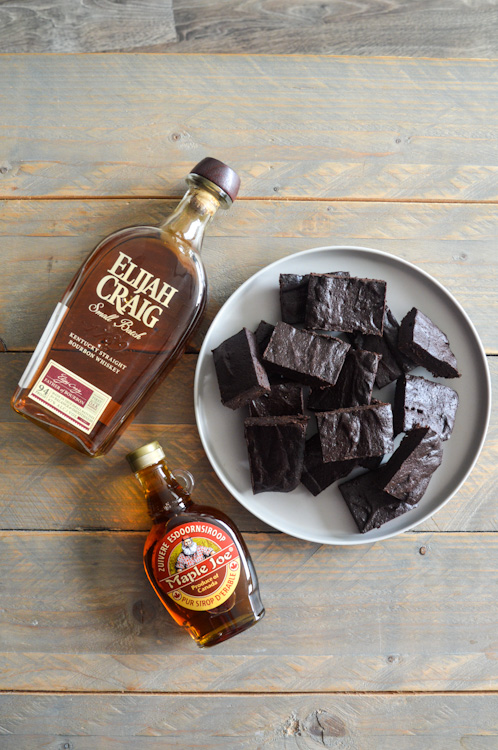 Ingredients
If you've guessed that the key ingredients in this recipe are bourbon, maple syrup, and miso paste, you'd be correct! And we'll talk about those in just a few minutes. But first, there's an even more important ingredient we must discuss: cocoa powder.
Dutch processed cocoa powder to be exact. The fact that this exists is the reason we make brownies. Because melting chocolate over double boilers is just a bit too much effort. But mixing cocoa powder with sugar? That we can do. Cocoa brownies were pretty much the only thing we baked before we were stuck inside the house for over a year.
We must admit, it took way too long (ie, years) to realize that there might be a prevalence of "Dutch processed" cocoa powder where we live in The Netherlands. But once we did, well, we've had a steady supply of brownies to keep us happy.
Bourbon is in these brownies because for a long, long time, we did not have vanilla. And yet, we wanted to make brownies. So after reading "bourbon vanilla" in enough recipes we went to the liquor cabinet and made the substitute. Is it the same? No. Does it work? Absolutely.
If you're a Travel Cook Repeat fan, you're probably not surprised to see miso paste and maple syrup in this recipe. Actually, we wouldn't be surprised if you rolled your eyes because, yes, we know, we're kind've obsessed with these two ingredients. They're great individually, but they're also the perfect pair.
In these brownies, the miso paste replaces the salt, and also adds some additional umami that only miso paste can add. The maple syrup replaces some of the sugar.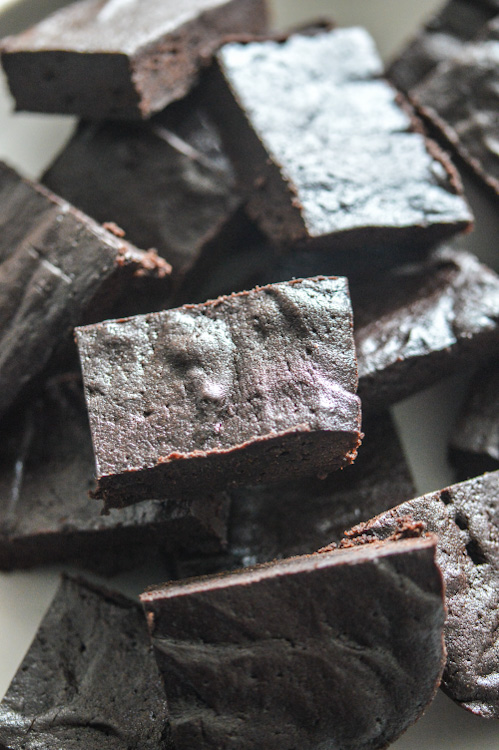 Recipe tips
We've got a few tips to help make this easy brownie recipe come together perfectly.
Melt the butter and miso paste slowly over very low heat and whisk so they fully incorporate.
Before you add the bourbon to the butter mixture, turn off the heat.
When whisking the cocoa powder into the sugar, be gentle otherwise cocoa powder may fly everywhere.
Add the wet ingredients to the cocoa powder/sugar in this order: butter mixture, eggs, maple syrup.
Crack the eggs one at a time in a small bowl to ensure there's no shell.
Whisk the eggs vigorously into the mixture.
Fold the flour in gently in thirds.
We also have tips for the baking, cutting, and freezing.
Line your baking dish with aluminum foil and grease it with cooking spray or neutral cooking oil.
If you use a glass baking dish, the brownies will take 22-25 minutes to bake. If you use a metal baking dish, they will only take 18-20 minutes.
After the brownies are done, airlift them in their foil to a cooling rack. Let them sit for ~30 minutes and then put them in the refrigerator for at least 3 hours.
When you're ready to cut the brownies, take them out of the fridge, peel the foil off them, and use a sharp knife to cut them into 16-20 pieces (depending on how large or small you want your brownies).
We eat two brownies right away and freeze the rest. To freeze, individually wrap each brownie in plastic wrap and then put them in a resealable bag. They take no more than 5 minutes to defrost if you don't mind eating them cold (we're impatient so we do not).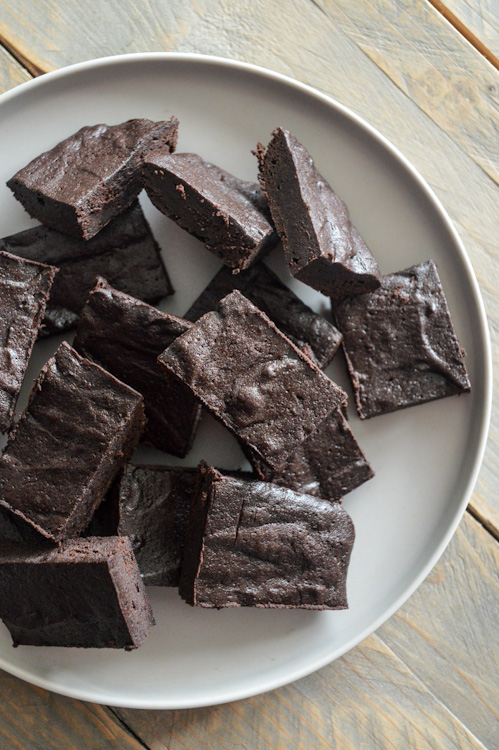 Eet smakelijk!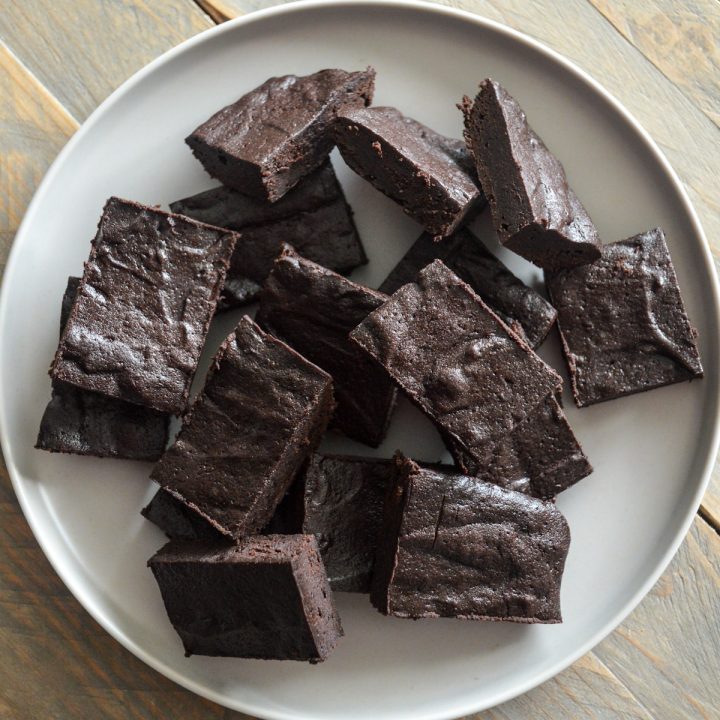 Bourbon Maple Brownies
Looking for unique brownie ideas? You've found one! This is an easy brownie recipe with interesting flavors. We combine bourbon brownies, maple syrup brownies, and miso brownies all into one unique brownie recipe.
Ingredients
1/2 cup butter, cut into ~1-inch pieces
1 1/2 Tbsp white miso paste
2 tsp bourbon
3/4 cup cocoa powder (Dutch process preferred)
3/4 cup granulated sugar
2 eggs
1/4 cup maple syrup
1/3 cup all purpose flour
Instructions
Pre-heat oven to 325°F.
Line a 8x8x2 inch baking dish with aluminum foil that overhangs the edges a bit and coating with non-stick spray or brushing with a small amount of neutral cooking oil.
Melt butter and miso paste in a small saucepan over low heat. Whisk to incorporate miso paste into butter as it melts. Take off heat and whisk in bourbon. Set aside to cool.
Whisk together cocoa powder and sugar.
Pour bourbon miso butter mixture into cocoa powder sugar mixture and whisk to combine.
Add eggs in one at a time, whisking vigorously to incorporate. Stir in maple syrup.
Fold in flour, one third at a time, being careful not to overmix.
Bake for 20-25 minutes until a fork comes out almost clean.
Airlift bourbon maple brownies from pan via the foil edges and let cool ~1 hour on a rack. Cover with another piece of aluminum foil or plastic wrap and refrigerate for at least 4 hours (overnight is ideal).
Remove from fridge and peel aluminum foil off bottom of brownies. Cut into 16-20 pieces (depending on how large or small you want your brownies!). We recommend enjoying a brownie or two now and freezing the rest immediately after this step.
To freeze, wrap each brownie in a small piece of plastic wrap and put in a resealable bag. A brownie will defrost and be ready to eat in 5-10 minutes after removing from the freezer.
Notes
These are super fudgy brownies. That's how they're meant to be and how we like them.
Cooking time varies depending on the type of pan you use. If you're using a glass baking dish, they'll take 22-25 minutes. If you're using a metal baking dish, they'll cook a lot faster and only take 18-20.
If you prefer warm brownies or don't have patience, you can try to eat the brownies right away after cooling. We've found when we do this too much of the brownie batter ends up on the knife and it's a bit of a mess. That's why we strongly recommend popping them in the fridge for at least 3 hours before slicing. We also keep so many brownies in the freezer we've gotten used to eating them cold! (See our recipe tips within the post for exactly how we cool, prep, and freeze.)