This no-knead bread recipe is made in a Dutch oven. It's easy enough for novice bakers (us), but tasty enough for expert bread eaters (also us).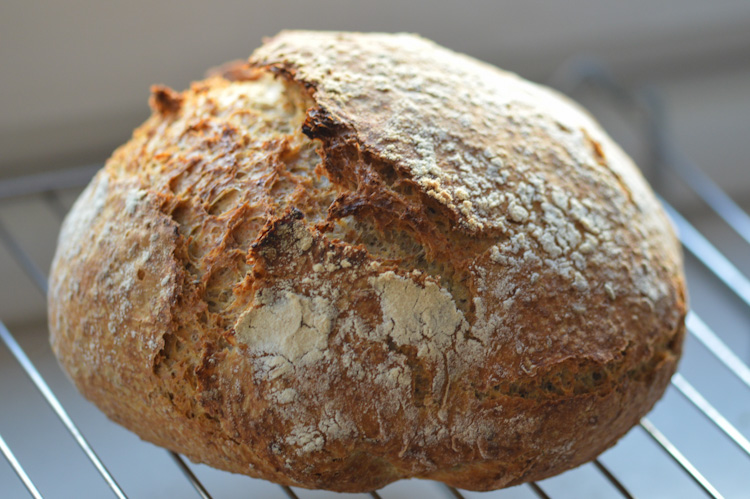 Yep. We learned how to bake bread in 2020. And even though it's cliché, as far as skills go, this is one we're glad to have learned.
We started easy and learned how to make the best whole wheat beer bread. We then moved into the no-knead bread territory.
We started making no-knead breads just on a pan. Because as people who had planned to move overseas in March 2020, we shipped off our Dutch oven. But soon it became clear we needed that cooking item (for bread and stews and really everything and anything). So after getting one back, we moved into Dutch oven bread territory. And…
Minds blown. Lives changed.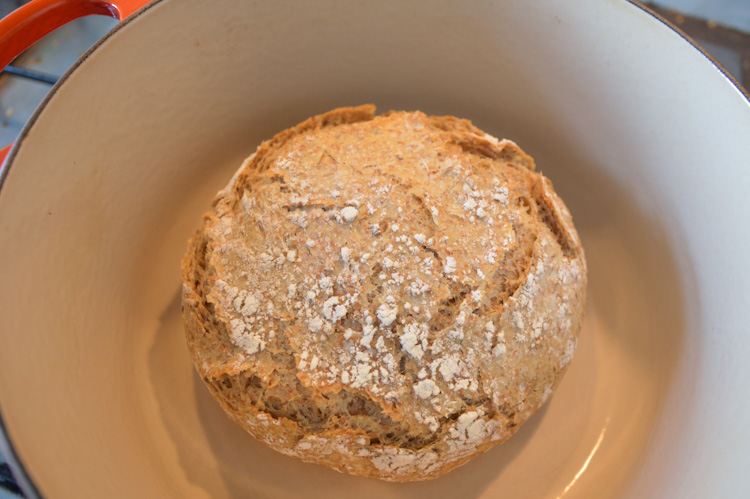 Ingredients
This specific no-knead Dutch oven bread recipe was designed to go in our stuffing (coming soon). But you can (and we have) put many, many things in such a bread.
The base is 3 cups of flour. For this recipe we do 2 cups all purpose and 1 cup whole wheat. But in other recipes we swap that.
We've only used instant yeast, because that's been the easiest to get this past year. And we're going pretty standard with the herbs: dried thyme, dried rosemary, and garlic powder. We don't use much because, as you'll see, they pack a punch.
Recipe tips
These tips are for the novice bread maker who would need to search for things such as no-knead bread and Dutch oven bread. We are you. We were intimidated to bake bread, but so incredibly happy and satisfied when we did.
Measuring the flour
We do not weigh our flour. We know that's the best thing to do, but it's just too much sometimes. Instead we spoon and level it. To do this, first, place your measuring cup in a bowl. Gently spoon flour into your measuring cup until it's overflowing a bit. Then take the flat side of a knife and level it off. Put the measured flour into your mixing bowl. Put the excess flour back into your sack of flour.
Whisking the dry ingredients
We do not have a sifter, but we do have a whisk. To keep the flour light and fully incorporate all the ingredients, we whisk them all together.
Add the salt first and whisk completely. Then add the yeast. You don't want the salt and yeast to touch too directly because salt kills yeast.
Adding the water
The recipe calls for 1 1/4 cups room temperature water. We recommend adding 1 full cup first and then adding the remaining water slowly. You want to add enough so that the dough comes together in a sticky ball. But adding too much water makes the dough more difficult to work with. Most often we use the full 1/4 cup, but sometimes we need more and sometimes we need less. Depends on the humidity, the types of flour we're using, and we're sure a whole host of other factors we're not 100% clear on.
Remember the pot holders
The rest of the recipe is pretty simple if you follow the instructions below. But we did want to call out one more friendly reminder to keep potholders nearby and use them. From removing the Dutch oven from the pre-heated oven, to removing the lid during the baking, to removing the loaf from the pot – be careful and use potholders.
Eet smakelijk!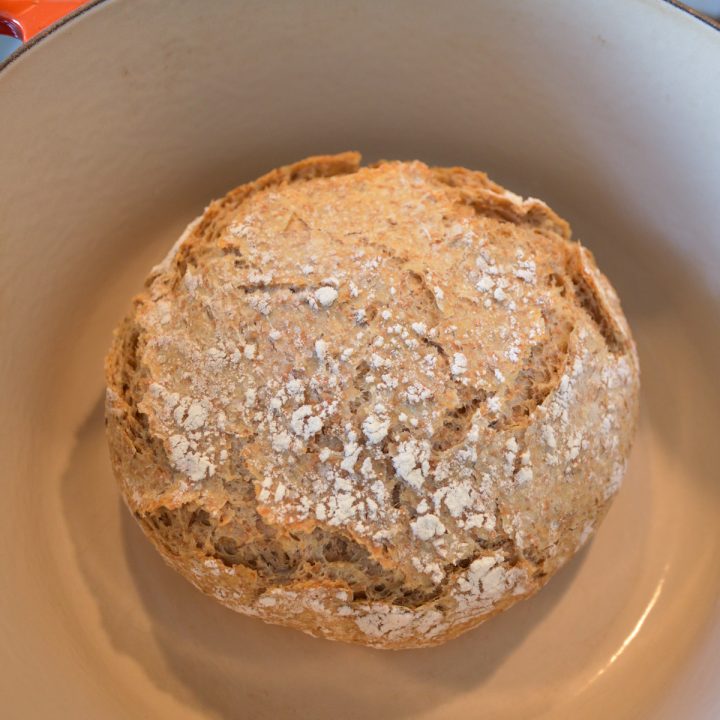 No-Knead Dutch Oven Herb Bread
Prep Time:
4 hours
10 minutes
Additional Time:
1 hour
30 minutes
Total Time:
6 hours
25 minutes
This no-knead bread recipe is made in a Dutch oven. It's easy enough for novice bakers (us), but tasty enough for expert bread eaters (also us).
Ingredients
2 cups all purpose flour, plus extra for dusting dough/hands
1 cup whole wheat flour
1 tsp salt
1 packet instant yeast (7 g)
1/4 tsp dried thyme
1/4 tsp dried rosemary
1/8 tsp garlic powder
1 1/4 cup water
Olive oil for board
Instructions
Sift or whisk together all purpose and whole wheat flour.
Whisk in salt and yeast (one at a time). Whisk in herbs.
Pour 1 cup of water into the flour and start incorporating it with a wooden spoon. Slowly add the rest of the water until all the flour is incorporated and you have a sticky ball. Note: you may need a little more or a little less than indicated depending on all factors that impact this sort of thing!
Cover bowl with plastic wrap and put in a warm-ish spot (or an unheated oven with the door closed) for 4 hours.
Grease a cutting board with a small amount of olive oil. Turn the dough ball out onto the board. We find it's easiest to do this with a rubber spatula. Dust dough and hands with flour. Pick up the dough and fold it in on itself twice. Put back down on the board, dust with a little bit more dough, and cover with plastic wrap.
Heat oven to 450°F. After 10 minutes, put Dutch Oven (with lid) into the oven.
20 minutes later (so the dough has rested for a total of 30 minutes), take the Dutch Oven out of the oven and remove the lid (with potholders - it's hot!).
Remove plastic wrap from the dough and dust hands with flour. Pick up dough from board and fold the sides under to create a ball shape. Carefully place the dough into the Dutch Oven (being careful not to let your hands touch the sides of the pot). Cover (remember to use a potholder since the lid is still hot) and put into the oven.
Let the bread bake for 30 minutes. Remove lid and let bake for 15 minutes more. Take the Dutch oven out. Carefully remove the bread (use a towel or potholders) and let rest/cool on a rack for at least 1 hour before slicing and eating. If you want it to still be a bit warm, let it rest covered with a towel.
Notes
This recipe was inspired by this no-knead bread recipe.
We tried making this with a little more water, which probably yields a bit of an airier bread, but the dough is much stickier and more difficult to handle and work with. We like it this way.
We created this bread recipe specifically for use in stuffing. That's why it's so herby. But the possibilities are endless in terms of flavorings.