We are putting our stake in the ground and declaring that our whole wheat beer bread is the best beer bread recipe. Due to our expertise with beer selection it's perfectly balanced, and due to the addition of garlic it's extra delicious. It's easy and our go-to recipe for homemade bread without yeast.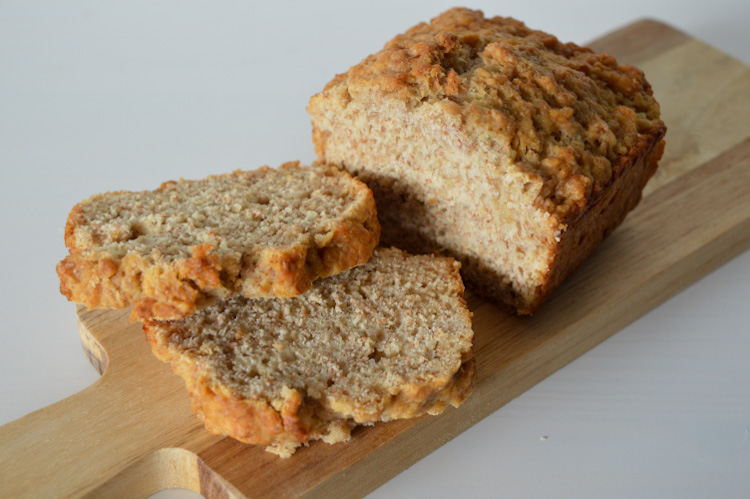 Our beer bread recipe exploration
We started making beer bread around the same time we started this blog – and around the same time every other former non-baker decided they too wanted to try their hand at providing sustenance for themselves. At that time, yeast was nowhere to be found.
Luckily we did stumble across some flour and baking powder, so we looked into recipes for homemade bread without yeast. As we are always well stocked with the beer, we decided to give beer bread a try. The first attempt was a bit sweet and cakey – more like cornbread than what we were going for. But it satisfied our craving and we were kinda proud of ourselves and also figured we could do better.
Flash forward six (!) months and we've now made many many loaves of beer bread. We've also made bread with actual yeast, but that's a story for another recipe. Every time we've tweaked our recipe, using different ratios of whole wheat to white flour and all varieties of beers to find the best flavor and texture. We also tried a whole bunch of extra flavorings.
We settled on a garlic whole wheat beer bread, which is delicious on its own but which we love most as a part of a tableful of cheese and meats and lekker spreads.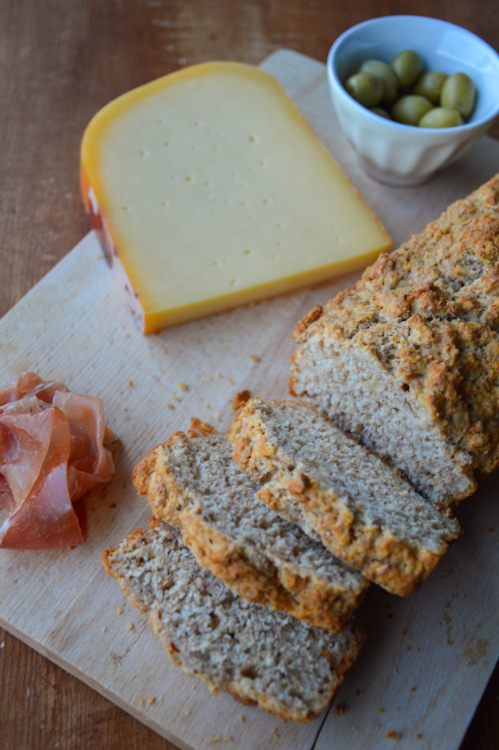 Ingredients
We think this is the best beer bread recipe. It was the result of much trial and error, so we are particular about the ingredients.
Flour ratio
For our whole wheat beer bread, we use 2:1 ratio of whole wheat flour to all purpose flour. After trying other proportions, we settled on 2:1 because it lets the whole wheat flavors and textures come through while not being too dense.
Wheat beer
We tried lots of different types of beers with our different iterations of this recipe. From a dirt cheap lager to an intense Belgian ale to a craft IPA, the beer does indeed matter and usually come through. Though we did enjoy other types of beer with a bread made only of all purpose flour, the best beer to use for whole wheat beer bread is a wheat beer. The flavors just match so well that the resulting bread is incredibly well balanced.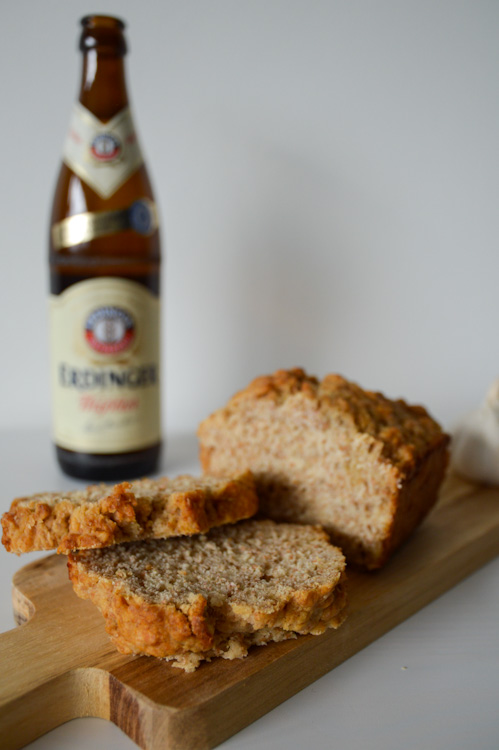 The trick is not to use one that's too banana-y in flavor (lots of wheat beers are). Our favorite is the wheat beer made by the German brand Erdinger, so if you can find that, grab it.
Honey
Beer bread needs sweetener. We tried white granulated sugar, brown sugar, and honey. Honey was always the winner with a mild, subtle sweetness that permeates the entire loaf. We do use less sweetener in this recipe than most other recipes we've seen. That's really personal preference – and you can add more without sacrificing texture.
Cooked garlic
We love garlic and garlic bread and garlic in bread. Beer bread is a bit rich so can stand up to a strong flavor like garlic. We tried other seasonings, but always came back to the garlic.
Most of the recipes we saw for garlic beer bread called for just tossing some raw garlic into the bread. And that's cool – we don't shy away from raw garlic. But we prefer cooked garlic, especially when it's cooked in butter. And beer bread needs butter, so we thought it was perfect.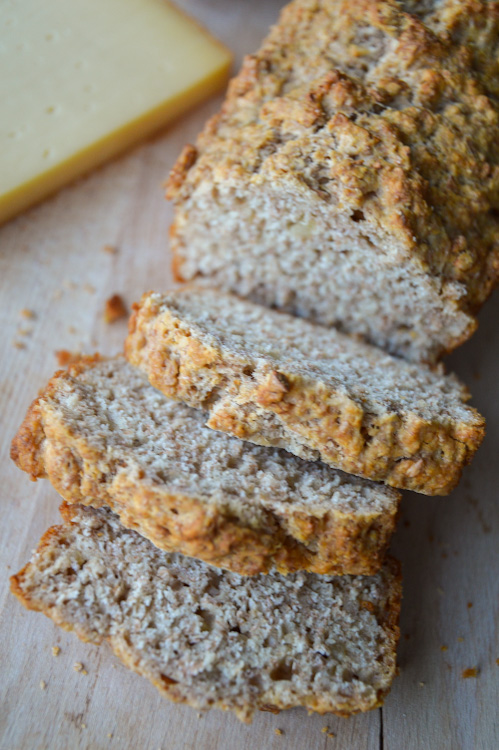 Recipe tips
The beauty of beer bread is that it's really easy. It's so easy that even complete novice bakers like us couldn't mess it up too badly the first time we made it. There's no yeast, no kneading, and no special baking tools. But we do have a few tips to ensure a really tasty beer bread every time.
Cook the garlic over the lowest possible heat and really watch it. You do not want it to burn and turn bitter and turn your whole loaf of bread bitter. You want to turn the heat off right when it starts to turn the lightest golden brown.
Use room temperature beer.
After you pour the dough (which will be quite wet) into the loaf pan, you'll need to even it out. You want it to fill the pan evenly, but you don't want a totally flat bread. You do want some peaks and valleys in there which will crisp up and give the crust a good texture.
Let the bread sit in the loaf pan for a few minutes before turning it out carefully onto a cooling rack. Let the bread sit at least 20 minutes before slicing.
This whole wheat beer bread is best the day you make it. If you can't finish it, wrap it in plastic wrap to store. If you wait more than one day to eat the leftovers, toast it up.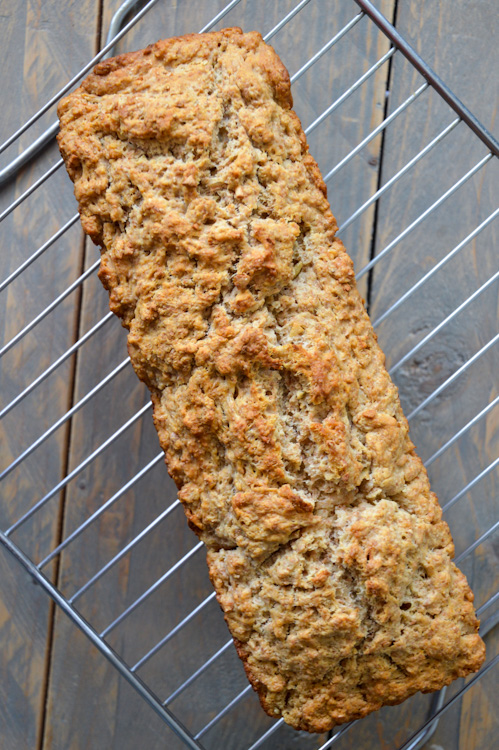 Note, this recipe is adapted from Gimme Some Oven's Honey Beer Bread. We tried several different beer bread recipes when we first started this experiment, but always came back to this one as a good starting place. If you want a plain beer bread, check it out.
Eet smakelijk!
Whole Wheat Beer Bread
Additional Time:
30 minutes
Total Time:
1 hour
30 minutes
We are putting our stake in the ground and declaring that our whole wheat beer bread is the best beer bread recipe. Due to our expertise with beer selection it's perfectly balanced, and due to the addition of garlic it's extra delicious. It's easy and our go-to recipe for homemade bread without yeast.
This recipe was adapted from Gimme Some Oven's Honey Beer Bread.
Ingredients
6 cloves garlic, minced
1/4 cup unsalted butter
2 cups whole wheat flour
1 cup all purpose flour
1 Tbsp baking powder
1 tsp table salt
1 12 oz or 33 cl wheat beer (at room temperature)
1/8 cup honey
Instructions
Preheat your oven to 350°F.
Sauté the garlic in 1/2 tsp of butter over low heat for 2-3 minutes until it only just starts to brown. Set aside.
Melt the rest of the butter in a small bowl.
Measure out and add the two flours in a large mixing bowl. Whisk them together. Add the baking powder and salt and whisk them in as well.
Pour the beer into the dry ingredients and stir with a wooden spoon. Add the honey and the cooked garlic (along with any remaining butter) and mix it all together into a cohesive (sticky) dough.
Grease your 9x5x3-inch loaf pan with a large spoonful of the butter.
Transfer the dough into the pan. Make sure it's evenly distributed, but also make sure there are lots of peaks and valleys and nooks and crannies that will get browned and delicious in the oven.
Set the loaf pan on a baking sheet in the center of your oven and bake for 45-50 minutes until the top is golden brown and a fork comes out clean.
Gently turn the loaf out onto a cooling rack and let the bread sit for at least 20 minutes before slicing.
Notes
You can substitute 2 Tbsp brown sugar for the honey. If you only have granulated sugar, we recommend using 1 1/2 Tbsp since it's a bit sweeter.
We tried to be healthy and make this recipe with less butter. It really wasn't as delicious. But if you want to try yourself, cut the butter in half.
We've made beer bread with a lot of different types of beer. We've enjoyed most of them, but are confident a wheat beer goes perfectly with a whole wheat bread. If you can't find one, really any beer will do. But for this specific recipe, we'd recommend something light and without any fruity flavors.
Our loaf pan is a little longer and a little narrower (what do you want from us - we live in Europe where the metric system reigns and things are different sizes), but it works fine. Whatever pan you use should be able to contain around the same volume as a 9x5x3-inch loaf pan.