This hearty holiday stuffing can shine as a side or even take the place of your main dish at any festive gathering.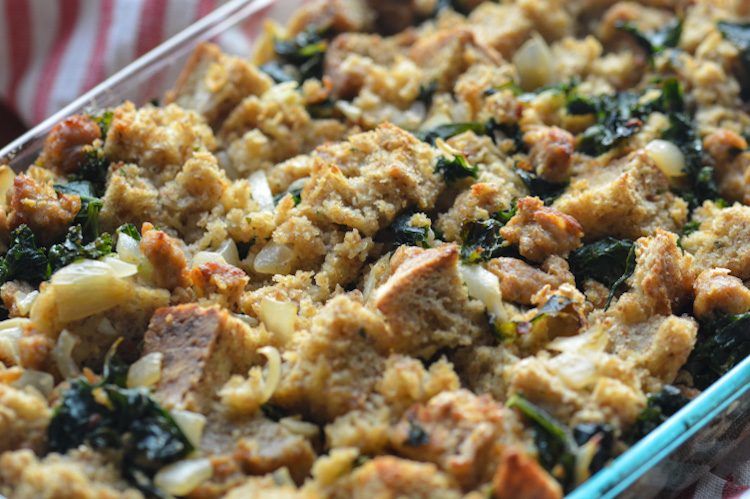 We're calling this Holiday Sausage Stuffing with Kale because it's been our go-to stuffing (or dressing or whatever you want to call it) for the holidays since we first made it. In fact, it – and only it – has been the entirety of our last two Thanksgivings and one Christmas. We love it and proudly offer it as something you will too. Serve it for the holidays of course, but also consider making it just when the craving strikes, because why does stuffing only have to be enjoyed one or two times a year?
Ingredients
As the name of this holiday stuffing implies, the key ingredients in this recipe are kale and sausage. The base of the stuffing is our homemade no-knead Dutch oven herb bread, and while we seasoned it specifically with this recipe in mind, any hearty loaf will do.
Kale has come and gone as the trendy green of the moment. But in The Netherlands, things such as "timely food trends" mercifully do not exist. The cultural table is fairly static. We are not editorializing here. One of these staple foods is kale, and the kale we get here is very, very good stuff.
At our farmer's market here, we can buy it in these enormous quantities (and take funny pictures to properly depict just how enormous).
The sausage can be anything, but of course we have some opinions. We don't choose anything too flavorful or delicious, like say chorizo or merguez, because it'll overpower the whole dish. If anything is going to overpower our hard-prepared bread and kale (read on), it will be the gravy that we dump on it later. Anyway, we go for fennel or plain, but either way make sure to get a high quality one from your local butcher.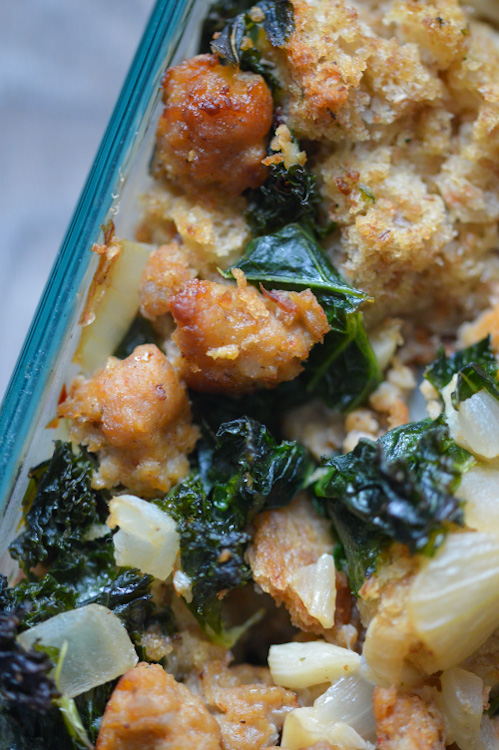 Recipe tips
The main tip for this sausage kale stuffing recipe is about the kale.
Though we previously sang the kale's praises, it's also a pain to deal with. You've got to take the leaves off of the stalks, and you've got to wash them thoroughly before cooking, and then you've got to blanch it all in boiling water. And all that's before you even start sautéing it to make it taste good. So, if you're buying fresh kale, just give yourself time and patience to deal with it properly.
Other than that, it's a stuffing (or dressing or whatever you want to call it) and the great thing about this type of dish is that you're pretty much dumping everything together and throwing it in the oven to bake. So just follow the recipe card instructions below and you'll be fine.
Because this is delicious! Seriously, enjoy (and happy holidays!).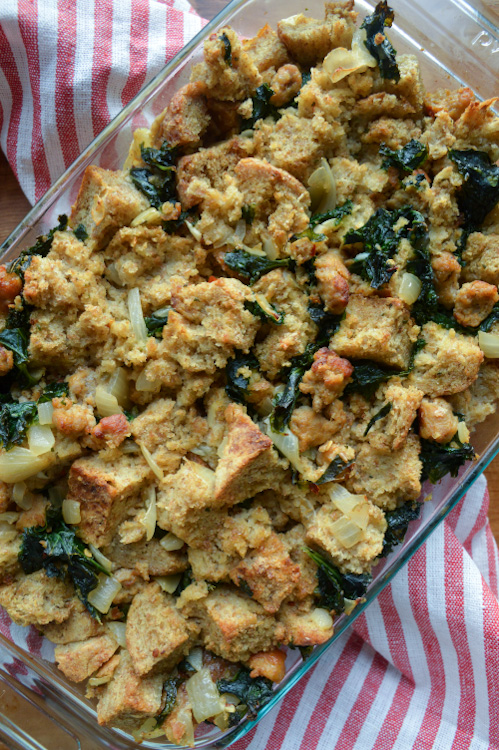 Eet smakelijk!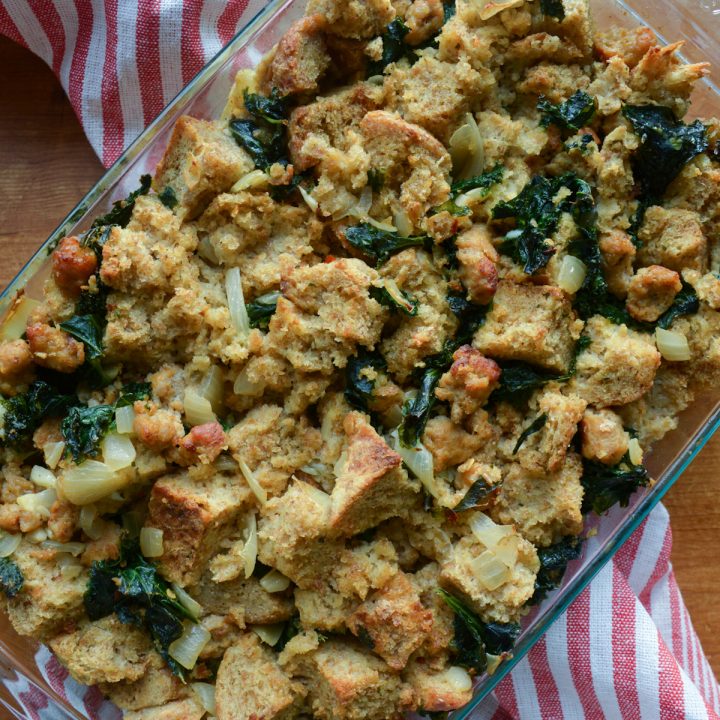 Sausage Kale Stuffing
This hearty holiday stuffing can shine as a side or even take the place of your main dish at any festive gathering.
Ingredients
1 loaf no-knead Dutch oven herb bread
2 Tbsp olive oil, divided
1 1/8 tsp salt, divided
Kale, de-stemmed and washed
1 lb Italian pork sausage with fennel
2 large leeks, washed and sliced
1 large sprig fresh rosemary
1/4 tsp dried oregano
1/4 tsp dried thyme
1/4 tsp red pepper flake
1/8 tsp freshly cracked black pepper
3 cloves garlic, minced
1/4 cup white wine
3 cups chicken or beef broth
2 eggs, beaten
2-3 Tbsp butter (enough for dotting)
Instructions
Cube bread and let sit overnight to get stale.
Pre-heat oven to 400°F. Toss stale bread with 1 Tbsp olive oil. Toast in oven for 15 minutes until golden brown. Remove from oven to cool and put into a large bowl.
Bring a large pot of water to a boil. Add 1 tsp salt. Blanch kale in batches for 2 minutes, removing to a bowl and setting aside.
Remove sausage from casing. Crumble into skillet with 1/2 Tbsp olive oil and cook for 10 minutes over low heat. Remove sausage and set aside.
Add another 1/2 Tbsp olive oil into same pan. Add leeks, rosemary, 1/8 tsp salt, oregano, thyme, red pepper flake, and black pepper. Cook for 5 minutes. Add kale, garlic, and white wine. Mix together and cook for 5 more minutes.
Add sausage and veg mixture to the bread bowl. Add broth and eggs and mix everything together. This is easiest done with your hands.
Pile everything into a 9x11 baking dish. Dot with butter. Cover with foil. Bake for 30 minutes. Uncover and bake for another 20 minutes until golden brown.