We created this Korean tonkatsu as an homage to donkatsu. Our cutlet is smothered in a sticky, sweet, and spicy gochujang sauce and served with a side of kimchi. This quick meal doesn't skimp on flavor.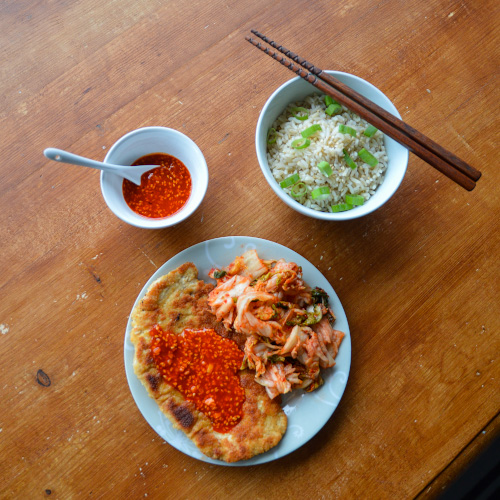 To bread or not to bread
When we decided to write about food and cooking, we knew we needed to broaden our techniques to match our palates. Breading and frying fall into this category. Call us healthy or lazy, but before we started making this dish, we hardly ever did it.
And when we started developing this recipe, we had to ask ourselves, is it really worth it to bread something at home? On the one hand, the key to an amazing schnitzel – one of the world's humblest yet highest-ceiling foods – is getting the breading perfect. On the other hand, you're just covering up a nice piece of meat with things that are a little less nice and a lot less healthy.
For us to answer this affirmatively, we decided to create something unique and tasty enough that it would be worth the extra effort and calories. Something that was not traditional, but brought us back to a specific place we loved visiting and eating in. A place with very distinctive flavors and tastes and textures.
South Korea.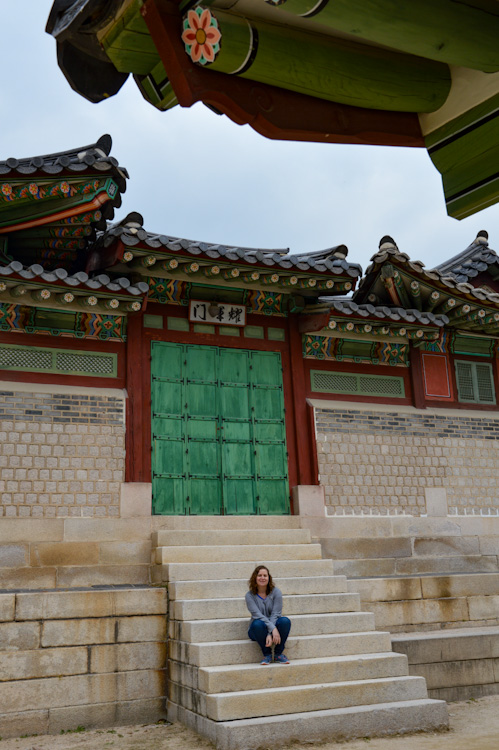 So off we went. And we proved ourselves wrong that breading and frying meat isn't worth doing at home. When you pair Korean tonkatsu with gochujang sauce and a side of kimchi, it most definitely is.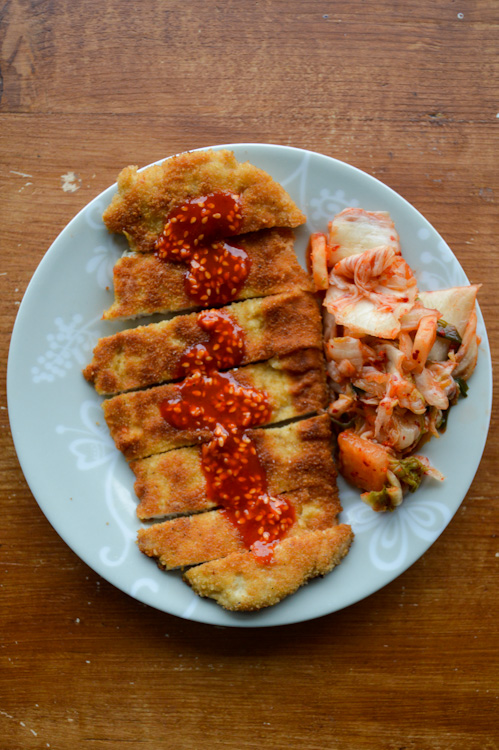 What is donkatsu?
Donkatsu is the Korean word for fried pork cutlet. In Korea, it's also known as donkkaseu or dongaseu (depending which spelling you want to go with). The more well known tonkatsu is Japanese for the same thing.
Fried cutlets are everywhere, and we love to try them when we travel. Schnitzel even made our list of foods worth traveling for (pre-2020 of course).
The most popular Korean dish consists of the aforementioned thinly pounded, breaded, and fried cutlet smothered in a thick brown curry sauce.
We just aren't there yet on thick brown curry sauce. (Maybe one day). But we are certainly "there" with sticky, spicy, tangy stuff – gochujang in particular.
So we'll start our recipe tips there…
Recipe tips
The gochujang sauce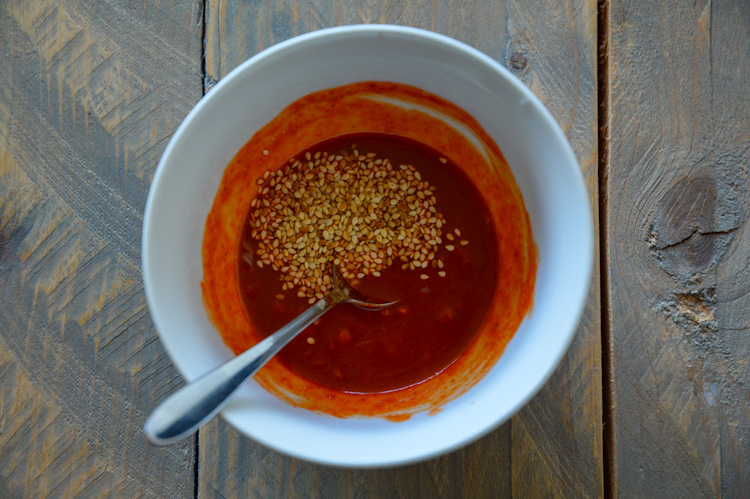 We've previously talked about the unique properties of gochujang in our Asian baked tofu recipes. But since we're using this wonderful ingredient in a different formulation here, it's worth discussing again.
Gochujang is sweet and spicy, but it also has a nice umami flavor that makes it more complex than hot sauce or sriracha. It's also quite thick and sticky. All of this makes it perfectly suited as a base for a dipping sauce. And gochujang does nearly all the work in ours, as is typical for Korean meat sauce.
Toasted sesame oil and a healthy dose of freshly toasted sesame seeds give the gochujang sauce a bit more weight. Even though gochujang is sweet, we do add some extra sugar to balance things out. Apple cider vinegar, ginger and garlic add lightness, tang, and a different type of heat.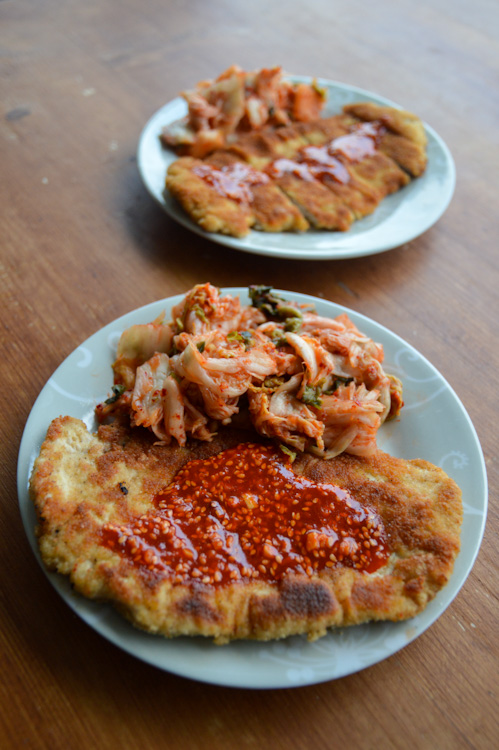 The meat
As mentioned, we were a bit intimidated by the thought of dredging and frying meat. All those extra ingredients and bowls and stations and raw egg made us anxious. This was pretty dumb because this process is super easy and super fast. In fact, our Korean tonkatsu dinner is one of the quickest meals we make.
If, like us, you're fortunate to live in the wonderful land of the Netherlands whose citizens clearly love schnitzel, you buy pre-pounded meat all ready to go. If not, you must pound your meat yourself. It's easy though. Just take a pork chop, put it between two pieces of plastic wrap, and pound with the heel of your hand or a mallet.
Once that's done, it's time to move onto the breading. Our dredge consists of all purpose flour, an egg, and unflavored breadcrumbs. We took our flavor inspiration from Korean fried chicken, but it's quite simple. We add salt and ginger powder to the flour and black pepper to the breadcrumbs. We do not season the meat directly because it's so thin and the flavor of the breading is what you'll taste.
The frying is quick, and we have just two tips.
First, keep the heat at around medium so you don't burn the breading. You want a golden brown color. You may have to adjust the flame during the cooking, but it's only 3 minutes per side you'll have to stand there.
Second, don't crowd the pan. If you have a pan that's big enough for two pieces of meat, feel free to go for it. But you want some space around each piece. If you have a smaller skillet, fry one at a time and wipe out the pan between cooking.
Last but not least, make sure to season the cutlets with a pinch of salt right after removing from the pan.
Serving suggestions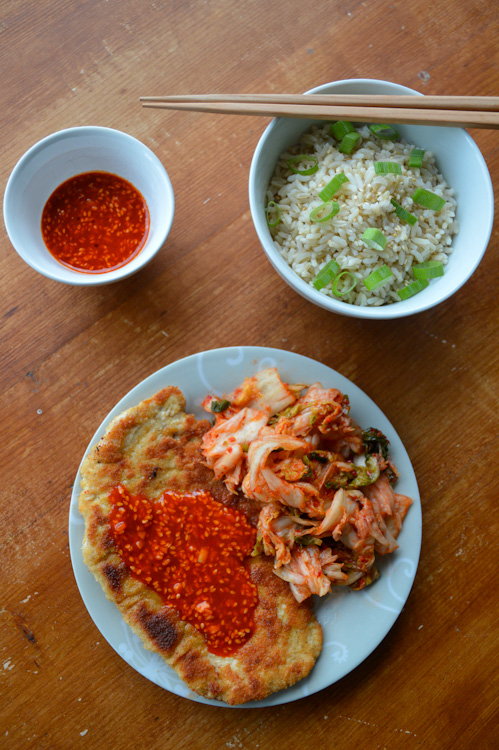 We think the perfect iteration of Korean tonkatsu is serving the cutlet with rice and kimchi. Cabbage would also be nice – it's more Japanese style, but is a great textural partner. But feel free to get more ambitious with your banchan!
If you want to eat with chopsticks, slice up the cutlet before plating.
You can dunk your meat into the sauce, or drizzle it over the cutlet, or (almost certainly) both.
We've now eaten this dish more times than any other recipe we've created for the blog, except maybe our Sichuan cucumber salad (but the cucumbers were plentiful this summer!). We hope you enjoy it too.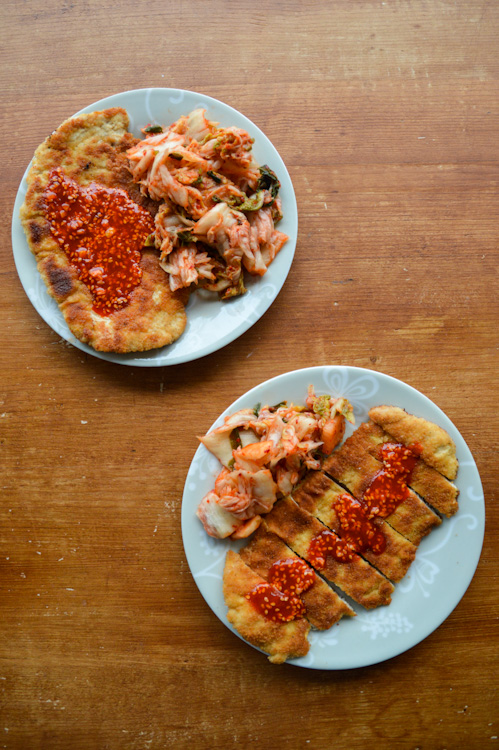 Eet smakelijk!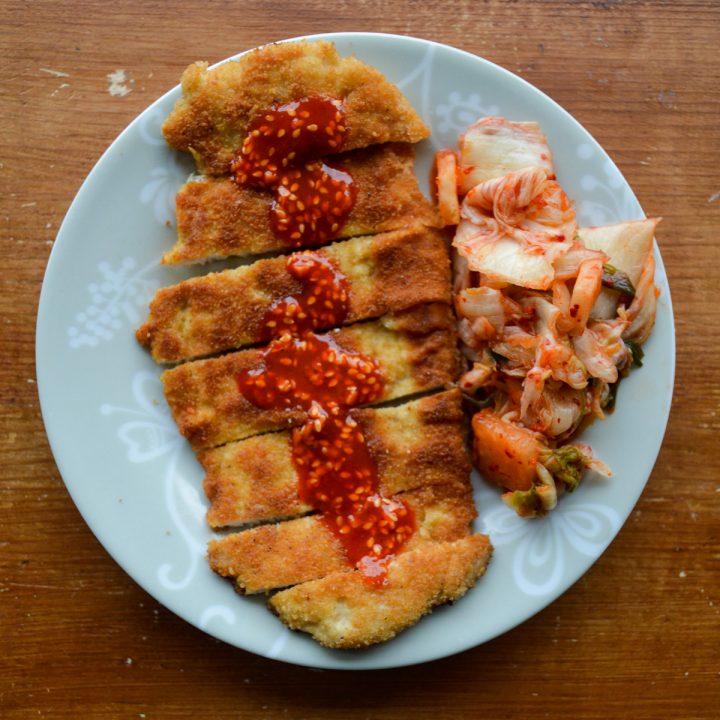 Korean Tonkatsu with Gochujang Sauce
We created this Korean tonkatsu as an homage to donkatsu. Our cutlet is smothered in a sticky, sweet, and spicy gochujang sauce and served with a side of kimchi. This quick meal doesn't skimp on flavor.
Ingredients
Gochujang Sauce
1 1/2 tsp ginger, minced
1 garlic clove, minced
1/2 tsp flavorless cooking oil
1 Tbsp gochujang
1 Tbsp hot water
1 tsp toasted sesame oil
1 tsp apple cider vinegar
1 tsp sugar
2 tsp toasted sesame seeds
Donkatsu
1/8 cup all purpose flour
1/2 tsp ginger powder
1/8 tsp salt
1/4 cup breadcrumbs
1/8 tsp black pepper
1 egg
2 pieces boneless pork chops or turkey breasts, ~5 oz each, pounded thin into schnitzels
2-3 Tbsp flavorless cooking oil (depending on the size of your skillet)
2 pinches of salt
Serving suggestions
1-2 cups kimchi or cabbage salad
Steamed rice or roasted potatoes
Instructions
Make the gochujang sauce
Sauté ginger and garlic in oil over low heat for 2 minutes so it only just starts to get golden.
Mix gochujang with hot water in a small bowl to make a paste.
Mix in the sautéed ginger and garlic and the rest of the ingredients and set aside.
Make the donkatsu
Pound the meat very thin.
Crack the egg in a bowl and beat it lightly with a fork.
Mix the flour with the ginger powder and salt on one plate.
Mix the breadcrumbs with the pepper and garlic powder on another plate.
Heat oil in a skillet on medium heat.
Dredge the meat in flour, dip in egg, and then coat in breadcrumbs.
Fry cutlet over medium heat for 3 minutes on each side. If your pan is not large enough to fry both pieces of meat at the same time, fry them one at a time, wiping the pan down in between.
Sprinkle with a pinch of salt when still hot.
Serving suggestions
If you're eating with chopsticks, slice the cutlet before serving.
Spoon the sauce on top of the meat or serve as a dipping sauce along side it. Or both!
Serve with kimchi or cabbage and rice or roasted potatoes.
If there is egg left over from your dredging stations, fry it up too! It is especially great mixed with rice.
Notes
We buy the meat we use for this dish pre-cut and pre-pounded. They come in smaller sizes than we'd typically buy meat. But breading and frying makes it substantial enough. It should go without saying, but if you want a bigger piece of meat, you should adjust the recipe accordingly. Any more than the amount listed will require another egg.
This is a dish that most often features pork. Luckily the breading and sauce are so flavorful this recipe also works well with less flavorful cuts of meat like turkey, which we actually wind up using more often.