This Sichuan cucumber salad is so simple and easy to make, it almost feels like cheating to call it a "recipe." The sauce is only four ingredients, but they all pack a punch. It's pretty easy to make something tasty with them. However, we did play around quite a bit to settle upon this specific preparation.
So, if you have some fresh, good-for-you cucumbers that you'd like to turn into an interesting, unhealthy side dish that can hold its own against any main course, read on.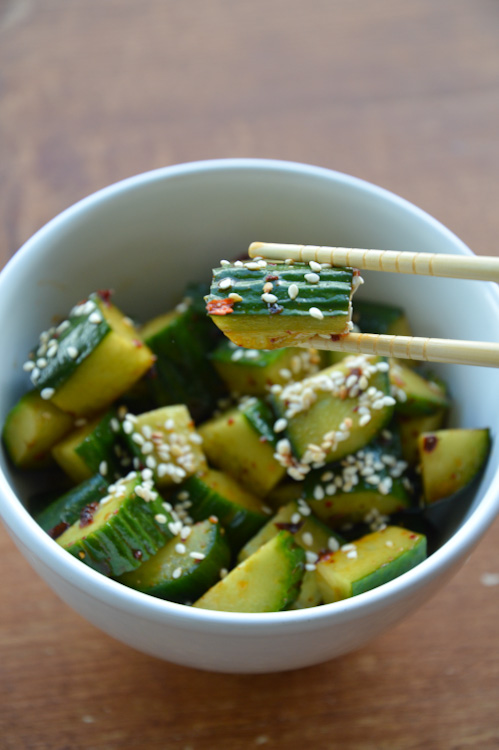 Chinese cucumber salad in Shanghai
We were first introduced to a Sichuan cucumber salad in Shanghai. On our quest to eat as many xiaolongbao as possible, we went to Nanjing Soup Dumplings.
After ordering two baskets of dumplings, we were surprised when the owner asked if we also wanted a cucumber salad. But we were sorely lacking in the vegetable department, having pretty much only eaten soup dumplings since arriving in the city. So we went for it.
And we were certainly rewarded.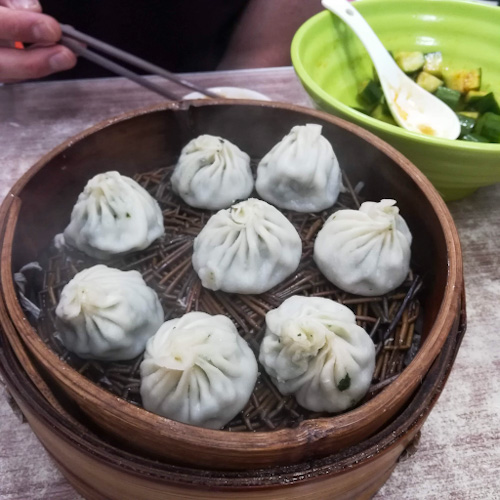 After a few minutes, a bowlful of probably two big cucumbers was placed on our table. They had already been lightly dressed, but our host then dripped one very small spoonful of chili oil on top and gave it a halfhearted stir. Then he added one final, literal drop more.
The cucumber salad had the perfect balance of heat, salt, and tang. It wasn't at all sweet, and was an especially refreshing side to soup dumplings. We didn't expect anything even half as flavorful as this dish was. It remains one of the tastiest things we've ever eaten.
We set out to make our own version of a Sichuan cucumber salad within days of getting back from our trip to China.
Ingredients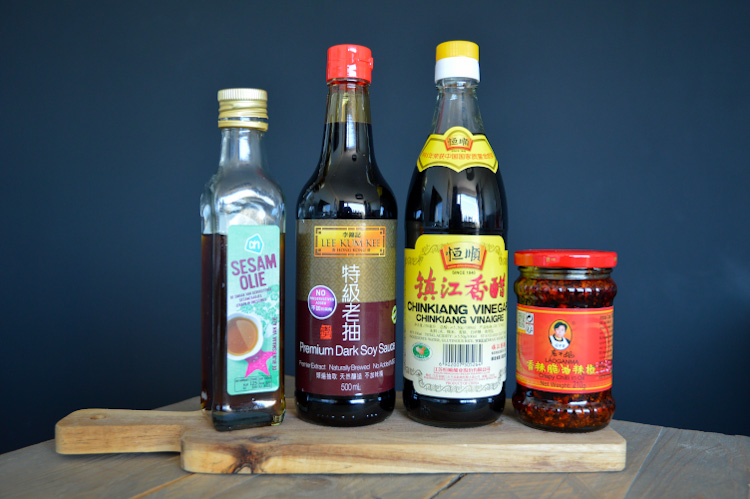 The first thing we bought was chili oil. Specifically, we procured Lao Gan Ma crispy chili in oil. We didn't know it at the time, but this stuff is insanely popular. What we do know now is why.
It's rich and savory and spicy. It's incredibly delicious and dangerously addictive. It gives our salad (and everything else we put it on which is pretty much anything) the heat and zing it needs.
Someday (soon we hope) we will try our hand at making our own Sichuan chili oil. Until then, we'll feast on this.
The other ingredients in our cucumber salad are Chinese black vinegar, dark soy sauce, and sesame oil. We tried versions with something sweet and garlic, but in both cases found those flavors too overwhelming.
Recipe tips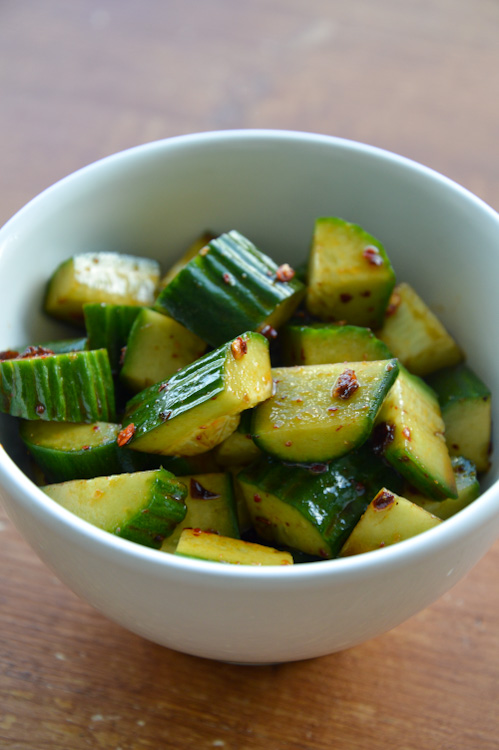 We use thin-skinned cucumbers which don't need to be peeled. We prefer larger chunks for this salad. Justin says you can cut it into whatever size you want. They do not have to be the same size – it isn't going to cook in the oil – it's just a salad. Sarah on the other hand says to cut the cucumber into uniform 1/2 inch pieces.
Marinating time was also something we tested. This isn't a pickled cucumber salad, so you don't need or want to let it sit for too long. We once made the dish for friends who came over for dinner. We made it a little too far in advance and realized our error when all the dressing had sunk to the bottom and the cucumbers had lost some of their freshness.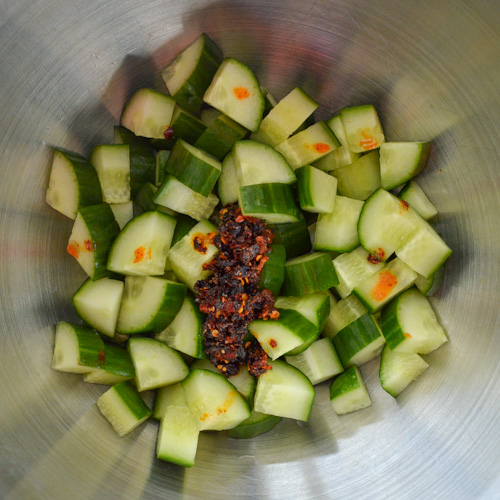 We like to toss the cucumbers with the ingredients 10 minutes before we eat it. That's enough time for the veg to absorb the flavors without them becoming limp.
Last, when we're feeling really fancy, we sprinkle the salad with toasted sesame seeds. They add a great roasty toasty flavor and a tiny bit of crunch. This is not how they were served to us in Shanghai, but we love the addition.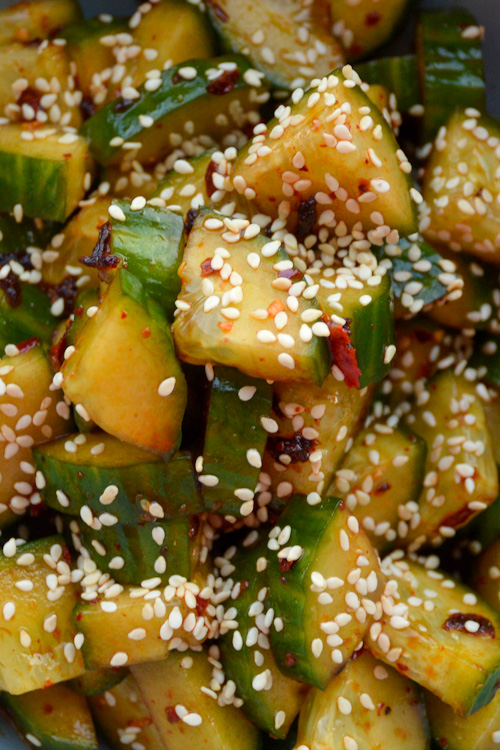 Eet smakelijk!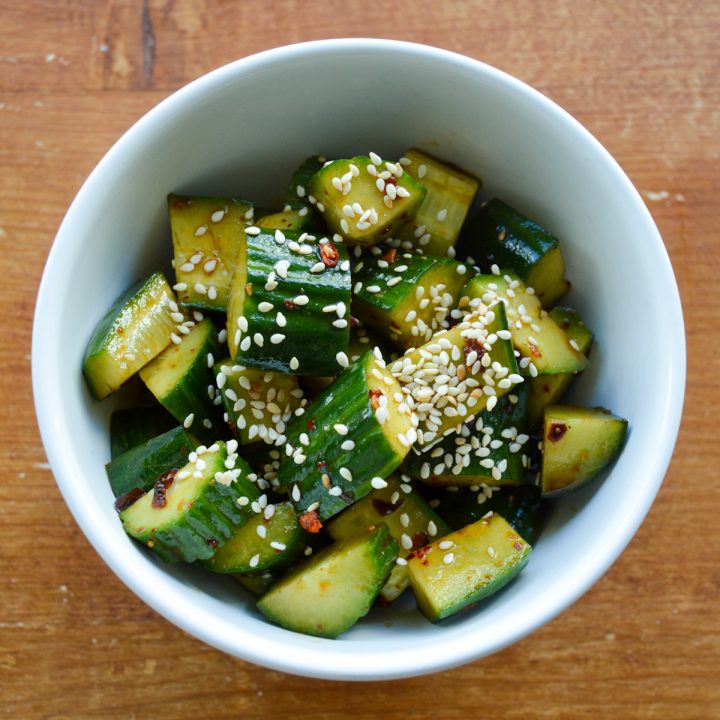 Sichuan Cucumber Salad
This Sichuan cucumber salad is so simple and easy to make, it almost feels like cheating to call it a "recipe." The sauce is only four ingredients, but they all pack a punch.
Ingredients
1 large cucumber
2 tsp black vinegar
1 tsp dark soy sauce
1/2 tsp toasted sesame oil
2 tsp Lao Gan Ma crispy chili in oil
Optional: 1 tsp sesame seeds, toasted
Instructions
Cut up the cucumber into chunky pieces (whatever size you want or 1/2 inch).
Put your cucumber pieces into a large/mixing bowl. Add the ingredients one at a time in the order listed above, mixing after each.
Let sit 10 minutes before digging in.
Notes
Try not to let the salad sit in the bowl for longer than ten minutes, it can result in the dressing seeping out of the cukes a bit and sinking to the bottom.
If you are topping with sesame seeds, do that right before eating.