Few vegetables can transform through the magic of roasting like brussels sprouts. Steamed, they are inedible. But with just a little fat and a blast of heat, they become so much more.
That is especially true of our miso maple roasted brussels sprouts. Sweet, savory, spicy, and satisfying, they have become something we crave. Good thing they're so easy to make.
How to make miso maple roasted brussels sprouts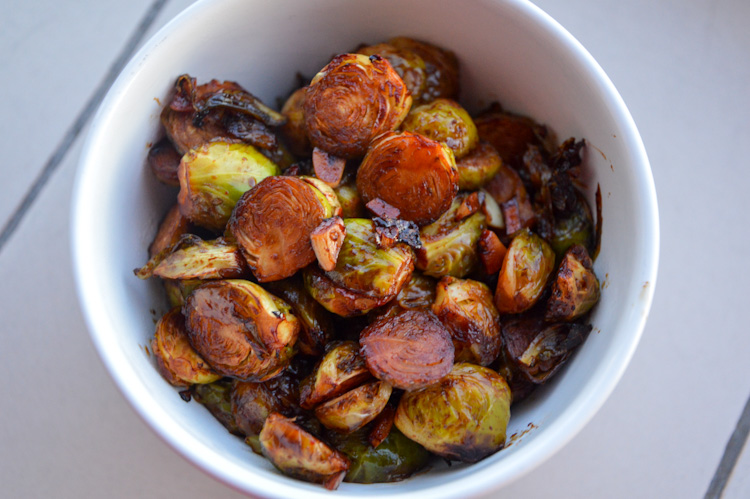 Our typical method for roasting brussels sprouts is simply oil plus dry herbs and/or spices. But one day we were craving something a little more interesting and tried roasting them in an actual sauce. It worked. Well.
The sprouts cooked differently than they usually do, but we were all about it. The sticky, savory sauce brought forward the taste of the brussels sprouts in a delicious new way. They are sauced and roasted yes, but you still know they are a green, earthy vegetable.
The star of this dish is miso. Miso is fermented bean paste, which is a description that 1) sounded worse to us ten years ago than it does now and 2) still sounds far less delicious than it is. It is a staple of Japanese cooking and flavor, and like anything Japanese, is taken seriously and has more intricate variations than we will ever know. To us, it tastes salty and rich and sometimes smoky, and yet for something with that profile blends nicely and never seems like a flavor assault.
Miso is found way beyond Japan of course, but right now we're using a white variety that we got in the city of Shiogama. It's not "special" miso or anything – we bought it in a supermarket. But we always think of that trip when we use it (we brought a LOT home). We're pretty sure any type of miso will yield similar results.
The back-up dancer is the maple syrup, but funnily you'll probably end up tasting it more, since these sprouts are definitely sweet-forward.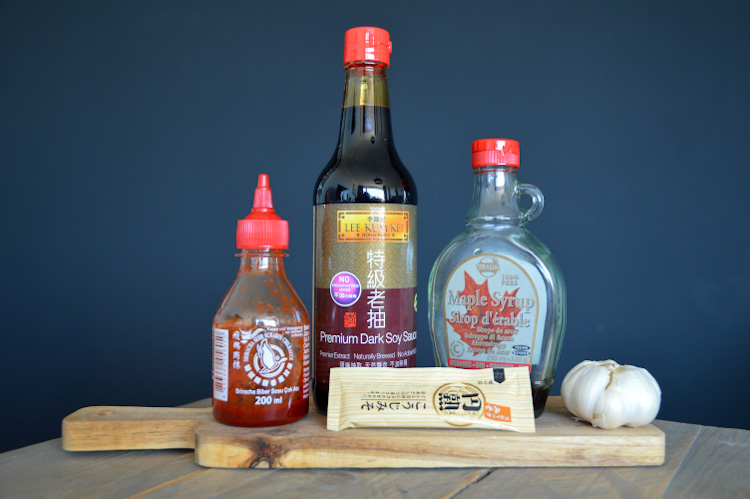 And last, to round out all that sweetness and richness, you must have spice. We are never short of different ways to add heat to a dish, but especially like sriracha here since it also adds a needed tang. Plus, we always have a bottle (or four) of it in our fridge.
Tips for our roasted brussels sprouts with miso and maple
Brussels sprouts do require some prep work. Peeling can be a chore, but it can also be a zen activity. This is especially true if you do it with your partner or if you enlist your children who might need occupying.
It's super easy to mix up the sauce. The "hardest" part is making sure the miso paste and sriracha get completely incorporated into the rest of the ingredients before pouring it onto the sprouts.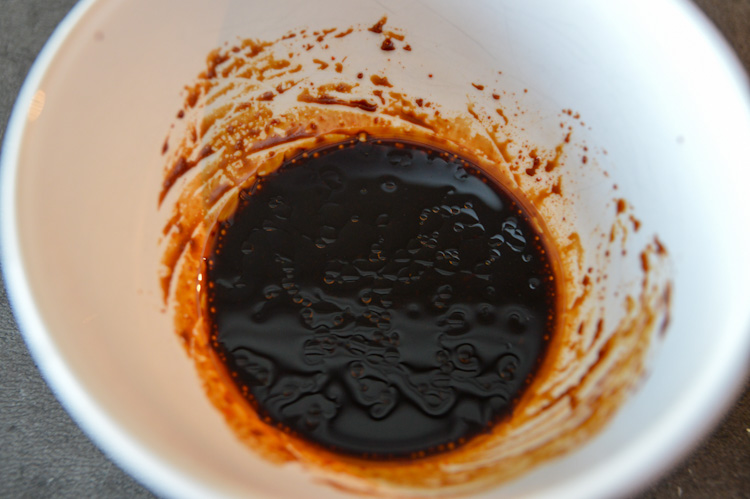 Some similar miso brussels sprouts recipes we read use a glaze method, roasting the veg first and then finishing with the sauce on top. For this recipe, we like roasting the sprouts right in the sauce because it permeates into them making every bit of the veg incredibly tasty.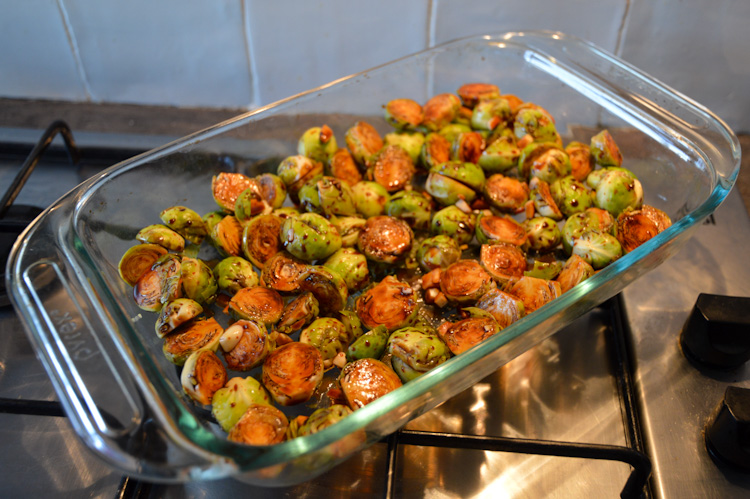 We use a smaller baking dish to cook these sprouts instead of spreading them out on a larger baking sheet. Because although we usually like our roasted veg charred (a kinder way of saying burned), we prefer to keep these a bit more tender.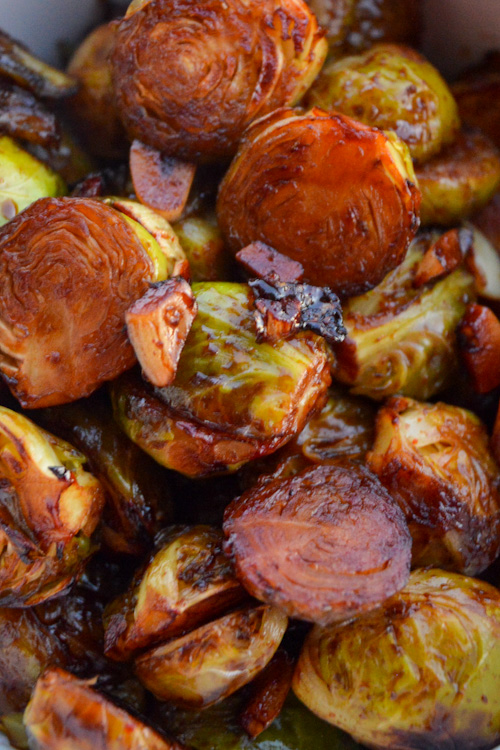 These sprouts go great with pretty much any protein. But to be honest, you could just eat them on their own as a snack and be perfectly happy.
< Also try our Hoisin Roasted Brussels Sprouts >
Eet smakelijk!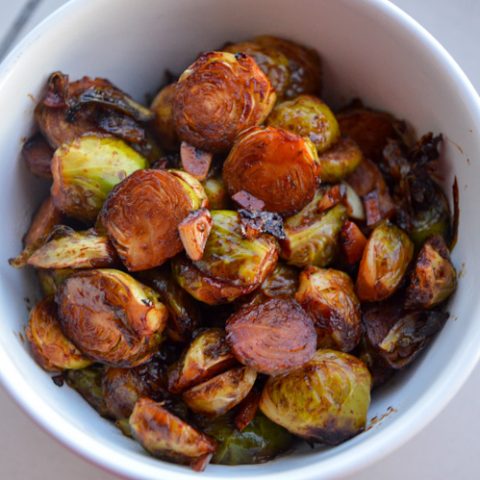 Spicy Miso Maple Roasted Brussels Sprouts
Sticky, sweet, and satisfying. These brussels sprouts will become your favorite side dish.
Ingredients
1 pound brussels sprouts
2 cloves garlic, roughly chopped
1 Tbsp dark soy sauce
1 tsp miso paste
1 tsp maple syrup
1 tsp sriracha
1 1/2 tsp sunflower or canola oil
A pinch of salt
Instructions
Preheat oven to 400°F.
Peel brussels sprouts, trim stems, and cut in half lengthwise. Put sprouts in a large bowl with the chopped garlic.
Combine soy sauce and miso paste in small bowl, stirring to ensure miso paste is fully dissolved.
Add maple syrup, sriracha, and oil to sauce, stirring to combine.
Pour sauce over brussels sprouts and mix so sprouts are completely coated. Add a pinch of salt and stir once more.
Put sprouts in a 7x11 inch (or something comparable) baking dish.
Roast the sprouts for 35 minutes, stirring sprouts once halfway through.
Notes
Your prep time will vary depending on how speedily you can peel brussels sprouts (and if you have a partner or children to help you do it).
We chop the garlic a bit larger when we roast it with vegetables so it doesn't burn.
You could substitute honey or agave nectar for maple syrup
To make it vegan: use 1/4 tsp cayenne pepper in place of sriracha.