Our Asian baked tofu recipe is an easy way to prepare tofu for use in a variety of dishes.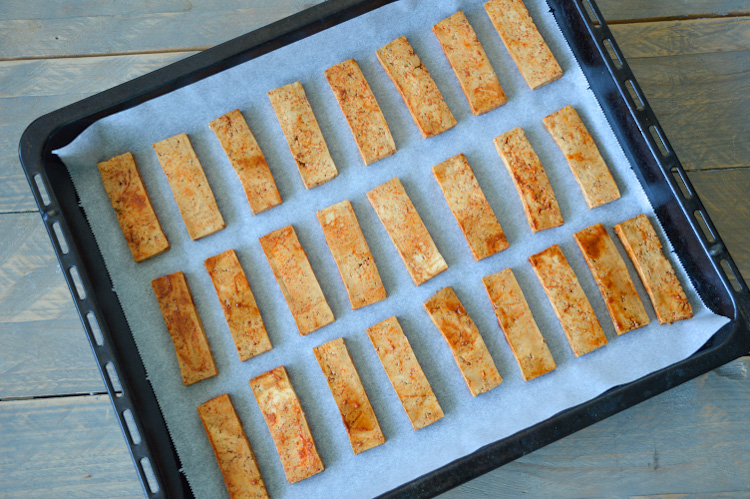 Honestly, tofu is a fairly recent addition to our staple meals. We were never anti-tofu, but it was certainly not something we sought out. For many years our only real exposure to it was when it showed up (sometimes to our disappointment) in Pad Thai, or in the small miso soup you'd get as part of a Japanese bento box.
However, for the past few years, we've made a concerted effort to eat less meat and so introduced tofu as a key ingredient in our repertoire. Is it chorizo? No, it is not chorizo. But it is versatile as heck and can become outstandingly good with minimal effort. It's not just there; when done right it can be the star of a dish.
The important phrase there is "when done right." The first time we made a tofu dish, it was terrible. The reasons are not numerous – we simply underseasoned the tofu. As in, not at all. Some discussions with more seasoned tofu-eaters enlightened us to this, and we haven't looked back.
After some trial and error, we settled on marinating and baking. What follows is this easy, repeatable method plus three marinade recipes for what we now call Asian baked tofu. All will yield a delicious dish we think you'll love.
How to bake tofu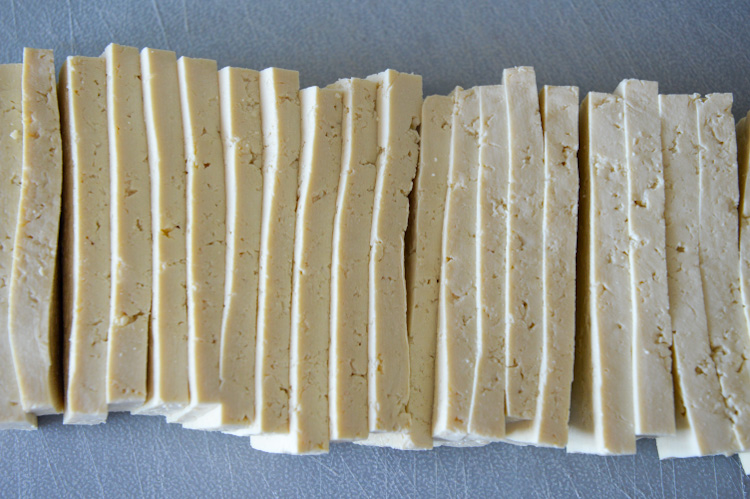 We like our method of marinating and baking tofu for three reasons. First, it's easy. Second, it's easily repeatable, yielding consistent results. Third, it's good. The marinade plus the baking process results in a very tasty crust.
We use a block of firm tofu that we get from the supermarket. This method could work with extra firm tofu, but definitely not soft tofu.
The first thing to do is to drain your tofu. After removing it from the package, pat it dry a little, turn it on its side, and slice it lengthwise into two pieces. Set both pieces side by side and wrap them in 1-2 paper towels (depending on how thick or thin they are) and place a heavy pot on top. We like to also place a couple other pots or a can or two of beans inside the pot to make it heavier.
After draining the tofu in this way for 1-2 hours, it's ready to be cut. Remove the tofu from the paper towels and slice it into 1/2-inch pieces.* Then it's time to marinate.
*Update: we recently experimented with cutting the tofu into thicker, 1-inch pieces. Baking time is the same. The result is bouncier and good!
You will have previously decided which of our three marinades you want to use, and you will have made it in a small bowl. Pour the marinade over the tofu, in either a dish or resealable plastic bag, and pop it in the fridge. You should let it marinate for at least 2 hours, but it can sit as long as overnight. Usually we end up letting it hang out for 4-6 hours.
Baking the tofu is just as easy. The hardest part is remembering to take the tofu out of the fridge 20 minutes before you want to cook it. After that it's a matter of baking it in the oven, and flipping each piece and turning the pan once.
In total, it takes about 40 minutes to bake the tofu. If you like your tofu a bit crispier, keep it in 5 minutes longer. If you like it a little softer, take it out 5 minutes earlier.
How to choose a marinade for your Asian baked tofu
We developed three marinades because we like options. We also like to make lots of different Asian-inspired dishes, so it's nice to have different flavor profiles to work with.
The cuisines that inspired our Asian baked tofu marinades are Korean, Japanese, and Chinese. So simply put, if you're making a dish based on those cuisines, choose accordingly.
In terms of flavor profiles, here's a little more help. Our Gochujang tofu is spicy and sweet, our miso tofu is savory and tangy, and our Sichuan baked tofu is spicy and savory.
Gochujang tofu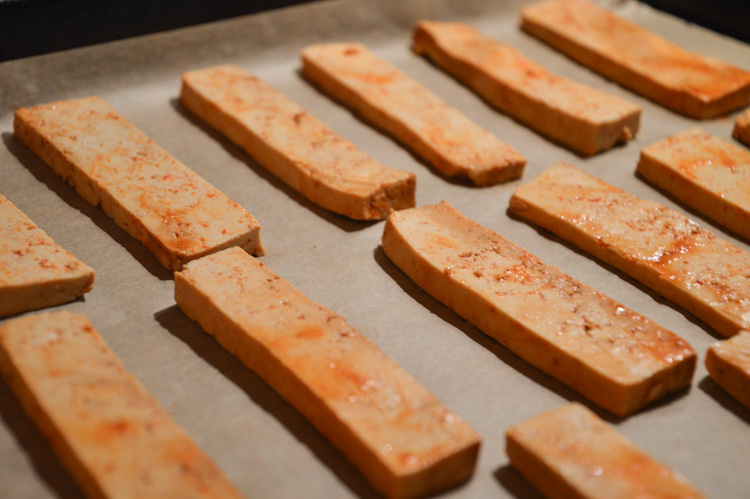 The key, eponymous ingredient in our gochujang tofu is Korean red chili paste. We find gochujang mildly spicy and quite sweet.
Texture-wise, gochujang is very thick and sticky. This suits its traditional uses as the base for a glaze or dipping sauce. But for this application as a marinade, it means you'll need to use the hot water to thin it out before adding the other ingredients. Otherwise, it won't incorporate properly and you'll have little bits of gochujang floating around.
Other than that, making this marinade is super simple. Just add the rest of the ingredients (listed below), stir, and pour over your tofu.
Enjoy this in our gochujang fried rice or veggie udon noodles.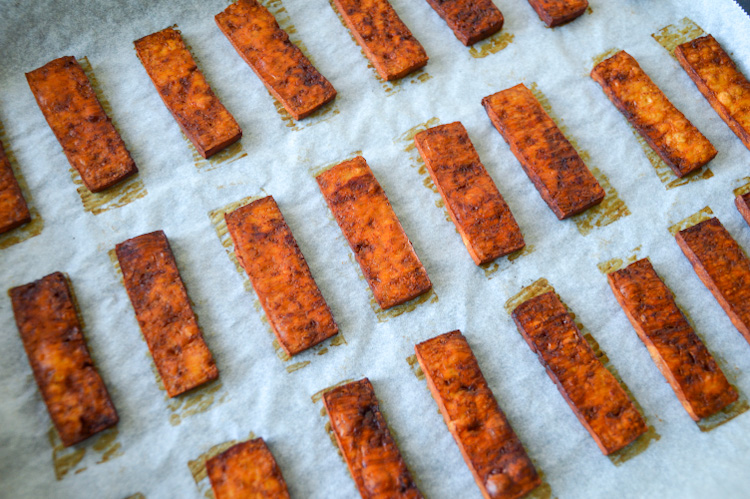 Miso tofu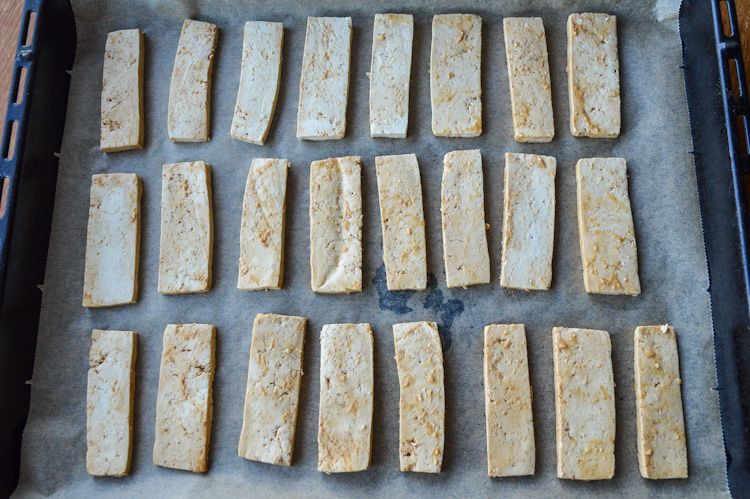 Miso is the star ingredient in our next recipe. We also add ginger to this one. Since miso is so savory, we like how the ginger adds a contrasting bit of brightness.
You don't want the ginger to stick to the tofu and burn when it bakes in the oven. That's why we don't recommend mincing the ginger, but rather cutting it in slightly larger pieces as you can see in the picture below.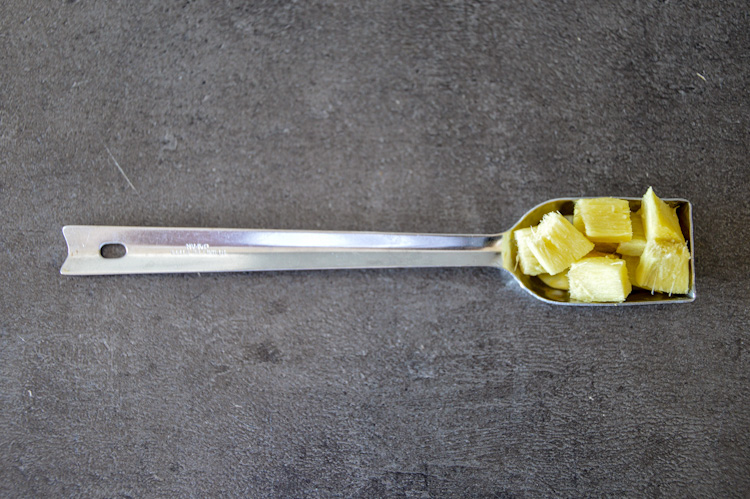 The next steps are simple: just mix in the rest of the ingredients and you're good to go.
Miso tofu goes perfectly with our yaki udon with miso roasted eggplant.
Sichuan baked tofu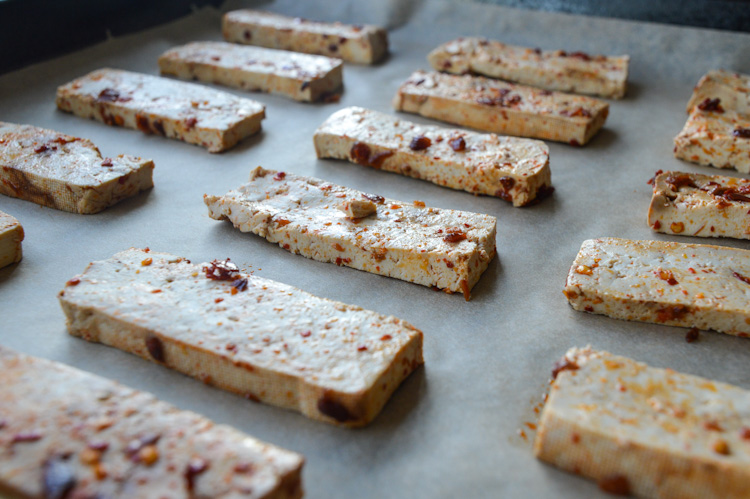 Last but not least is our Sichuan baked tofu. The key ingredient is Lao Gan Ma crispy chili in oil. We are kind of addicted to this stuff and have tried it in pretty much everything we make.
There's no special tip for this recipe. Just mix everything together in whatever order you want and pour it over your tofu.
As you can see in the picture below, there are bits in the chili crisp that will likely burn a little bit in the oven. We like the flavor of burned red chilies, but if you don't, you can pick them off once you lay down the tofu down on the baking sheet.
Enjoy this tofu in our spicy peanut noodles.
Eet smakelijk!
Asian Baked Tofu Including 3 Marinades
Prep Time:
1 hour
5 minutes
Total Time:
3 hours
45 minutes
Three savory baked tofu recipes using Asian ingredients. Our easy method makes perfectly cooked tofu every time.
Ingredients
Tofu
Gochujang Tofu
1/2 Tbsp gochujang
1/2 Tbsp hot water
1/2 tsp toasted sesame oil
1 tsp rice wine vinegar
2 tsp soy sauce
Miso Tofu
1 tsp ginger, cut into small pieces but not minced
1 Tbsp miso
1/3 tsp hot sauce
1 tsp toasted sesame oil
1 tsp sugar
1 1/2 tsp water
Sichuan Baked Tofu
1 Tbsp Lao Gan Ma crispy chili in oil
1 Tbsp kecap manis
1 tsp soy sauce
1/2 tsp sunflower or canola oil
Instructions
Remove tofu from package. Turn it on its side and slice it lengthwise. Wrap in 1-2 paper towels and place a heavy pot on top. Drain for 1-2 hours.
While the tofu is draining, decide which tasty tofu marinade you want to use. Mix all the ingredients for your marinade in a small bowl.
Slice drained tofu into 1/2-inch pieces. Place tofu in a dish or resealable plastic bag and pour marinade in. Let tofu marinate for 4-6 hours.
Preheat oven to 425°F. Line a baking sheet with baking paper. Lay tofu on the sheet with space in between.
Bake for 20 minutes. Flip each piece of tofu over and turn baking sheet in oven. Bake another 20 minutes.
Remove from oven and let tofu cool at least 5 minutes before handling.
Notes
Though we usually end up marinating the tofu for 4-6 hours, it can hang out in as little as 1 hour and as long as overnight.
Remember to take the tofu out of the fridge 20 minutes or so before baking.
If you like your tofu crispier, leave it in the oven for 5 minutes longer. If you like it a little softer, take it out 5 minutes sooner.