Our veggie udon noodles – chock full of fresh vegetables and tofu – are doused with a creamy, spicy peanut sauce. This udon stir fry only takes 20 minutes to make and is utterly addictive. Trust us; we can't go more than a week without eating it.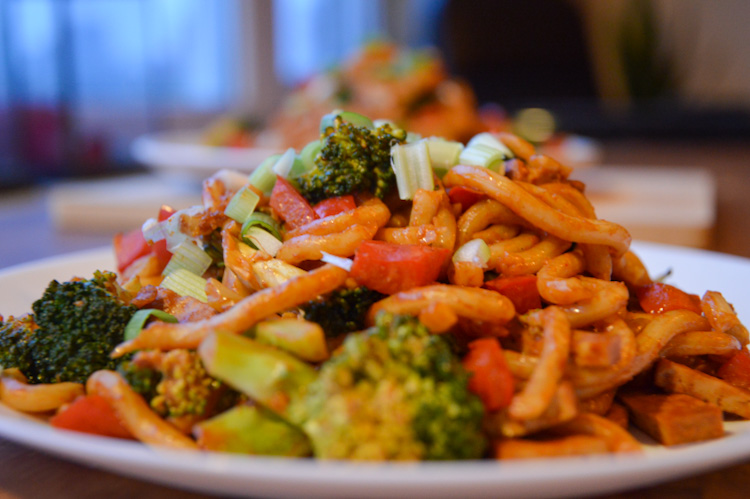 Our love affair with udon noodles
Udon noodles are our go-to ingredient when we want a quick and easy dinner. We first discovered them when traveling for a month in Japan. Though we enjoyed going out to eat, we were often staying in apartments with kitchens. We loved shopping in supermarkets and cooking with local ingredients.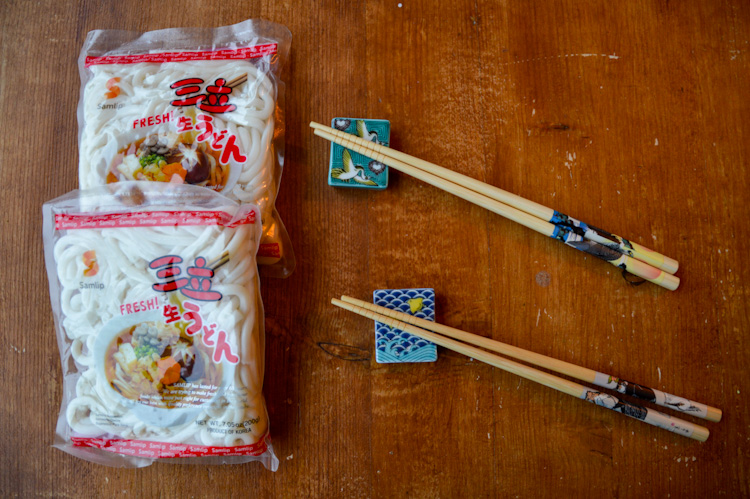 We quickly learned that pre-cooked noodles, including udon and soba, were a fool-proof way to make something tasty no matter what our kitchen looked like (they were most often incredibly small).
We brought our love of them home with us. Pre-cooked udon noodles are available at almost all the Asian markets we've been to in Europe and the United States. We always keep them stocked in our pantry
<< You might also like our Yaki Udon recipe >>
Peanut butter sauce for noodles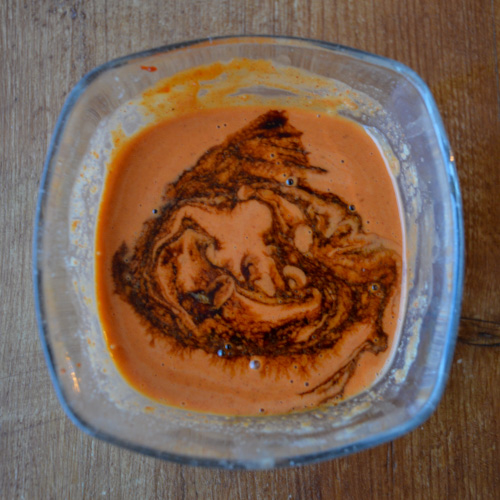 We love peanut butter and we love gochujang and they love each other when combined into this sweet, savory, spicy sauce.
The key to making this sauce is slowly incorporating hot water into the first two ingredients: the peanut butter and the gochujang. We recommend starting with the peanut butter and water, and then adding the gochujang and the rest of the water.
Making a paste first will make it much easier to fully incorporate the other ingredients. If you don't do this, and you just mix everything together at once, you'll end up with bits of peanut butter and/or gochujang swimming in the sauce.
Veggie combinations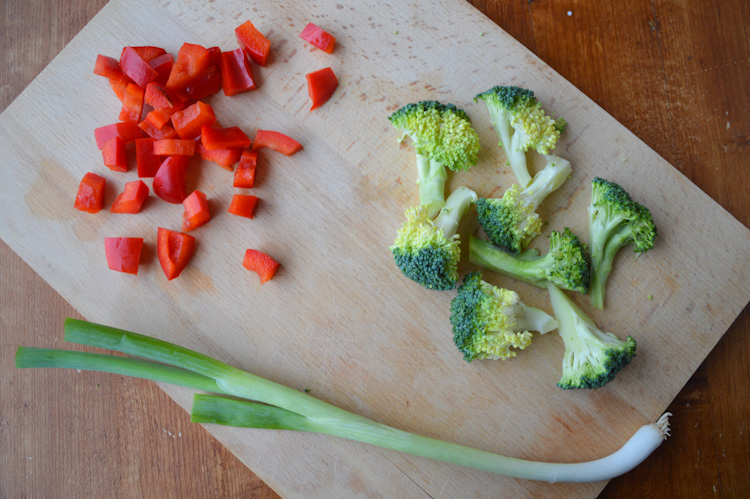 This recipe is super versatile and can be easily customized with your favorite veggies or whatever you have in the fridge.
Our favorite iteration is the one listed here with red pepper and broccoli, but we've also made the dish with green beans, snow peas, and zucchini. And if we have bean sprouts on hand, we always throw in a handful.
Our veggie udon noodles are perfectly delicious with vegetables alone, but if you want some protein in your dinner our gochujang tofu is the perfect protein for this dish. If you're making it the same night, let it cool for 5-10 minutes before chopping it into bite-sized pieces.
Cooking tips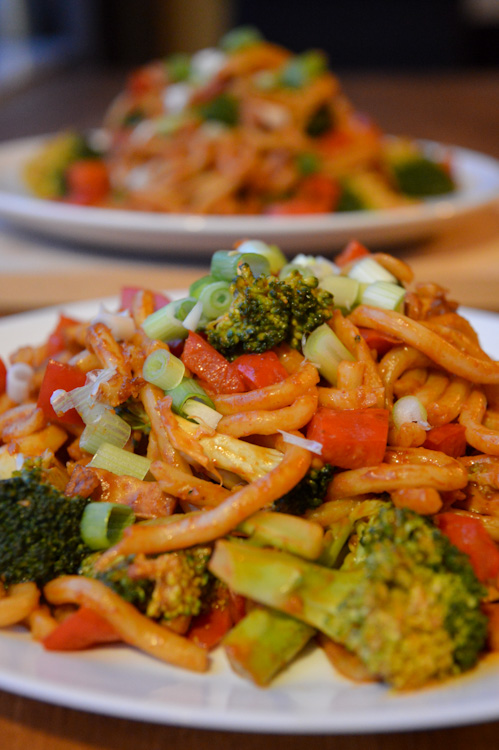 These veggie udon noodles only take 20 minutes to make. But you can prep the veg and make the sauce well before you actually start cooking. So if you want to do all the prep earlier in the day, you can actually throw dinner together in 10 minutes.
It's super simple. First, cook the veg. Then cook the udon noodles. Then mix it all together.
We cook the udon noodles the same way we always cook them. First we fry them in a little oil for a few minutes. Once they start to turn a tiny bit golden, we add water and stir vigorously. Although we cook most of the water off, the noodles will leach some starch, which will help bind the sauce to them.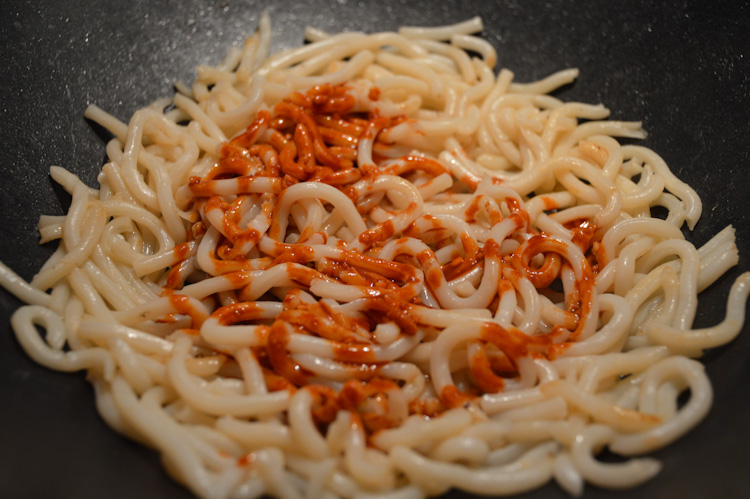 Then add half the prepared sauce to the udon noodles and stir it together. You want a bunch of the sauce coats the noodles before adding anything else.
Now it's time for the cooked veg and tofu to join the noodles and bathe in their own dose of tasty sauce. That's an overwrought way of saying, add the stuff you just cooked into the pan and mix in the rest of the sauce.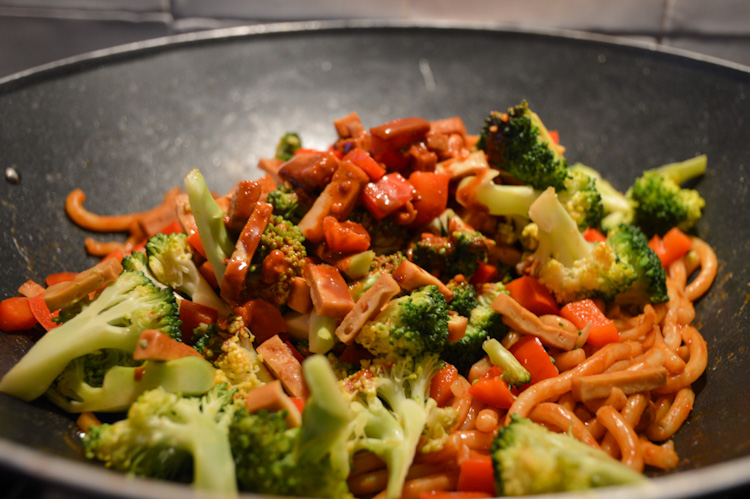 And then you're done and it's time to eat. We always top this with fresh scallions. If we have toasted sesame seeds and/or fresh herbs, we throw them on there too.
Eet smakelijk!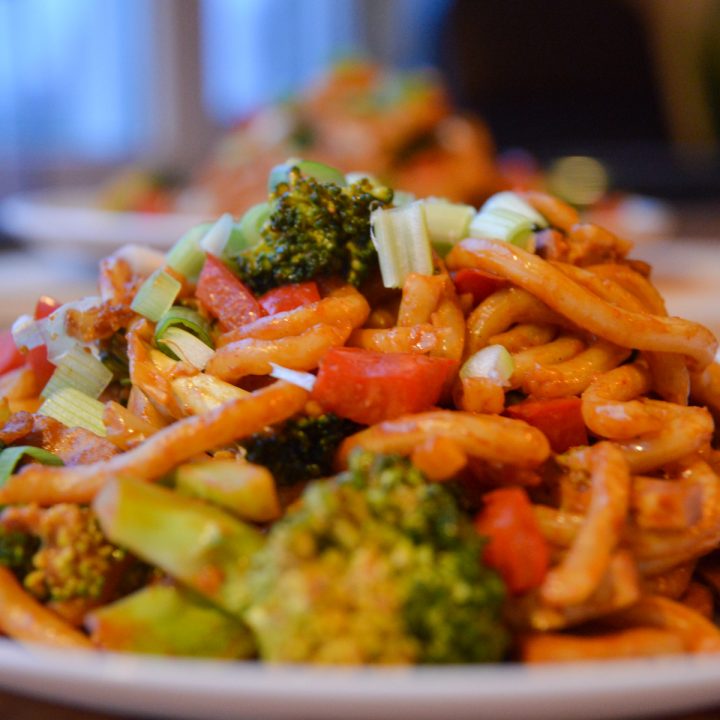 Veggie Udon Noodles with Peanut Sauce
Our veggie udon noodles - chock full of fresh vegetables and tofu - are doused with a creamy, spicy peanut sauce. This udon stir fry only takes 20 minutes to make and is utterly addictive.
Ingredients
Peanut Butter Sauce for Noodles
1 Tbsp peanut butter
2 Tbsp hot water, divided
2 tsp gochujang
1 Tbsp dark soy sauce
1 tsp rice wine vinegar
1/2 tsp lime juice
Vegetables and Tofu
1 tsp flavorless cooking oil
1 clove garlic, minced
1 red pepper, chopped
1/2 pound baked tofu, chopped
4 cups broccoli, cut into small florets
1 green onion, chopped
Udon Noodles
1/2 tsp toasted sesame oil
2 packets udon noodles, 200 g or ~7 oz each
1/4 cup water
Instructions
Slowly mix the peanut butter with 1 Tbsp hot water to create a paste. Add the gochujang and another 1 Tbsp hot water and mix those in as well.
Once you have a nice, smooth, light orange colored paste, you can add the rest of the udon noodle sauce ingredients and stir to incorporate.
Steam broccoli until it's halfway-cooked (that's 2-4 minutes in the microwave for us).
Heat up a large non-stick pan or wok over medium heat. Add the cooking oil and garlic and saute for 1 minute.
Add red pepper to wok, season with a little salt, and saute for 2 minutes until red pepper starts to soften and brown at the edges.
Throw in your chopped up tofu, toss, and let cook for another minute.
Last, add your steamed broccoli to the pan. Toss everything together and let it call cook for another 2 minutes.
Remove all the veg and tofu from the pan and set aside in bowl.
Add the sesame oil to the pan and spread it around quickly. Add your udon noodles and toss in the oil. Let them cook for 2 minutes, tossing every 30 seconds.
Add water to pan and stir rapidly until it is almost evaporated.
Turn heat down to low and add half the sauce. Stir until all the noodles are coated.
Add your veg and tofu back into the pan. Pour 3/4 of the remaining sauce and toss everything together. Turn off the heat, add the last of the sauce, and stir once more.
Plate and top with chopped scallions.
Notes
We prefer crunchy peanut butter, but you can use creamy in this recipe as well.
You can substitute sriracha if you don't have gochujang.
If you don't like the bite of raw scallions, toss them into the pan and mix them with the noodles when you add the last bits of sauce, right after you turn off the heat.
Other tasty toppings include toasted sesame seeds, fried onions, and fresh herbs like cilantro or mint.