Our sautéed red cabbage with bacon will brighten up any dinner. It's quicker than a braised dish, but since it's cooked with bacon it still tastes rich and decadent.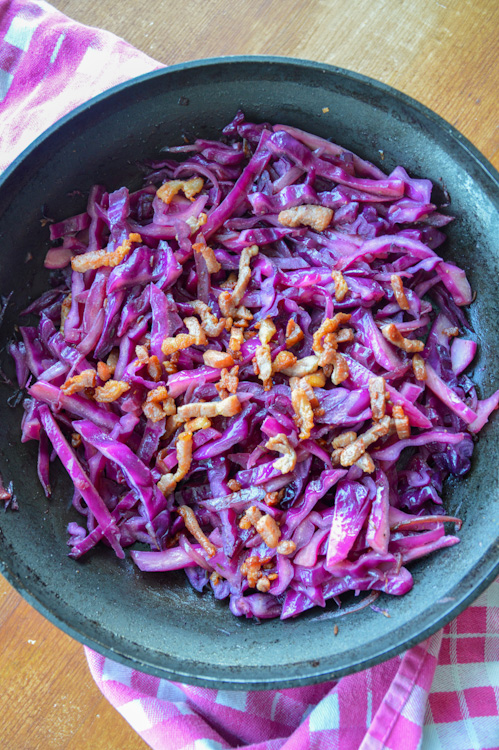 Discovering cabbage
We're crazy for cruciferous vegetables. We like all kinds of cabbage – green, red, Chinese – and don't even get us started on how much we love broccoli, cauliflower, and brussels sprouts.
But back to the cabbage.
We never ate it that much at home. The United States is not known for its great cabbage dishes. But when we started traveling in Europe we were inundated with it.
In places like Germany and the Czech Republic, cabbage is quite a common vegetable. In fact, especially when we first started traveling international many years ago, we could go quite some times in these countries without seeing any other vegetable on a plate of food (sometimes stereotypes are based in truth).
This may sound distressing, but it really did prove to us that cabbage can be quite tasty. It just requires care. So we started making it more at home too.
And now we make cabbage in lots of different ways. It's quite a versatile vegetable. Eventually, we'll have a whole host of cabbage recipes here. But we're starting with our easy and fast sautéed red cabbage.
Ingredients and prep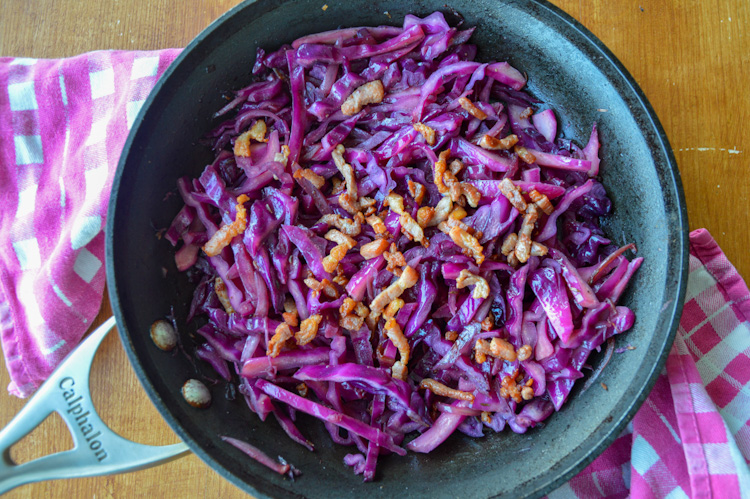 Our sautéed red cabbage only has five ingredients (aside from essentials like salt): red cabbage, bacon, shallots, garlic, and apple cider vinegar.
We slice the cabbage right off the head and then cut the pieces in half. We wanted a quick cabbage recipe so we sauté it. We use bacon to achieve the richness that you get with slower cooking methods like braising.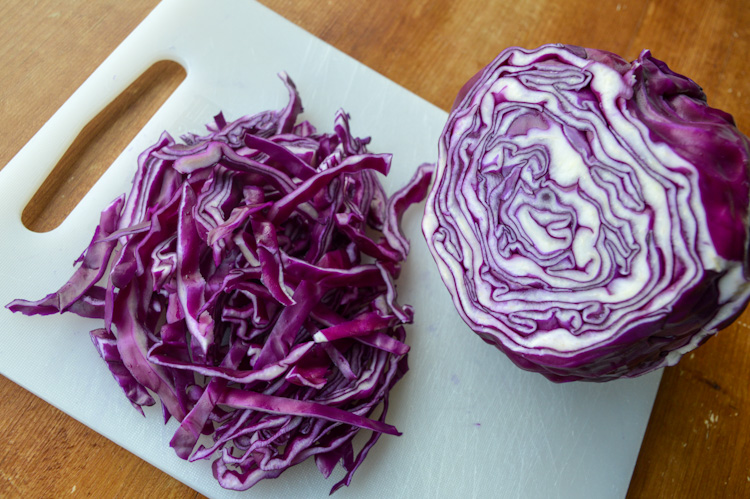 We usually cook with regular old yellow onions, but wanted something a little milder for this recipe, so we decided on shallots. We slice them thin lengthwise.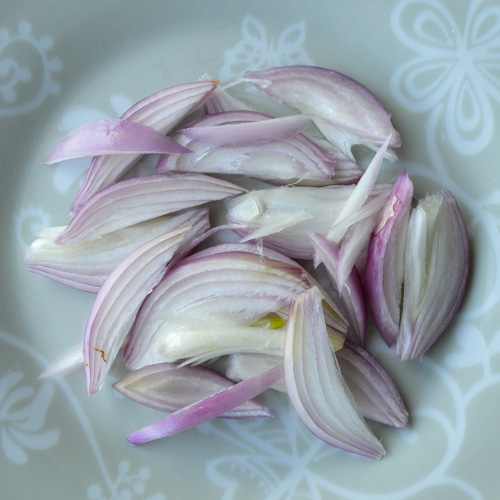 We put garlic in most of our recipes because garlic is life. In this dish it also adds another layer of flavor. Apple cider vinegar gives the dish a needed bite without being overwhelmingly acidic.
Cooking tips
Cook your bacon on low heat for so it gets super crispy and renders out fat that you can then cook the rest of your veg in. We love cooking with bacon because it's two for the price of one: protein and fat.
Drain the bacon on a paper towel so it crisps up further as it awaits becoming a tasty cabbage topping.
Cook the shallots nice and slow too so they don't burn. You only have to cook the garlic for 30 seconds before adding the cabbage.
When you add the cabbage to the pan, toss it thoroughly in the bacon fat so it's completely coated. And then continue to toss it every few minutes as it sautés.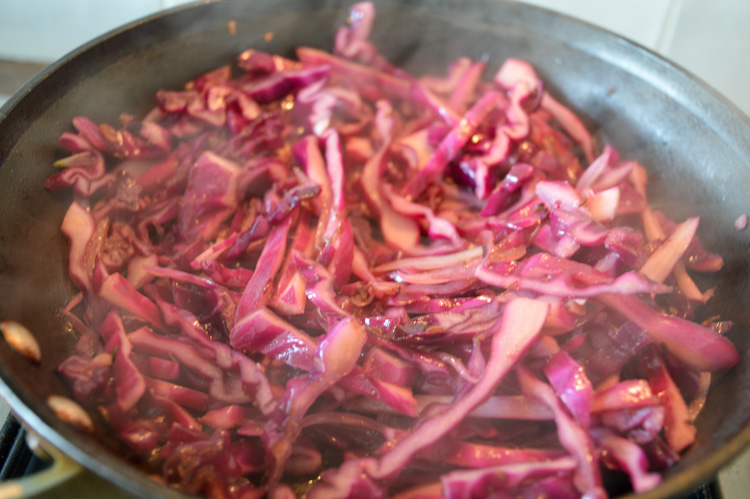 Stand back a bit when you add the apple cider vinegar. It's not pleasant to inhale.
The resulting dish is more savory than sweet (like many red cabbage dishes). The cabbage will break down a bit, but the goal with the cooking time is that it retains some of its crispness.
Plate the cabbage topped with your bacon and serve alongside a meaty main and we think you'll be quite happy.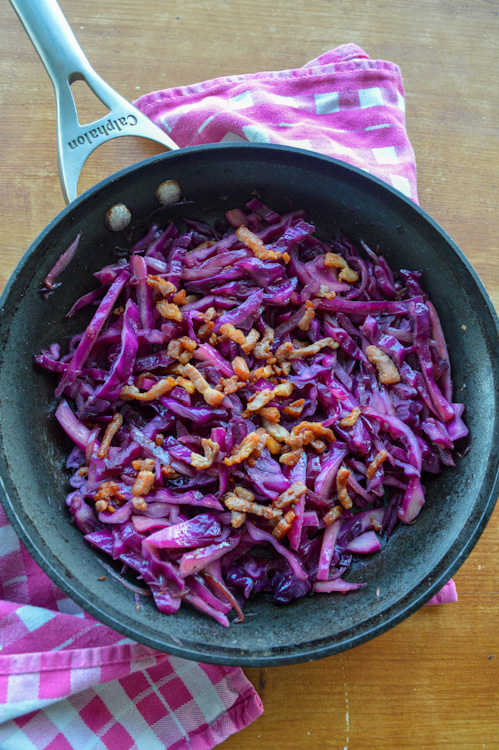 Eet smakelijk!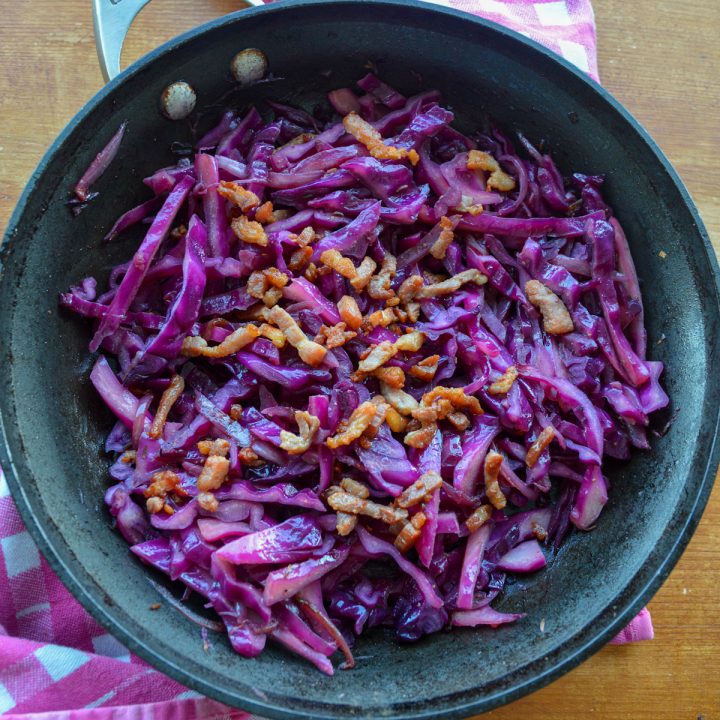 Sautéed Red Cabbage
This sautéed red cabbage is quicker than a braised dish, but since it's cooked with bacon it still tastes rich and decadent.
Ingredients
1/2 cup bacon, cut into lardons
1 large shallot (~3/4 cup), sliced
2 cloves garlic, minced
4-5 cups red cabbage, sliced and chopped
1/8 tsp salt
1/8 tsp freshly cracked black pepper
2 Tbsp apple cider vinegar
2 Tbsp water
Instructions
Cook bacon over low heat, rendering out the fat, until crispy (approximately 10 minutes). Remove bacon from pan and set to drain on a paper towel. Remove all but 1/2 tsp bacon fat from pan.
Turn heat to medium. Add shallots to pan and cook until soft and starting to brown, approximately 2 minutes.
Add garlic and sauté for 1 minute.
Push shallots and garlic to one side of the pan and add 1/2 tsp more bacon fat. Add the cabbage, coating it in the bacon fat. Season with salt and freshly cracked black pepper. Mix everything together and cook for 3 minutes.
Add apple cider vinegar and water and stir. Turn heat down to low and cook for about 8 minutes.
Serve topped with crispy bacon.
Notes
If you don't have shallots, you can absolutely substitute a yellow or Vidalia onion.
Save any extra rendered bacon fat to cook with in the future.
If you want to brighten the dish up a bit, feel free to serve with some fresh parsley on top as well.