Our yaki udon recipe combines three of our favorite ingredients: udon noodles, eggplant, and miso paste. The result is a savory dish that tastes like it took a lot longer to cook than it actually does.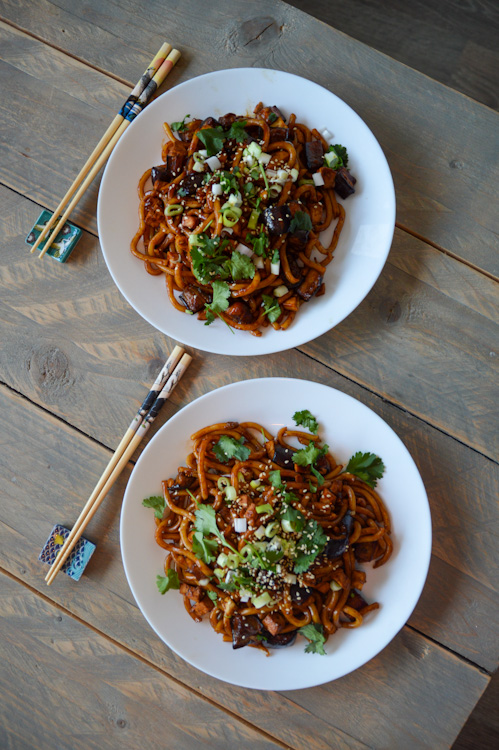 We discovered the joy and ease of cooking udon noodles in Japan. But we never actually ate yaki udon at a restaurant there. We just bought the wonderful thing that is pre-cooked noodles at a supermarket and threw them into a pan.
Since then, they've become an absolute staple in our kitchen. We're lucky to live in a city with several Asian markets which always have them available. We love them most because they're incredibly quick to cook. They're also a blank palette onto which you can add whatever flavors or ingredients you're in the mood for.
We have several udon recipes, and we'll likely add them all here. We're starting with our udon noodles with miso roasted eggplant because it's a little different and a lot special.
What is yaki udon?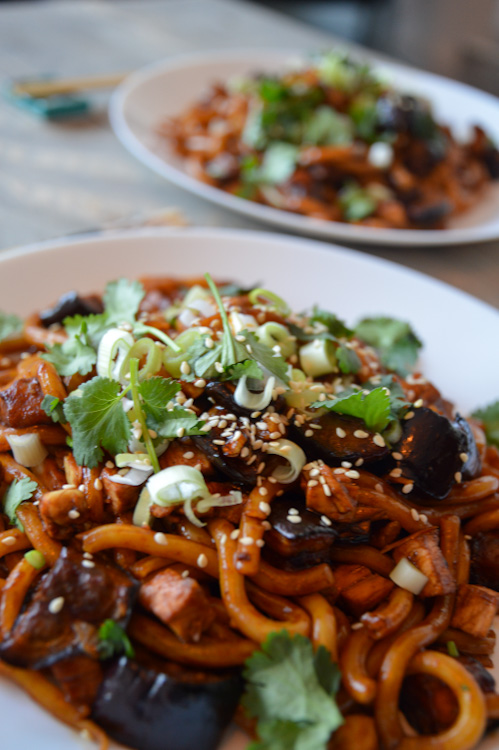 Yaki udon is a Japanese dish of pan-fried chewy wheat noodles. It typically has a sauce made from soy sauce.
It is quite customizable in that you can add whatever vegetables or protein you like. And if you're using pre-cooked packaged udon noodles, it's really fast to make as well.
Our udon noodles with miso roasted eggplant
Miso roasted eggplant
The first step to making our yaki udon is roasting the eggplant. We toss the eggplant in a miso-rich sauce right before throwing it in the oven.
Our miso roasted eggplant is savory, rich, and velvety. It tastes like you spent hours in the kitchen developing flavors, when in reality, it just takes a half hour to roast up.
Cooking the udon noodles
The next step is making the udon noodles. The first step for this particular dish is to saute some fresh garlic and ginger. We don't do this for all udon noodle dishes but since we're not sauteing any other vegetables in this recipe, this is the time to do it.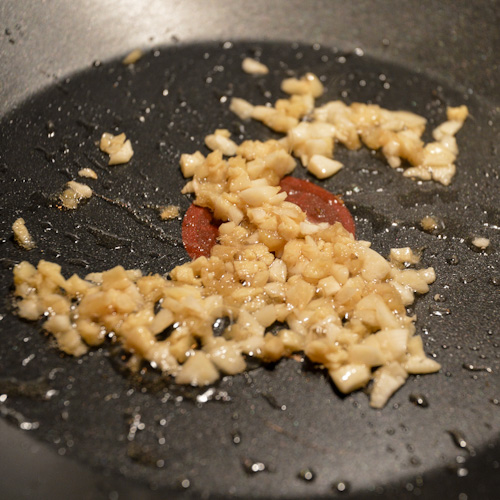 We cook the garlic and ginger in sesame oil over low heat for a minute or two. When they're done, remove from the pan.
Then bump the heat up to high. Add a little more oil and then throw in your noodles. Remember, we're using pre-cooked packaged udon noodles. They might stick together so make sure to separate them.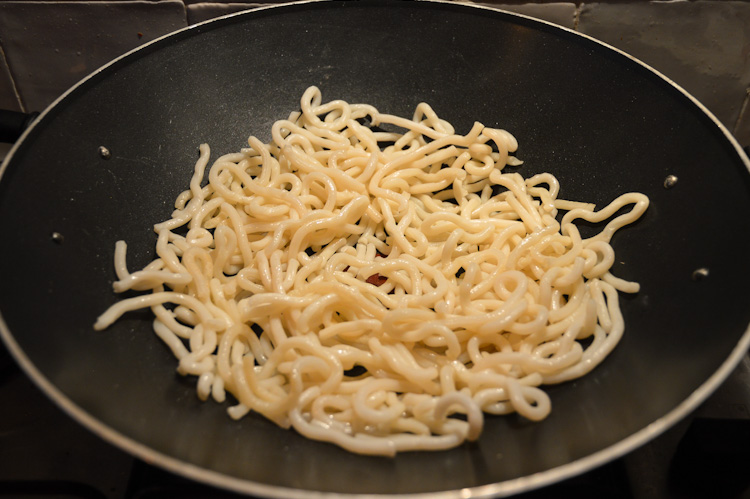 Cook the noodles for a few minutes, tossing every now and then to get all sides brown. Then add a little water to the pan and stir vigorously. This will help the noodles loosen up a bit and create a great texture.
Bringing it all together
During the eggplant roasting time, you should have mixed together the sauce that will go on the whole dish. The key ingredients that make up this sauce are dark soy sauce and kecap manis.
After most of the water has evaporated from the pan with the noodles, turn the heat down to medium and add half the sauce plus the previously sauteed ginger and garlic. Stir it all into the noodles.
While this dish would be delicious enough with eggplant alone, we do like adding protein. When we don't want to eat meat, we add our miso tofu. When we do, we use some pre-cooked chicken (which we usually have in the fridge).
Either way, the next step would be to add the protein plus your delicious miso roasted eggplant to the pan. Add the rest of the sauce and stir it all together for a few minutes before plating.
Plating your yaki udon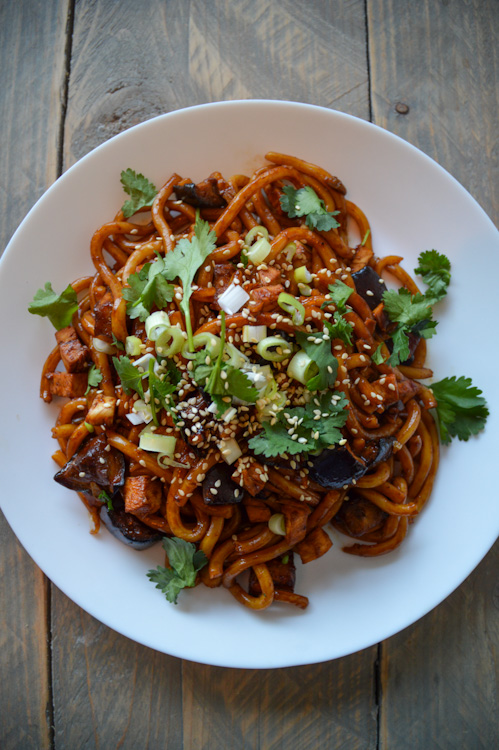 This dish is good as is. But a noodle dish can always be made better with a few toppings. For this dish, we like to add raw green onions, toasted sesame seeds, and cilantro.
Eet smakelijk!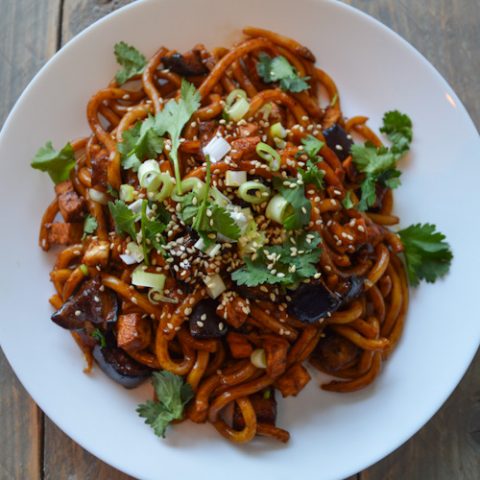 Udon Noodles With Miso Roasted Eggplant (Yaki Udon)
Our take on yaki udon and our favorite way to combine three of our favorite ingredients: udon noodles, miso, and eggplant.
Ingredients
Miso Roasted Eggplant
1 medium eggplant, cut into 1/2 inch cubes
1/2 Tbsp miso paste
1/2 Tbsp dark soy sauce
1/2 Tbsp flavorless cooking oil (eg, sunflower or canola) for the marinade + 1/2 tsp to brush the pan
1/2 tsp hot pepper sauce
1/4 tsp cumin powder
1/4 tsp sugar
Protein (optional)
1/2 pound miso-glazed baked tofu or 6 oz cooked chicken, cut into small bite-sized pieces
Sauce for Noodles
1 1/2 Tbsp dark soy sauce
1 Tbsp kecap manis
1 tsp sriracha
1 tsp rice wine vinegar
Noodles
1 1/2 tsp toasted sesame oil
2 cloves garlic, minced
1 tsp ginger, minced
2 packets udon noodles, 200 g or ~7 oz each
1/4 cup water
Toppings
1/2 Tbsp sesame seeds, toasted
1 green onion, chopped
Fresh green herb such as cilantro, Thai basil, or mint
Instructions
Preheat oven to 425°F.
Put your eggplant cubes in a large mixing bowl. Mix together all the miso sauce ingredients and toss with the eggplant.
Brush your baking dish or pan with 1/2 tsp oil so eggplant doesn't stick. Bake for 25 minutes, stirring once halfway through. Let sit at least 5 minutes before combining with the noodles.
Make sauce for noodles by combining all ingredients and mixing vigorously to ensure oil is incorporated.
Heat 1 tsp sesame oil in a non-stick pan or wok on low heat. Sauté garlic and ginger for 2 minutes. Remove from pan.
Add 1/2 tsp more sesame oil to pan and turn heat to high. Add udon noodles and cook for 3 minutes, tossing in oil every minute or so. Add cooked ginger and garlic back to noodles, mix, and cook for another minute.
Add 1/4 cup water to pan and stir noodles until it has mostly evaporated.
Turn heat down to medium. Add half the noodles sauce and stir until all noodles are coated. Add miso tofu or chicken, eggplant, and the rest of the sauce and mix until everything comes together, which should take another minute or two.
Plate and sprinkle with your desired toppings.
Notes
If you're working with pre-cooked protein, remember to take it out of the fridge at least 20 minutes before adding it to the pan so it's not too cold.
If you don't love the bite of raw green onions, you can stir them into the noodles right after you turn the heat off and before you plate.