Our Thai Grilled Pork is unique way to cook pork tenderloin. Marinated in Thai curry paste and coconut milk, it's spicy, salty, and super tasty.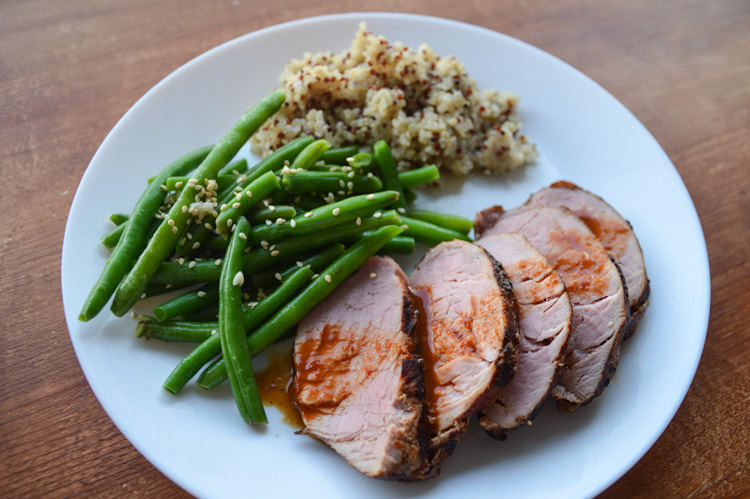 Though this is a travel-inspired cooking blog, this recipe was not inspired by our trip to Thailand. We didn't eat anything like this in Thailand. But we did eat curry. A lot of it.
Then we started making curry at home. Often. So we bought (what we didn't realize at the time was) an enormous vat of Thai red curry paste. After over a year of having this vat in our fridge, we realized something.
Curry paste is not just for curry!
When we had this realization, we wanted to put it in everything. But we started by using it in a marinade for pork tenderloin and thus was born our Thai grilled pork.
Pork tenderloin marinade
As marinades usually are, the one for our Thai grilled pork is quite simple. The main attraction is the Thai red curry paste of course. We married it with other standard curry ingredients coconut milk and lime.
Sometimes pork tenderloin tapers off. If the ends of your pork are too thin, we recommend tucking them under and tying them with kitchen twine before submerging in your marinade.
When we first made this dish, we kinda made a mistake. We overestimated how much marinade we'd need. So we reserved half the marinade for a sauce. We liked it so much we decided to keep it in the recipe.
So refrigerate half your marinade overnight with the pork. When it comes time to cook, mix it with some water, soy sauce, and honey before heating it up for serving.
Cooking tips
Grilling is our favorite way to cook pork tenderloin. It yields a charred, flavorful outside and juicy inside. Since we don't have a barbecue, we use a grill pan. As city-dwellers, the grill pan has always been a staple cooking supply.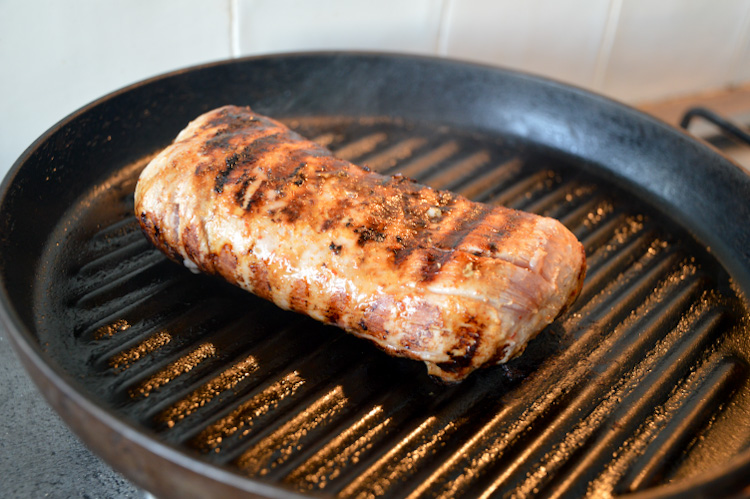 Pork tenderloin is too thick to cook on a grill pan all the way through. So we do a combination of grilling and baking. It's easy.
Grill the pork for a total of 5 minutes: 2 minutes on the first two sides and then 30 seconds on the other two. The first two sides will be simple and you can step away. But you might need to hold the pork on the pan with tongs for the second two sides to ensure it stays put. As you do, be sure to admire the beautiful grill marks you've made.
If your grill pan is oven-safe, pop the whole thing in the oven. If not, transfer the pork to a baking tray. Finish cooking the pork in a 350°F oven for about 25 minutes and then let it rest for at least 10 minutes before slicing.
The meat should be slightly pink and super tender and juicy. After you spoon the sauce over it, you'll want to dig in immediately.
Serving ideas
Our Thai grilled pork is quite flavorful and salty, so we recommend serving it with some milder sides that can counterbalance its intensity.
We love it with rice or quinoa. And green beans or broccoli quickly sautéed with garlic and sesame are perfect vegetable sides.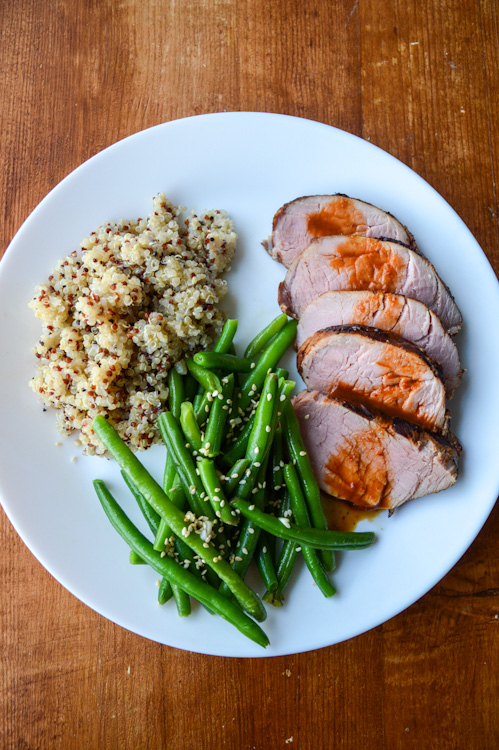 < Try next: unbeatable Balkan burgers >
Eet smakelijk!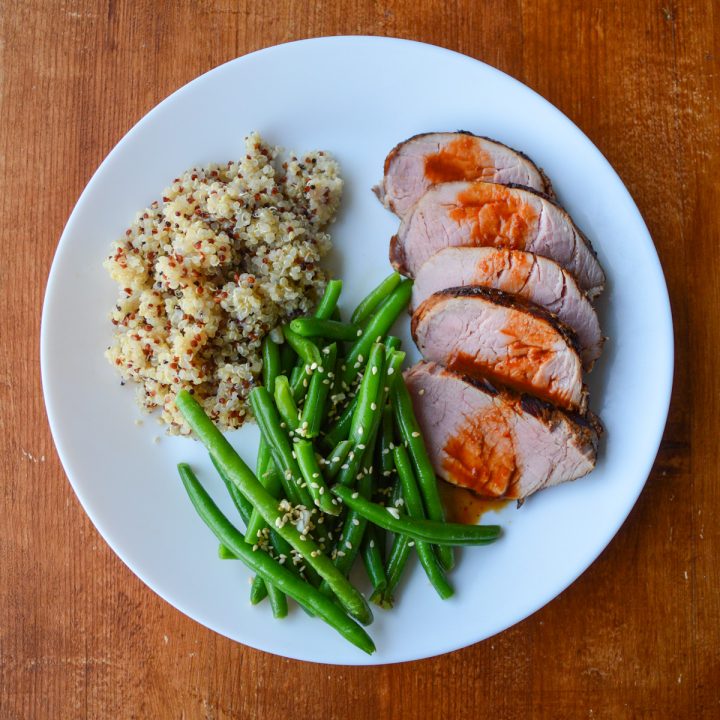 Thai Grilled Pork
Total Time:
1 day
35 minutes
Our Thai Grilled Pork is unique way to cook pork tenderloin. Marinated in Thai curry paste and coconut milk, it's spicy, salty, and super tasty.
Ingredients
1 tsp Thai red curry paste
1 1/2 Tbsp light coconut milk
1 tsp lime juice
1/2 tsp flavorless cooking oil
1/2 tsp sugar
1 pound pork tenderloin
1 1/2 Tbsp water
1/2 tsp soy sauce
1/2 tsp honey
Instructions
To make the marinade, mix the curry paste, coconut milk, lime juice, oil, and sugar in a small bowl. Pour half the mixture over the pork tenderloin and refrigerate overnight. Reserve and refrigerate the rest.
Take the pork and remaining marinade out of the refrigerator 20 minutes before you want to cook it. Preheat oven to 350°F.
Heat a grill pan over high heat. Grill pork 2 minutes on one side, flip and grill for 2 minutes on the other. Then grill for 30 seconds each on the remaining 2 sides.
Cook the pork in the oven for 25 minutes (or until it reaches an internal temperature of 160°F), flipping once halfway through. You can cook it in your grill pan if it's oven-safe or transfer it to a baking sheet.
Take the pork out of the oven, tent it, and let it rest tented for 10 minutes.
Add the water, soy sauce, and honey to the remaining marinade and stir to incorporate. Heat the mixture in a small saucepan over very low heat. After the pork rests, spoon any juices that run from it into the sauce. Cook the sauce for about 5 minutes until hot, but not reduced.
Slice pork, spoon sauce over it, and serve.
Notes
This is a salty dish. To reduce the salty flavor, you can cut the chili paste in half and/or marinate for just a few hours instead of over night.
We like our pork pink and juicy. If you prefer it cooked through more, keep it in the oven for an extra 5-10 minutes.