This Balkan burger is our take on pljeskavica, but was actually inspired by cevapi. These hamburgers are oniony and bouncy and are terrific with a big dose of ajvar.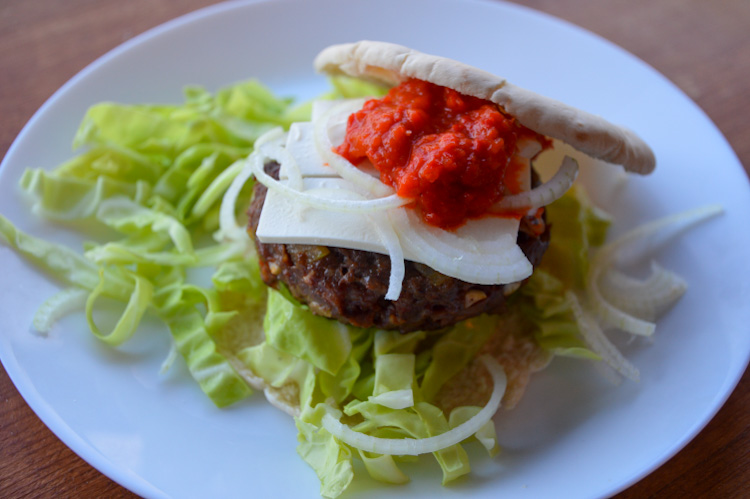 Pljeskavica and cevapi: Balkan Burger inspiration
Even though our Balkan burger is really a pljeskavica, it was inspired by cevapi. If you have no idea what those words mean, don't fret. We didn't either until we visited the Balkans.
The Balkans is a region in southeast Europe made up of the following countries (just for fun, we've listed them in the order of our visits): Slovenia, Croatia, Bulgaria, Romania, Greece, North Macedonia, Serbia, Bosnia and Herzegovina, Albania (still on the list), Montenegro (still on the list), Kosovo (still on the list).
We really enjoyed every visit to the above countries; it's a region we'd love to spend more time in. We were wowed by the beautiful scenery of the region and we fell in love with the food. There are more delicate things on offer for sure, but we couldn't resist the meaty, ubiquitous dish known as cevapi.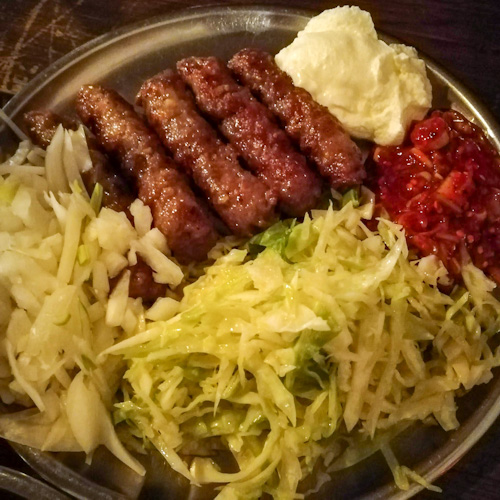 Cevapi are small, skinless sausages made of minced meat. To us, they are more like sausage-shaped hamburgers. So that's why we decided to turn it into a burger. This was before we were reminded that another well-known Balkan dish is made of a similar meat mixture and shaped into a burger. That's called a pljeskavica.
The meat used in cevapi and pljeskavica varies, but is some combination of beef, pork, and/or lamb. Regional and religious differences account for most of why.
Onions are a huge part of both dishes. They can sometimes be found within the meat mixture itself. They are always served in plentiful amounts as an accompaniment. They are always raw.
A third companion to this dish is ajvar, a tasty, tangy, sometimes spicy spread. It's always made from a red pepper base, but also includes other vegetables that vary by country or even chef. We like ours a little spicy and a lot smoky.
< Try our ajvar recipe >
Other accompaniments include a whole lot of cabbage, flatbread, and a clotted cream.
We also highly recommend serving our Tavče Gravče Inspired Macedonian Beans as a side dish to these burgers.
Recipe tips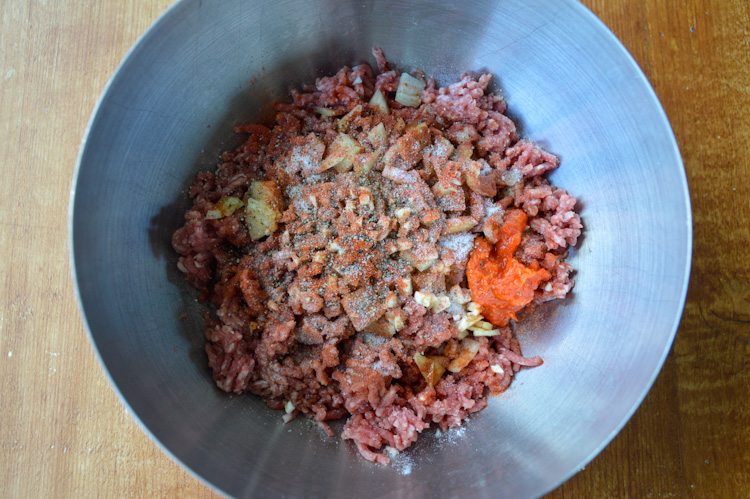 As we said earlier, we created this recipe with cevapi in mind. So you can consider our Balkan burgers cevapi-inspired hamburgers or simply pljeskavica.
We only use beef in our burgers. We honestly prefer all beef to a beef + pork mixture. Beef + lamb is probably delicious, but we wanted to keep this recipe simple. But by all means, if you want to substitute half the beef for either other meat, go for it.
Making the patties
You make the Balkan burger patties like you would any other hamburger. Mix all the ingredients together, first with a fork, then with your hands.
One ingredient we added to the burgers themselves, though it's not traditional is ajvar. It works for the texture and gives the meat sweet and spicy notes.
Before our research, we didn't know that a secret ingredient in many a cevapi is baking soda. This makes the meat springy and light. The resulting cooked burger puffs up a bit and has a nice bounce and bite.
Putting onions in a beef patty is pretty much universal gospel and there's no reason to mess with that unless you really don't like them. But to be honest, if you don't like onions, you probably should pick another more standard hamburger recipe to try.
These burgers are a little harder to firmly pack because of all the onions. But not to worry. Once you form your patties, put them in the fridge for an hour. This will let the flavors meld, the baking soda to do a little tenderizing, and help the burgers keep their form.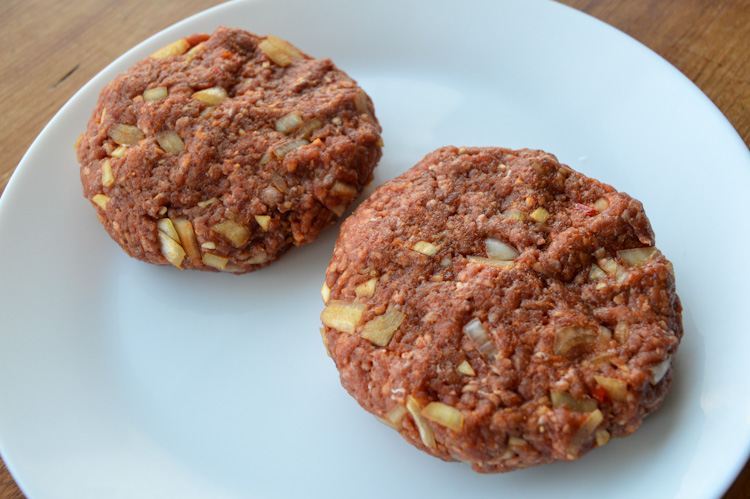 Grilling the hamburgers
Take the patties out about 20 minutes before cooking to take the chill of them. This will ensure a more evenly cooked, tender burger. We sadly don't have a real grill, but we do have a grill pan and it works great.
Though normally we cook our burgers on high heat for 4 minutes per side for medium rare, these burgers require a little extra cooking time due to their loosely packed structure and those onions. So we recommend 5 minutes per side for medium rare.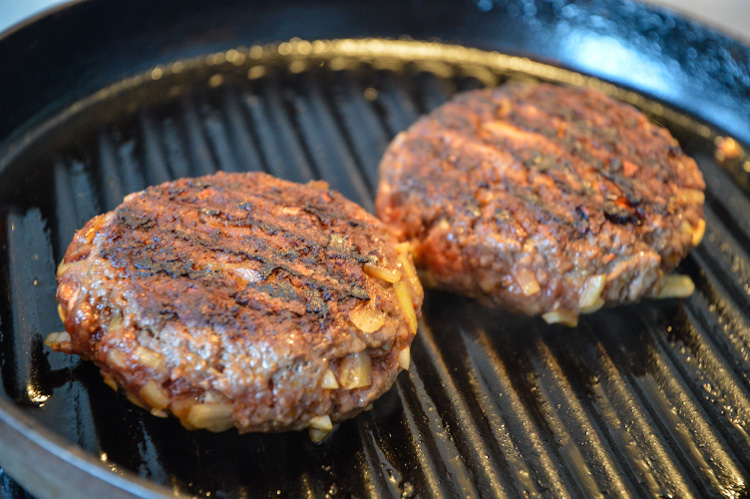 Per standard burger-making procedure, let your Balkan burgers rest on a plate under a foil tent for at least 5 minutes. Then it's time to assemble.
Assembly
Place the bottom half of a warmed pita on a plate. Add some cabbage (which you will have previously tossed with a little vinegar). Add the burger. Add 2-3 slices of feta cheese.
Note: when we're making burgers with cheese we want to melt, we will have added the cheese during the last couple minutes of cooking. But feta doesn't really melt, and we want a slightly cold contrast here.
Back to plating. Add some super thinly sliced onions on top, a big dollop of ajvar, and top with the other half of the pita.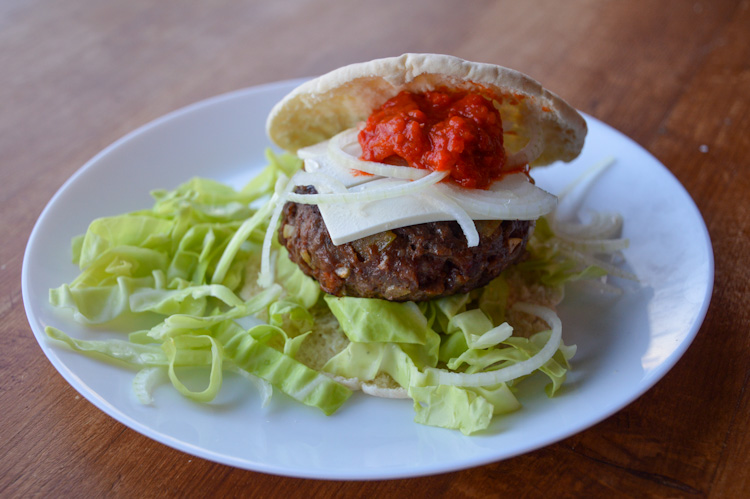 Another note: the ajvar is also best served cold, so it replicates that perfect burger sensation you'd get from mustard, ketchup, or barbeque sauce, but with a more on-brand flavor.
We recommend plating with the rest of the cabbage, onions, and a whole lot of ajvar nearby. The cheese in this recipe replaced the clotted cream, but if you want to serve with some (or sour cream or creme fraiche), it will definitely work.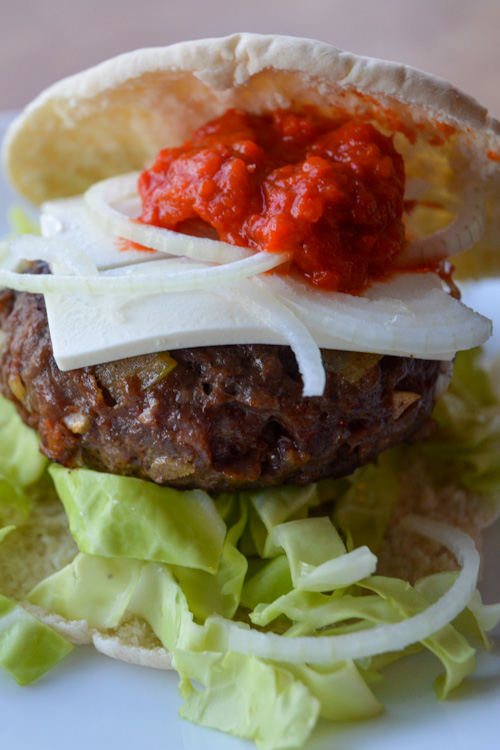 Eet smakelijk!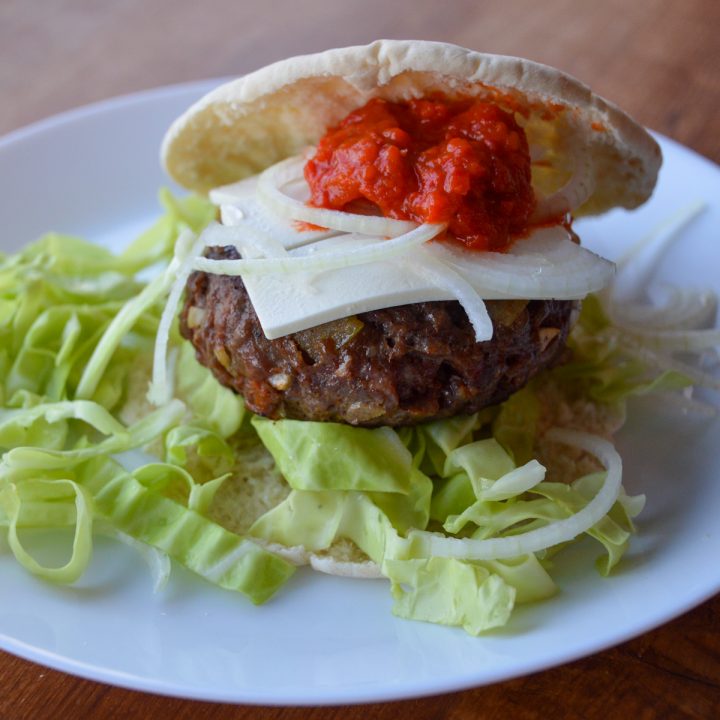 Balkan Burger
Additional Time:
1 hour
25 minutes
Total Time:
1 hour
45 minutes
This Balkan burger is our take on pljeskavica but was actually inspired by cevapi. These hamburgers are oniony and bouncy and are terrific with a big dose of ajvar.
Ingredients
Burgers
12 oz ground beef
3 Tbsp yellow onion, minced
1 garlic clove, minced
1 tsp Worcester sauce
1 heaping tsp ajvar
1/4 tsp smoked paprika
1/2 tsp hot paprika
3/8 tsp baking soda
1/8 tsp black pepper
1/2 tsp salt
Bun & Toppings
2 small pitas (~4 in diameter)
2 large leaves green cabbage, shredded or thinly sliced
1 1/2 tsp apple cider vinegar
2 oz feta, sliced into 4-6 pieces
1/4 cup yellow onion, very thinly sliced
2 Tbsp ajvar
Instructions
Mix all burger ingredients together with a fork and then with your hands. Shape the meat into patties and place covered in the fridge for 40 minutes. Take the burgers out 20 minutes before you want to cook them.
Toss the shredded cabbage with the apple cider vinegar.
Heat a grill pan on medium/high heat. Grill the burgers for 5 minutes on each side for medium rare. Remove from the grill pan, tent, and let rest for 5 minutes before assembling.
While your burgers are cooking, warm your pitas in the oven wrapped in aluminum foil for 5-10 minutes. Slice the pitas in half when they come out of the oven.
Assemble your burgers: put the bottom half of the pita on a plate, lay down a handful of cabbage, add the burger, top with cheese, sliced onions, ajvar, and the top lid of your pita. Throw the rest of the cabbage and any remaining onions on the plate to enjoy along the way.
Notes
We use ground beef with either 10% or 20% fat.
We usually cook our burgers 4 minutes each side for medium rare, but these take a little longer at 5 minutes per side.
In the Netherlands (where we currently live), feta is a bit harder to find than "witte kaas" (which translates to white cheese). Basically if you can't find feta, any feta-like cheese will suffice.
The amount of ajvar listed in the ingredients is for topping your burger. But you will want more along the way, so keep it on the table as a condiment while you enjoy your burger.