Our German potato salad with capers and caraway is homey and delicious. Plus it's versatile! This warm potato salad is both great as a side dish at a summer barbecue and holds up to heartier winter fare.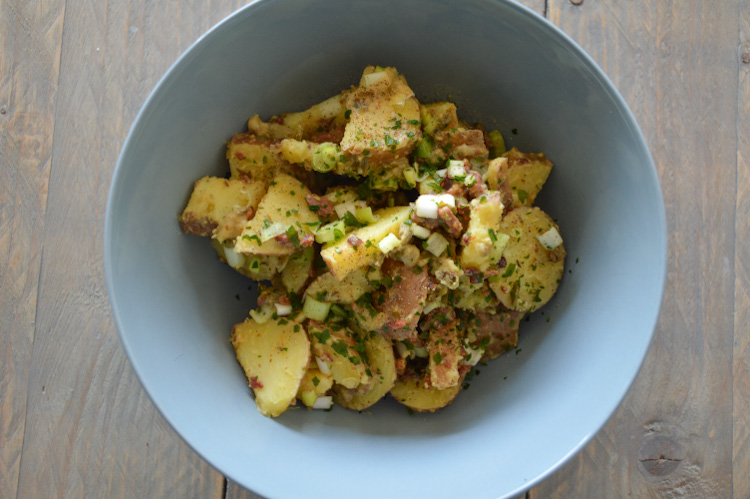 Our love of German potato salad
When we think of potato salad, we think of two countries that do it best: America and Germany. But in our very humble opinion, much of what makes so many American potato salads great are the German parts.
We have time for mayo-based, celery/carrot/egg addled, room temp or (even cold) potato salad! They are all delicious and staples of a lifetime of deli/lunch/bbq experiences.
But our favorite potato salads are warm, use a vinaigrette base, and have bacon.
We've eaten this type of Kartoffelsalat many places in Germany. And it is just as at home alongside Bratwurst at a beer garden as it is next to a Schnitzel in a Brauhaus.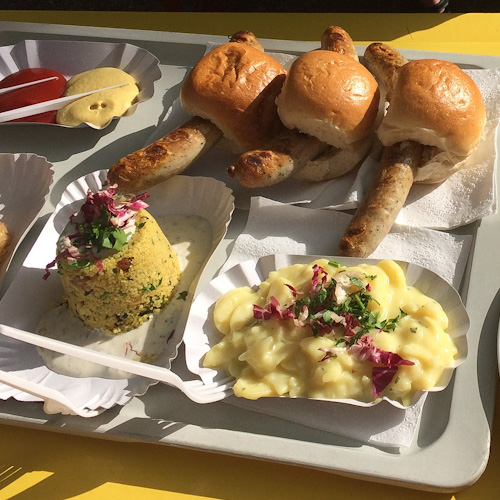 So we channeled our delicious and cozy memories of these meals when coming up with our German potato salad recipe. We decided to make it a little more interesting and flavorful by adding capers and caraway.
Why capers and caraway you ask? We like capers because they add a salty, tangy, slightly lemony bite which is needed in such a rich dish. We like caraway because it adds something a little different and it's a common ingredient in German cooking so it just goes.
Recipe tips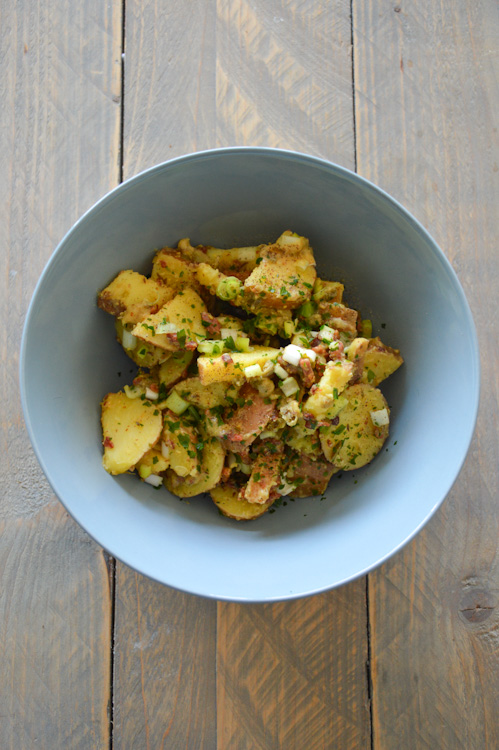 We use smaller, thin-skinned potatoes in this recipe. We like creamy, yellow potatoes, like Yukon gold, and red new potatoes (which is what's pictured here). They suck up the flavors well but hold their shape and stand up to the warm dressing.
The potatoes in German potato salad are sliced into thin rounds. We love this method because it means there's more surface area for the dressing to absorb into.
Making the dressing for our German potato salad with capers and caraway is super easy. You just mix the ingredients together. But there are a couple steps to making this dish awesome.
To really make it shine, you want to fry the capers (albeit briefly) in the hot bacon grease. It's necessary to remove the bacon itself from the pan before doing so. So just toss that onto the potatoes themselves.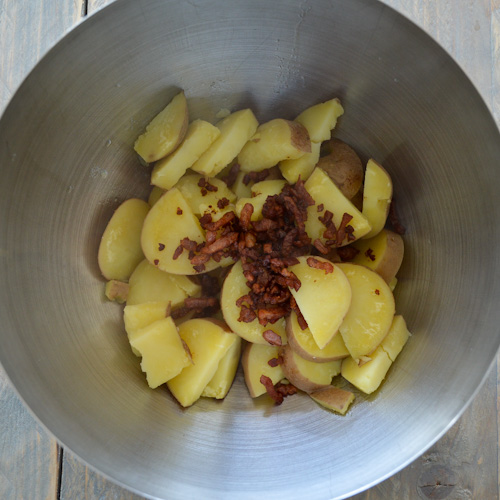 And you should definitely watch out for hot splattering fat when you throw in the capers. This will both make the capers extra good and meld all the flavors together.
Pouring the bacon grease plus capers directly onto the still warm potatoes before you add any of the other ingredients will ensure that all that fat and all those flavors really get into the potatoes.
Then you add the dressing you mixed up before, and then all the rest of the ingredients, including the caraway. We don't toast it because it gets a little too hard.
The last tip is to make sure to be careful when you toss the potato salad. The potato pieces are thin and warm, so they're prone to breakage.
We finish with some spring onions, and serve our German potato salad with capers and caraway warm. Of course it eventually comes closer to room temperature as you eat it. We usually end up with leftovers. And since we're lazy, we inevitably just eat them straight out of the fridge. So we can definitively say that while it's tasty either way, it's better warm than cold.
Eet smakelijk!
German Potato Salad with Capers and Caraway
Our German potato salad with capers and caraway is homey, delicious, and versatile! This warm potato salad is both great as a side dish at a summer barbecue and holds up to heartier winter fare.
Ingredients
1 pound red potatoes
1 tsp pork fat or canola oil
1/2 cup bacon, cut into lardons
1 1/2 Tbsp capers, roughly chopped
1 Tbsp grainy mustard
3 Tbsp apple cider vinegar
1/2 tsp honey
1 green onion
3/4 tsp caraway seeds
1 tsp parsley, chopped
1/4 tsp salt
1/4 tsp pepper
Instructions
Scrub and dry your potatoes. Slice them into 1/2-inch rounds and slice those in half if they're too big.
Put the potatoes in a pot with cold water and bring them to a boil. Cook until tender when you pierce with a knife (this takes us approximately 12-13 minutes).
While the potatoes are cooking, mix the mustard, vinegar, and honey in a small bowl.
Also, cook the bacon. Heat pork fat or oil in a pan on low heat and add the bacon. Cook on low heat until the bacon is brown and starts crisping.
Once the potatoes are cooked, use a spider to gently put them in a big bowl. Spoon the cooked bacon on top. Set aside.
Turn the heat on the pan up to medium and cook the capers in the bacon fat for about 30 seconds, being careful of the splatter. Then pour that all over the potatoes and stir it together carefully.
Add the dressing, green onions, caraway seeds, salt, and pepper to the potatoes and mix.
Top with parsley and a few more cracks of pepper and serve warm.
Notes
If your capers are large (like the ones we have here in the Netherlands), give them a rough chop before cooking them.