In the Netherlands, people put peanut butter on their fries. They call it pindasaus. We were skeptical at first, but after almost three years living in this country, we're converts. So we made our own Dutch peanut sauce recipe. Try it on fries or as a satay sauce. It's creamy, savory, spicy, and delicious.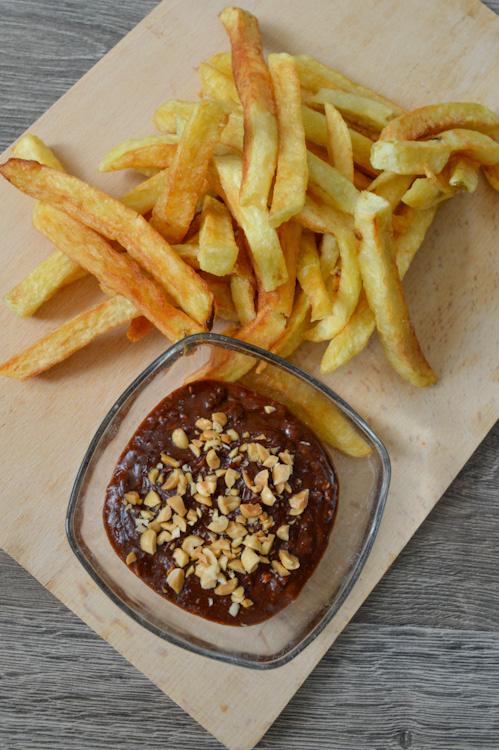 What is pindasaus?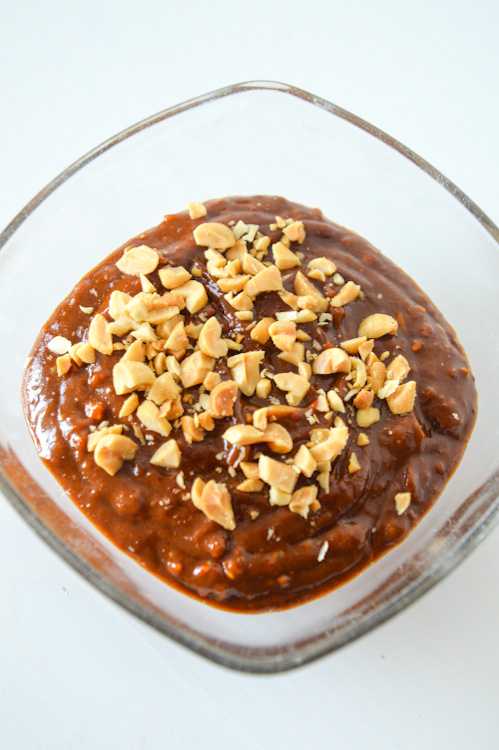 As with most of the tasty food in this country, pindasaus has its heritage in Indonesia. Pindasaus is essentially a satay sauce. And, unsurprisingly, chicken satay is a hugely popular dish here in the Netherlands as well.
There are satay sauces in many Asian cuisines. Most have a peanut butter base plus something that gives it heat. In Thai cuisine, this would be Thai chili paste. In pindasaus, this typically comes from an Indonesian ingredient that is a staple in many Dutch kitchens: sambal.
Sambal is condiment made from a base of spicy red chili peppers. There are a ton of different types of sambal with different names that have different supplemental ingredients and varying levels of heat and sweet.
If you find yourself in the Netherlands, first go find a store that has a good selection to see how astonishingly large it is. If you're in the country for a little while, definitely do some taste testing to find your favorite.
The Dutch put pindasaus not only on fries, but also on chicken, pork, noodles, fried sausage, fried mystery meat, fried meatballs. It's not some one-type-of cuisine accoutrements here. Unless you consider fried food a type. Aside from bitterballen, we don't have much interest in Dutch fried food, but we are absolutely on board with smothering food in a tasty, spicy peanut dipping sauce. Especially ours.
Our take on Dutch peanut sauce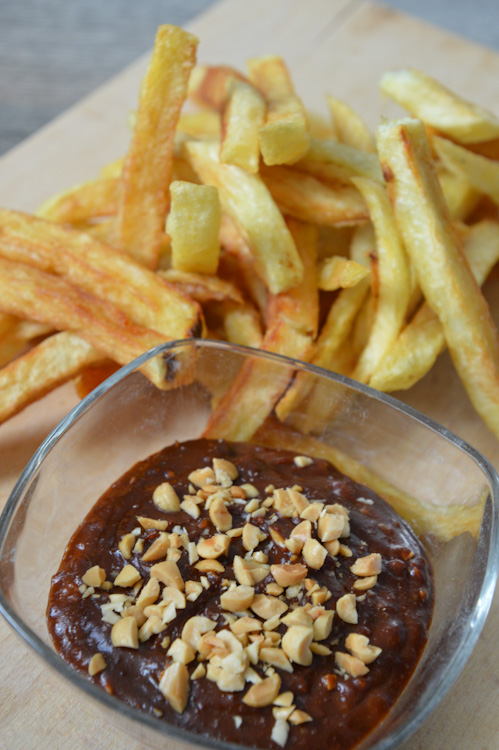 Our take on Dutch peanut sauce includes the basics of peanut butter and sambal, but we add some fresh ingredients to make it really shine: sauteed fresh garlic and ginger. We up the heat by adding red pepper flake (which we saute with the garlic and ginger) in addition to the sambal.
Other key, but pretty standard pindasaus ingredients include: kecap manis (another Dutch kitchen staple from Indonesia), soy sauce, and coconut milk.
Pindasaus recipe tips
Pindasaus is very easy to make. It mainly consists of stirring peanut butter together with the rest of the ingredients. But we do have a few tips.
Use crunchy peanut butter. You want some texture to the sauce. We also use peanut butter that only has one ingredient: peanuts.
We recommend topping the sauce with some extra, freshly chopped peanuts too. So if you only have creamy peanut butter on hand, you can just increase the amount of peanuts and stir some of them into the sauce itself.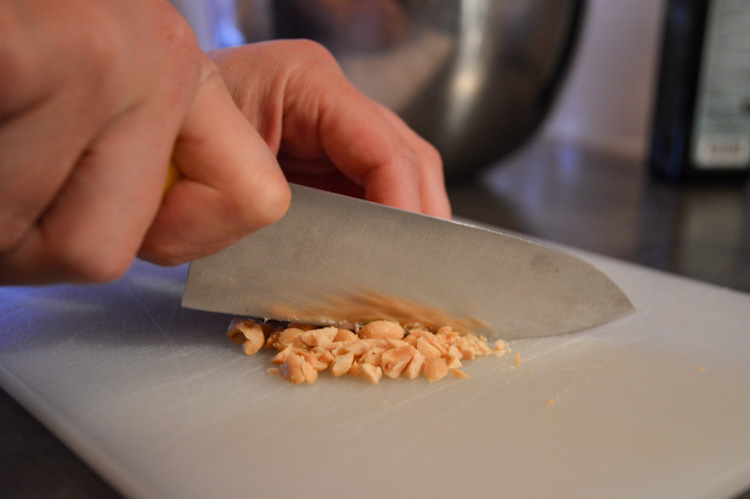 Stir the coconut milk into the peanut butter very slowly to thin it out and create a nice paste.
When you cook the ginger and garlic, cook it over super low heat. We cook these ingredients longer for this recipe than normal because we want to really develop the flavors. But they can easily burn, so be careful.
Last, let the peanut sauce sit for a bit before serving. This might be hard. It's really tasty. But it will get tastier the longer it sits. So give it an hour at least before digging in.
<< You may also like our Eggplant Pkhali recipe >>
The ultimate snack: patatje oorlog (Dutch war fries)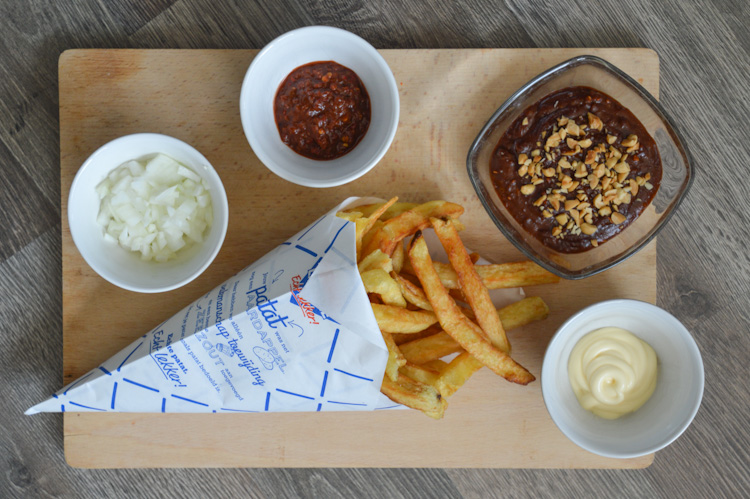 Pindasaus is a key ingredient in a very special Dutch snack: patatje oorlog. Translating to "war fries" it could be seen as a battle between flavors.
Start with a cone of your favorite fries. Top with pindasaus, mayonnaise, and minced raw onions. Feel free to spice it up further (to counteract the mayonnaise) with just a little more sambal.
It sounds a bit crazy – it sure did to us when we first saw it – but it is in fact quite delicious. The surprise star, to us, are the onions. They do what's needed to cut through the richness.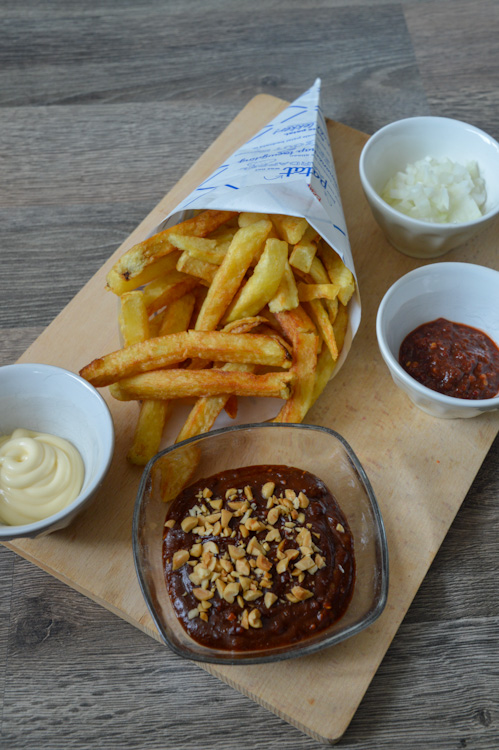 Eet smakelijk!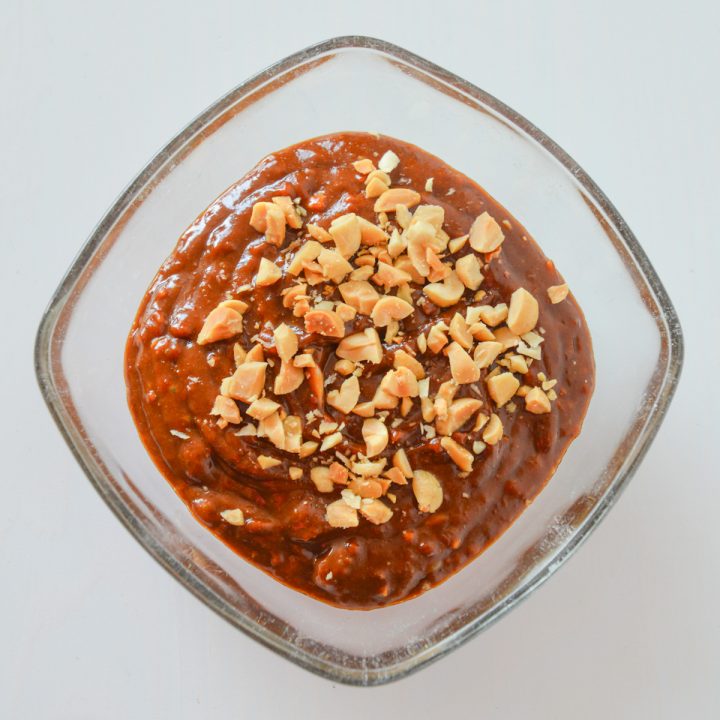 Pindasaus (Dutch Peanut Sauce)
Our take on pindasaus (Dutch peanut sauce) is a little spicier than we usually find in the snack shops. It particularly pops due to the addition of chili flake, ginger, and garlic.
Ingredients
1 tsp toasted sesame oil
1 tsp ginger, minced
2 cloves garlic, minced
1/4 tsp red chili flake
1/4 cup chunky peanut butter
3 Tbsp coconut milk
1 Tbsp dark soy sauce
1/2 tsp kecap manis
1/2 tsp sambal
1 Tbsp peanuts, roughly chopped
Instructions
Saute the ginger, garlic, and red pepper flake in the sesame oil over low heat until lightly browned but not burned (about 3 minutes). Set aside to cool.
Mix the peanut butter with the coconut milk until a paste is formed. Mix in the rest of the ingredients one by one (except the chopped peanuts).
Add in the sauteed ginger, garlic, and red pepper flake.
Top with peanuts and dip away.
Notes
If you only have creamy peanut butter, use 2 Tbsp more chopped peanuts and mix them into the sauce.
If you like a spicier sauce, double the chili flake.
Let the sauce sit for at least 1 hour before serving. The longer it sits, the better it will taste.
If you want to make patatje oorlog (Dutch war fries) serve with fries (of course), minced raw onion, mayonnaise, and even more sambal.