Deprecated
: The PSR-0 `Requests_...` class names in the Requests library are deprecated. Switch to the PSR-4 `WpOrg\Requests\...` class names at your earliest convenience. in
/home/trave398/travelcookrepeat.com/wp-includes/class-requests.php
on line
24
Switch up your usual dips with this Georgian walnut spread. Our eggplant pkhali recipe is hearty yet surprisingly light and makes a great appetizer or snack.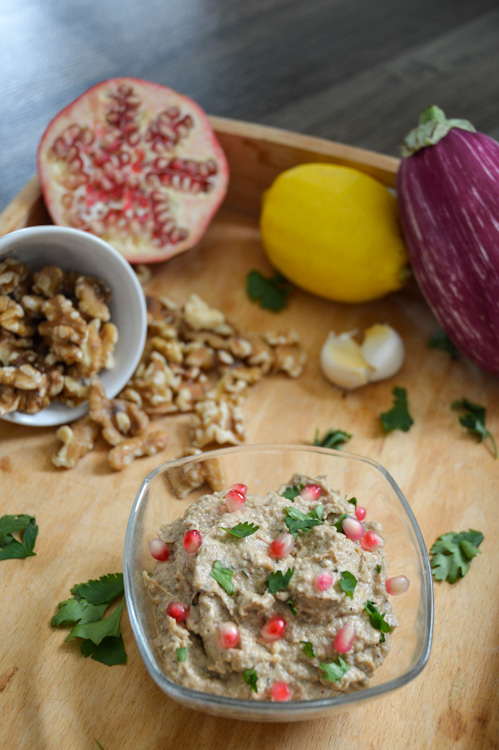 What is pkhali?
We fell in love with Georgian food through khinkali. But one cannot survive on dumplings alone. Or shouldn't anyway. Good thing there are some absolutely delicious Georgian recipes involving vegetables. Specifically, pkhali (ფხალი).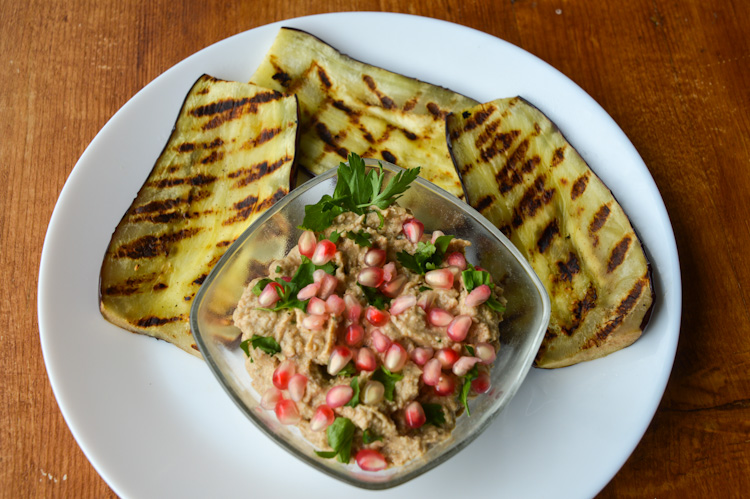 When we had these at a Georgian restaurant for the first time we were pretty stunned by how good (and new) something so simple was.
Pkhali is paste made of your chosen vegetable, walnuts, herbs, and spices. While we personally favor the eggplant version, pkhali can be made with other vegetables too: beets, spinach and zucchini are common.
Our eggplant pkhali ingredients and recipe tips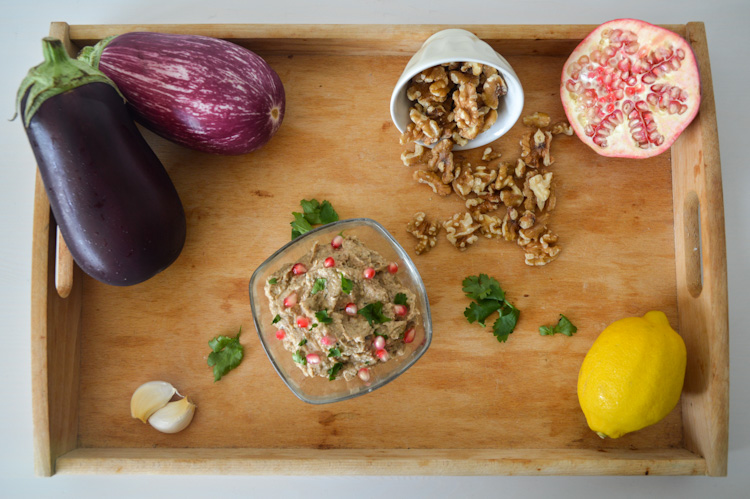 The essential ingredient in any pkhali recipe is walnuts. They make it heartier but barely add any "weight" so it still feels nice and light.
The essential ingredient in eggplant pkhali is… eggplant. The preparation is pretty straightforward. Brush it with some olive oil and roast it in the oven. Then scoop out the pulp (after letting it cool so you don't burn your hands).
The spices are what make pkhali most interesting and delicious. Specifically ground fenugreek and coriander. We hadn't used fenugreek in cooking before we started experimenting with Georgian recipes and now we want to add it to everything. Previously we had only eaten it in a specific type of Dutch cheese. Interestingly, the way it's described is that it tastes like walnuts, so it obviously goes incredibly well in a walnut spread.
There's also fresh cilantro and parsley and garlic and lemon and of course olive oil. All ingredients can be found in the recipe card below.
This phkali recipe is relatively straightforward to make, especially if you have a food processor. All the ingredients get combined together to make this delicious dip. If you have a small food processor like we do, you might have to zip everything up in batches. But it's really not all that complicated.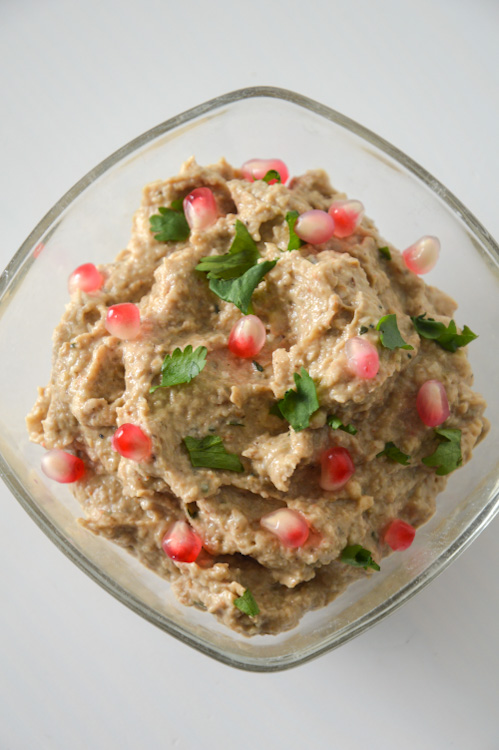 The one ingredient that does not get blended in are the pomegranate seeds. They are sprinkled atop the dip once it's all done. And they are imperative.
We honestly thought about skipping this accoutrement. Whacking a pomegranate just seemed like too much hassle. Good thing we didn't. The seeds are not just there for aesthetic purposes (although they do make even the ugliest beigest dip pop). More importantly, they add the perfect dose of tang and sweetness that lightens the dip up even more. And in fact whacking a pomegranate turned out to be fun and cathartic – especially needed in times like these.
Pkhali serving options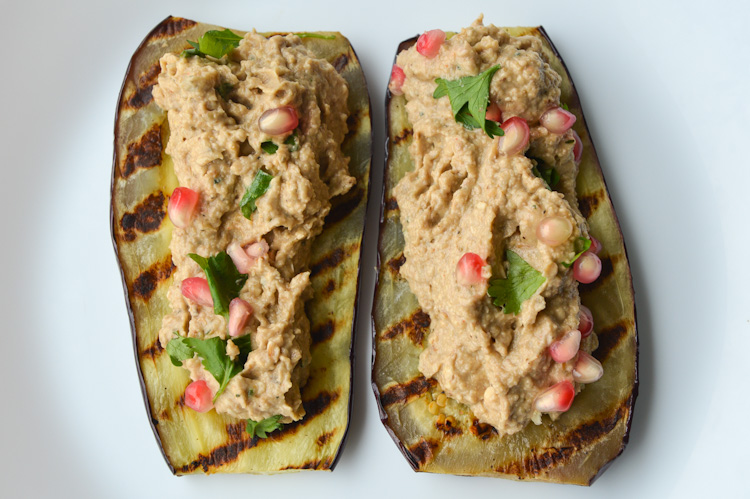 Call pkhali a dip or a spread or a pâté – it can be all of these things and more. At restaurants, we've seen pkhali served as dips for Georgian bread and as formed balls meant to be eaten on their own.
Now that we can make it ourselves at home, all bets are off. It is incredible as a composed dish atop grilled eggplant – akin to badrijani nigvzit – perfect as an appetizer or a light lunch. We also end up eating it over the course of a few days, most often straight out of the container with a spoon.
Eet smakelijk!
Eggplant Pkhali - Georgian Walnut Spread
Switch up your usual dips with this Georgian walnut spread: eggplant pkhali. It's hearty yet surprisingly light and makes a great appetizer or snack.
Ingredients
Pkhali
11/2 lbs eggplant
1 cup walnuts
3 cloves garlic, quartered
1 pinch fresh parsley
1 pinch fresh cilantro
1/2 tsp coriander powder
3/4 tsp fenugreek powder
1 hefty pinch cayenne pepper
2 tsp extra virgin olive oil, divided
1/8 tsp black pepper, plus more to taste
1/4 tsp salt, plus more to taste
Juice of 1/2 lemon
Garnishes
Seeds from 1/2 pomegranate
Fresh cilantro and coriander
Optional: extra squeeze of lemon
Instructions
Preheat oven to 475°F.
Slice eggplants in half lengthwise and brush cut side with oil.
Place cut side down onto sheet pan lined with baking paper and bake in oven for 35 minutes. Let cool at least 5 minutes.
Using a spoon or your hands, extract all of the flesh from the eggplants. Discard skins.
Add walnuts, garlic, herbs and spices, plus 1 tsp oil to a food processor. Pulse a few times to break everything down.
Add eggplant to mixture plus lemon juice, remaining oil, salt, and pepper. Pulse to create a smoothish paste.
Taste to see if a little more salt and pepper are needed.
Garnish with pomegranate seeds, fresh herbs, and an extra squeeze of lemon if desired.
Notes
Depending on the size of your food processor, the mixture may need to be made in batches. In this case, we recommend blitzing the eggplant in batches first.