This is a mashup of two powerhouse Asian dishes: Japanese curry udon and Thai khao soi. We married them in an incredibly satisfying and unique noodle recipe.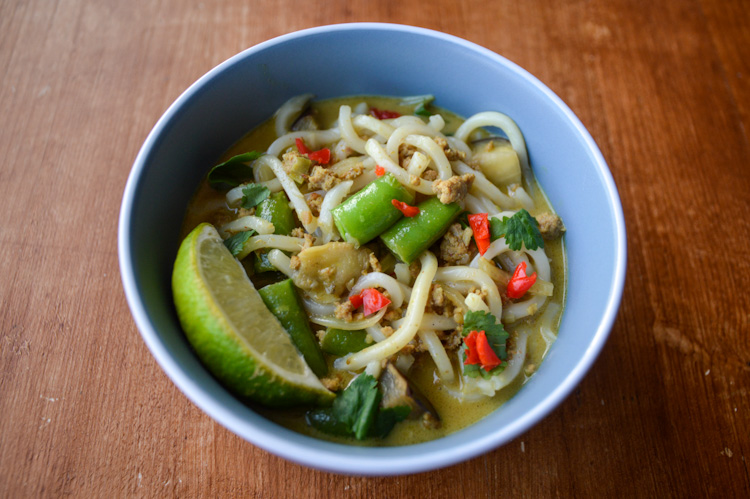 There is a time and a place to faithfully recreate something you've discovered abroad; to hone it until it's authentic and exact. A time to dutifully obtain the real deal ingredients, or make an honest attempt at a homemade substitute. This is not one of those times.
Instead, this is a time to marry two dishes that we fell in love with in two different countries: curry udon in Japan and Khao soi in Thailand.
Curry udon
We could (and will) write an awful lot about our love of Japanese food. We are ramen and sushi addicts and those are the two things we eat most in Japan. And yet one of our most memorable meals – anytime anywhere – was curry udon in Ueno station in Tokyo.
We had two different bowls of curry udon, one with ground beef and one with vegetables. They were both beautiful to the eye (as almost all Japanese food is) and to the taste buds. They were rich and warming and silky smooth. To call them texturally perfect is an understatement
Perhaps one day we will go about recreating an authentic Japanese curry udon. It would be fun and of course delicious. But we didn't do that here. Instead, we took what we most loved about those bowls of curry udon – the slippery, satisfying udon noodles swimming in a savory, satisfying broth and layer different flavors on top.
Flavors we really, really love.
Khao soi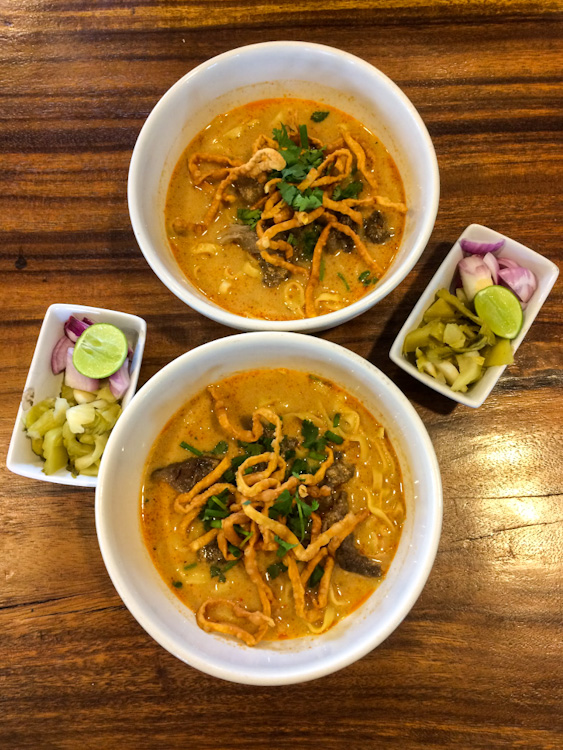 Khao soi is a famous dish found in Northern Thailand. From what we've read, it's loved by all. Including us.
There are different varieties of khao soi, but we are only familiar with the Northern Thai version. It is a spicy, sweet, rich curry with both boiled and fried noodles. It's served with wedges of lime and pickles.
There's a case to be made that it was the best dish we ate during the month we spent in Thailand. It was different from anything we'd eaten, which makes sense since it's rarely found outside the country, and especially not on any Thai food takeout menus we've seen.
We did try our hand at a faithful representation once. But to be honest, it didn't stack up to our memories. And that's mainly because of the noodles.
So we threw tradition out the window and created our own thing: a Thai khao soi inspired curry with Japanese udon noodles.
Our khao soi curry udon recipe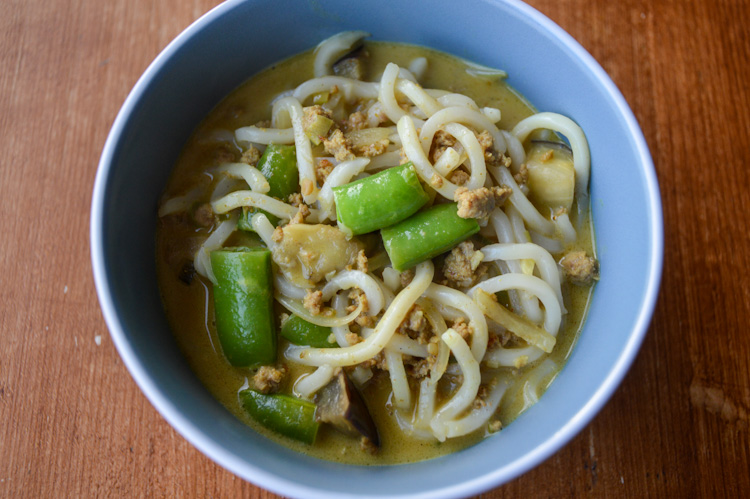 Ingredients
We use quite a few ingredients in this recipe, most of which are what make up the base of the curry. We go through the noteworthy ingredients in this section, but be sure to refer to the recipe card below for a complete list of ingredients.
The dry spices we use are: coriander, five spice, turmeric, cardamom, and cumin. We've tried khao soi spice mix, and it's tasty, but it's not universally available so we wanted to make this recipe with base spices.
To round out the flavors, we add a tiny bit of red Thai curry paste, sugar, kecap manis, and fish sauce. If you don't have kecap manis, you can sub in soy sauce plus a little more sugar.
For aromatics, we've got the standard garlic and onions, plus fresh ginger.
Next up we have the meat. We use ground pork because we think it adds the best flavor. To give it a boost, we marinate it in advance with fresh ginger, scallions, and a little bit of soy sauce.
We love how silky roasted eggplant tastes in pretty much any curry. And it works well in this dish too. We roast it up in advance because we prefer the texture than cooking it directly in the pot. We also try to throw something green into most everything we make. Here it's snow peas… or sugar snap peas… or green beans. Cook's choice!
Even though there's pork in this dish, we like the flavor of vegetable broth. We use the low sodium variety. We also always use light coconut milk, but its probably really, really tasty to use full fat.
Regular readers will know that the last key ingredient is one of our favorites: udon noodles. We have a few udon noodle recipes on the blog and will continue to add more since we cook with them all the time. In this dish, not only do they serve as the perfect noodle, but they also help thicken the broth. More on that in the recipe tips.
Speaking of which…
Recipe tips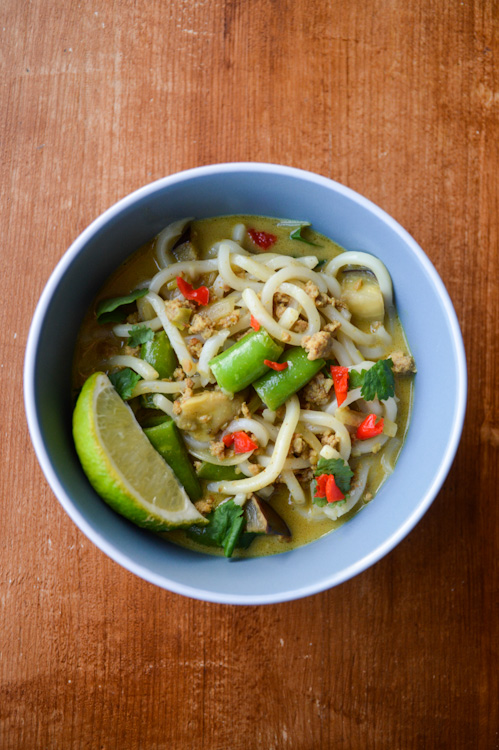 When we first started making curries we were a little intimidated. But turns out they're really easy. That doesn't mean we don't have some tips… we always have tips.
Mince the ginger and scallions as small as possible to mix into the pork. The smaller the mince, the bigger the flavor.
Roast the eggplant most, but not all, of the way. You're adding the eggplant to cook in the broth towards the end, so you don't want it to turn to mush. For us, that's 18 minutes at 400, which is a slightly lower temperature than we usually roast vegetables.
Add the broth first and let all the flavors of the meat and spices and aromatics develop in the broth before adding the coconut milk.
When it comes to toppings, fresh lime juice is an absolute necessity. We also enjoy our bowls with fresh cilantro and mint as well as a few slivers of hot chilies.
Eet smakelijk!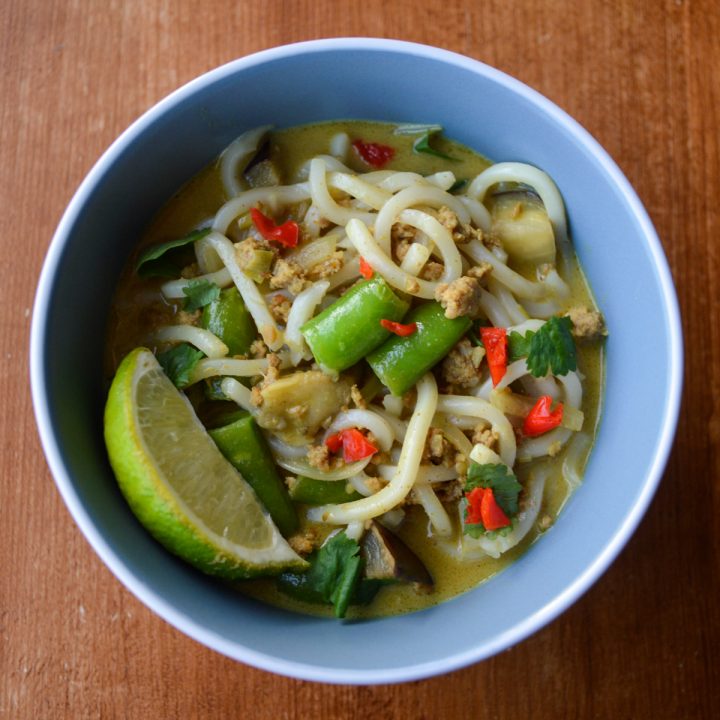 Curry Udon Khao Soi Style
Total Time:
3 hours
42 minutes
This is a mashup of two powerhouse Asian dishes: Japanese curry udon and Thai khao soi. We married them in an incredibly satisfying and unique noodle recipe.
Ingredients
Pork
8 oz ground pork
1 green onion, minced
1/2 tsp ginger, minced
1/2 tsp soy sauce
Eggplant
1 medium eggplant, cut into 1-inch cubes
1 tsp flavorless cooking oil
1/2 tsp toasted sesame oil
1/8 tsp salt
1/8 tsp garlic powder
1/16 tsp ginger powder
Curry
1 tsp flavorless cooking oil
1/2 onion, thinly sliced
1 clove garlic, minced
1 tsp ginger, minced
2 tsp coriander powder
1/2 tsp five spice powder
1/2 tsp turmeric
1/4 tsp ground cardamom
1/4 tsp ground cumin
1/4 tsp salt
1/8 tsp black pepper
3/4 cup veggie broth
1/2 tsp red curry paste
1 tsp kecap manis
1 tsp sugar
1/4 tsp fish sauce
1 cup snow peas, cut in bite-sized pieces
1 13.5-oz can light coconut milk
2 7-oz packages of fresh udon noodles
Toppings
Fresh lime juice
Fresh cilantro
Fresh mint
Fresh hot red chili pepper slivers (eg, Thai bird's eye or habanero)
Instructions
Marinate the pork
Combine the ground pork with the fresh ginger, minced green onion, and soy sauce. Cover and let sit in fridge for at least 3 (but up to 8) hours.
Take pork out 10 minutes before cooking to take the chill off.
Roast the eggplant
Preheat your oven to 400°F.
Toss eggplant cubes with oils and spices. Bake for 18 minutes, tossing once.
Make the curry
Heat oil over medium heat in a pot. Add pork and break up with wooden spoon to help it brown evenly. Cook for 4 minutes.
Add onions and break them up into the pork. Cook for 3 minutes.
Add ginger and garlic and cook for 2 minutes. Turn heat down to low.
Add all the spices to the mixture and mix all together. Cook for 3 minutes. Turn heat back up to medium.
Add broth, red curry paste, kecap manis, sugar, and fish sauce. Cook together for 5 minutes.
Add coconut milk, snow peas, eggplant, and udon noodles. Bring to a boil and then turn the heat down as low as possible. Simmer uncovered for 15 minutes.
Serve with lime wedges (a necessity), fresh herbs (optional), and hot red chili peppers (optional).
Eat with a spoon and chopsticks and enjoy.
Notes
If you put the eggplant into the oven at the same time as you start cooking the curry, it will be done just when you're supposed to add it to the pot.
We tried this recipe with sugar snap peas, but they don't work quite as well as snow peas. But if they're all you have, go for it.
Seriously the lime is not optional. We recommend 1/2 lime per person.
Khao Soi spice mix exists. If you have some, you can substitute 1 Tbsp for all the spices except the five spice powder.
If you don't have kecap manis, substitute 1/2 tsp soy sauce (preferably dark) and increase the sugar to 1 1/2 tsp.