Meet our roasted vegetable ajvar. Ubiquitous in the Balkans, everyone has their own take. And now so do we. Ours is a super smoky roasted red pepper and zucchini spread.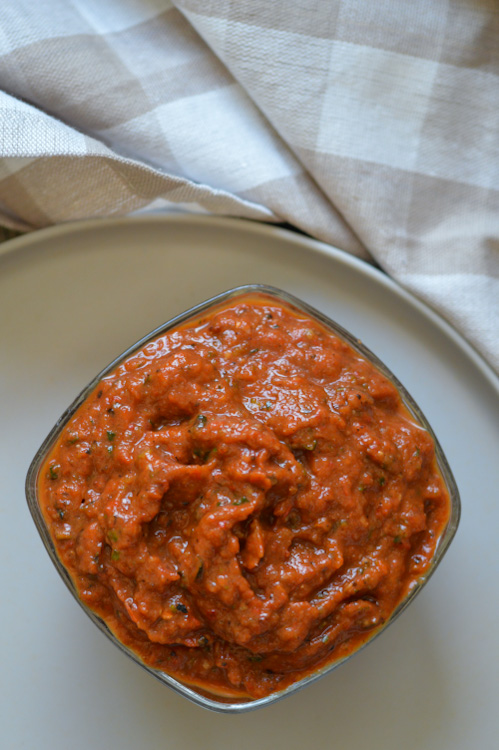 Ajvar (pronounced eye-var – we'd been saying it wrong for years) is a condiment found in many countries in the Balkan region. The base of the dish is always roasted red peppers. Everything else is up for discussion. It can be sweet, savory, or spicy. It can have other veg to bulk it up.
Our favorite way of eating ajvar is as a simple appetizer on toasted or crusty bread. We also thoroughly enjoy it as a condiment on our Balkan burger. But it's honestly good on anything.
Ingredients and recipe tips
So many cooks extol the virtues of simplicity, reminding you that less can be more. We do love the feeling of tweaking a whole bunch of flavors just right to get the best outcome, but we admit our favorite dishes are the ones that are the simplest. For this ajvar recipe, we tried to stay true to that principle.
Our starring vegetables are reliable stalwarts in the Travel Cook Repeat kitchen: red pepper, zucchini, onion, and garlic.
Most of the flavor and depth comes from within the vegetables themselves as we blister them to within an inch of their lives. The char gives it a dominant roasty note that comes off quite strongly.
To accomplish this, we use the convection setting in our oven. If you don't have such an oven, or an air fryer, try the broiler. The goal is to see black bits on the skins of your veggies.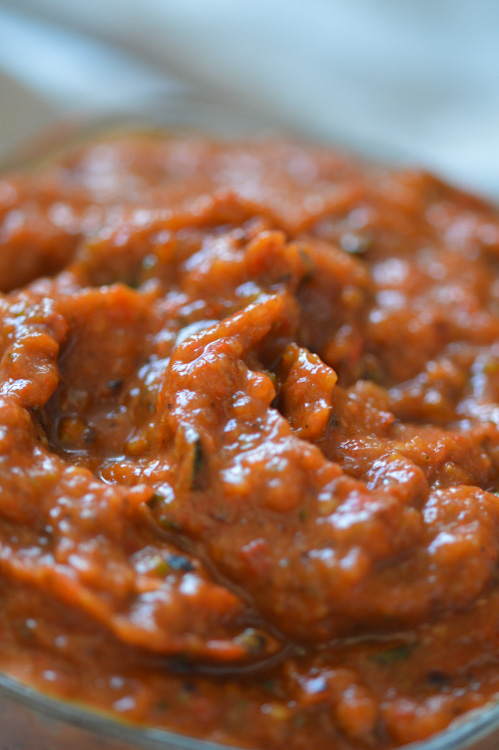 We also recommend using a sheet pan lined with aluminum foil as opposed to parchment paper. We've tested both and using aluminum foil results in more char.
After setting the veg aside for a few minutes to cool, it goes in the food processor (skins included). We layer even more smokiness on with smoked paprika. And then an absolute excuse me dash of olive oil, lemon juice, and red pepper flake. That's it.
Blitz it up until it's smooth. Feel free to dig in right away – though it is most typically served cold or at room temperature, it's pretty great warm. Of course, the flavors develop more as it sits. You'll be surprised how light and airy it is. We particularly love how the texture contrasts with the deep, delicious roasted flavor.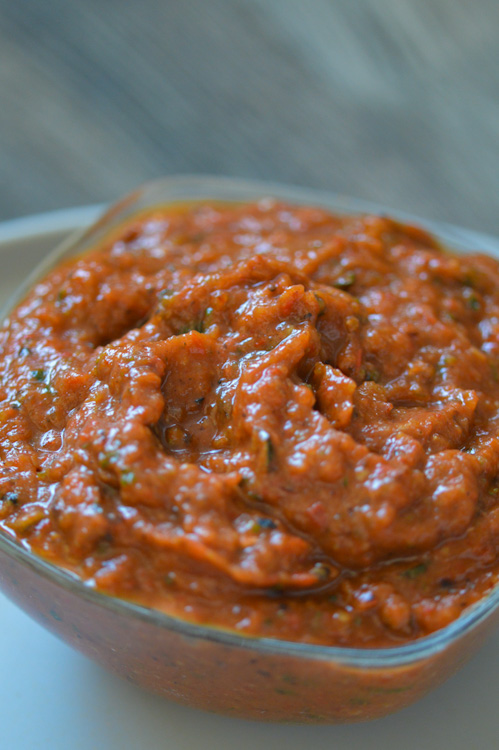 Eet smakelijk!
Roasted Red Pepper and Zucchini Spread (Ajvar Recipe)
Additional Time:
5 minutes
Meet our roasted vegetable ajvar. Ubiquitous in the Balkans, everyone has their own take. And now so do we. Ours is a super smoky roasted red pepper and zucchini spread.
Ingredients
1 large red pepper
1 large zucchini
1 small onion
2 cloves garlic
1 Tbsp plus 1 tsp olive oil, divided
1 tsp lemon juice
1/2 tsp red pepper flake
1/2 tsp smoked paprika
1 pinch salt
1/4 tsp black pepper
Instructions
Preheat oven to 400°F on convection setting.
Cut the vegetables into large chunks and toss in 1 Tbsp olive oil.
Cook on a lined sheet pan for 20-30 minutes, flipping the pieces once midway through. You want the vegetables should have a nice char.
Let veg cool for 5 minutes and then transfer to a food processor.
Add remainder of ingredients, including that last tsp of olive oil, and zip it all up until it's smooth.
Notes
A huge tip here is to use aluminum foil when you roast the veg. At least in our oven, the charring/roasty effect is so much bigger than on another surface.
If you don't have a convection setting, cook the vegetables at a higher temperature in the top half of your oven.