Deprecated
: The PSR-0 `Requests_...` class names in the Requests library are deprecated. Switch to the PSR-4 `WpOrg\Requests\...` class names at your earliest convenience. in
/home/trave398/travelcookrepeat.com/wp-includes/class-requests.php
on line
24
This beetroot salad is healthy and gorgeous with feta and carrots and pomegranate seeds. It's an easy and tasty way to eat (most of) the rainbow.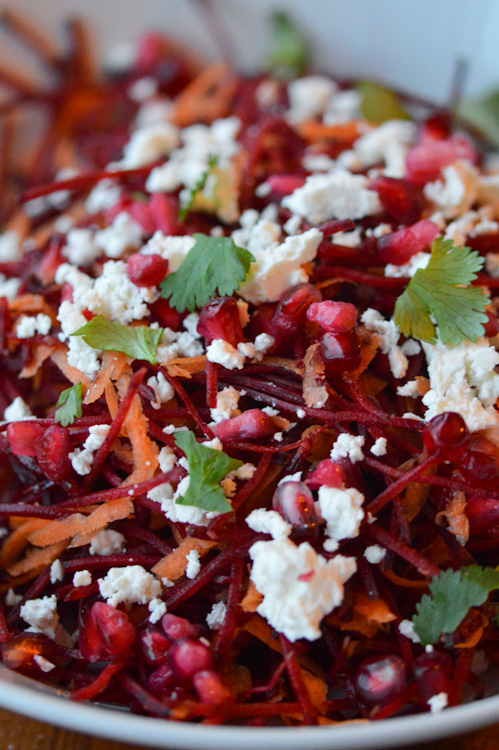 Beets are a relatively new addition to our cook-at-home menu. We never shied away from them when eating out, but preparing them at home just wasn't for us. Then we stumbled upon a bag of prepared, julienned beets at our local supermarket and things changed. This lowered the barrier to entry and now we are indeed beet people.
This beet salad is one of the easiest things we've made of late. (Although, this new beet salad with maple lime dressing might be even easier!) This is especially true if you buy pre-julienned beets like we do, but even if not, it won't take you too long. We combine beets with carrots (also shredded, but we do that ourselves on a box grater). Beets are quite beety and we think carrots freshen them up a bit.
We then crumble in some feta, because as the name of the recipe indicates, this is a beetroot and feta salad. We suggested an amount in the recipe card below, but it's your salad so add the whole block of it if you want. Same goes for the pomegranate seeds. We added about a quarter of a pomegranate's worth – we think. We honestly didn't measure because you just add as many as seem appropriate or inappropriate. And then top it with some parsley, because you gotta have something green in a salad.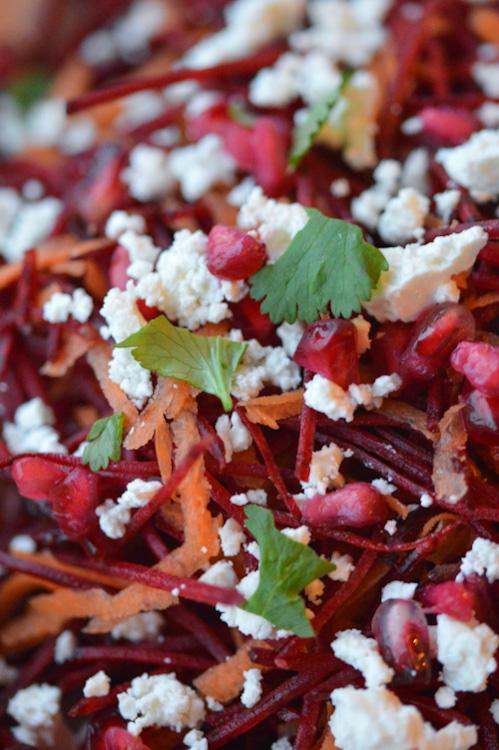 We used the simplest of simple dressings for this beet salad: lime and olive oil. The pomegranate seeds also impart some juicy, tangy flavor, and the feta adds some creamy, (and also) tangy flavor.
That's it. Depending on how many of your vegetables are pre-prepped, this salad will take you anywhere from 5 to 10 minutes to make.
< Try our beetroot salad as an appetizer or side to our khinkali >
Eet smakelijk!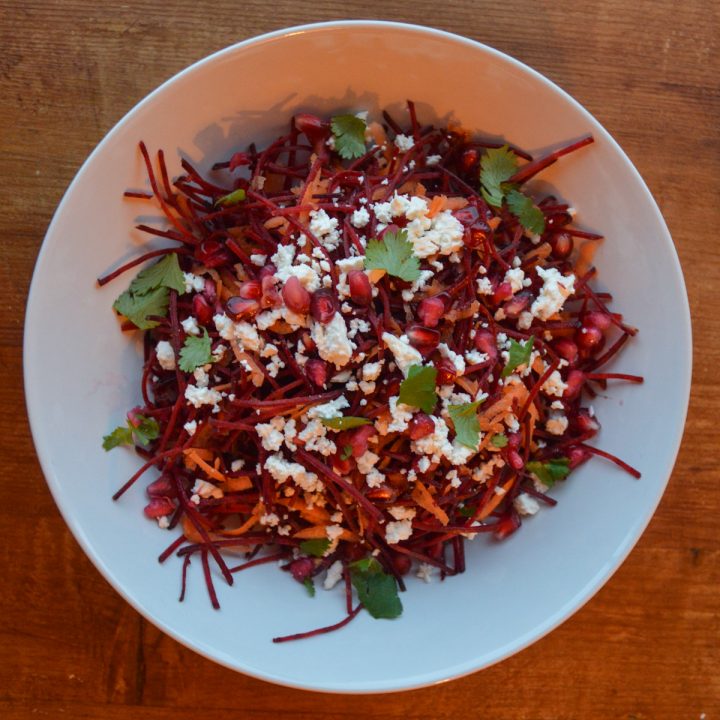 Beetroot and Feta Salad
This beetroot salad is healthy and gorgeous with feta and carrots and pomegranate seeds. It's an easy and tasty way to eat (most of) the rainbow.
Ingredients
1 beet
1 carrot
Pomegranate seeds to taste
2-3 oz feta
1 lime
2 tsp olive oil
Salt and pepper to taste
Freshly chopped parsley to taste
Instructions
Julienne or shred your beetroot either by using a food processor with a shredding blade, a box grater, or by purchasing a bag of pre-julienned beets. The goal is to get the beets as thin as possible.
Shred your carrot (you've got the same options as above).
Combine the beets and carrots in a bowl and toss together with a fork.
Add the pomegranate seeds. Note, you can either smack them out of a pomegranate yourself or purchase the seeds on their own. We do the former and use about a quarter of the seeds that come out of one piece of fruit. But really, add as many or as few pomegranate seeds as you want.
Crumble in the feta.
Add the juice of one lime plus its zest and the olive oil. Season with salt and pepper. Toss everything to combine.
Let sit for ~10 minutes before topping with fresh parsley and digging in.