Deprecated
: The PSR-0 `Requests_...` class names in the Requests library are deprecated. Switch to the PSR-4 `WpOrg\Requests\...` class names at your earliest convenience. in
/home/trave398/travelcookrepeat.com/wp-includes/class-requests.php
on line
24
Our maple lime dressing is perfect on this beet spinach salad.
We've previously posted about our first foray into beets with our beetroot and feta salad. Now we offer you another way to eat this super food. And – two recipies in one – it is tossed with our new favorite salad dressing: maple lime vinaigrette.
Our maple lime dressing, and actually the beet spinach salad as a whole, was inspired by the Georgian flavors we've come to love so much: beets, spinach, walnuts, fenugreek, and cardamom.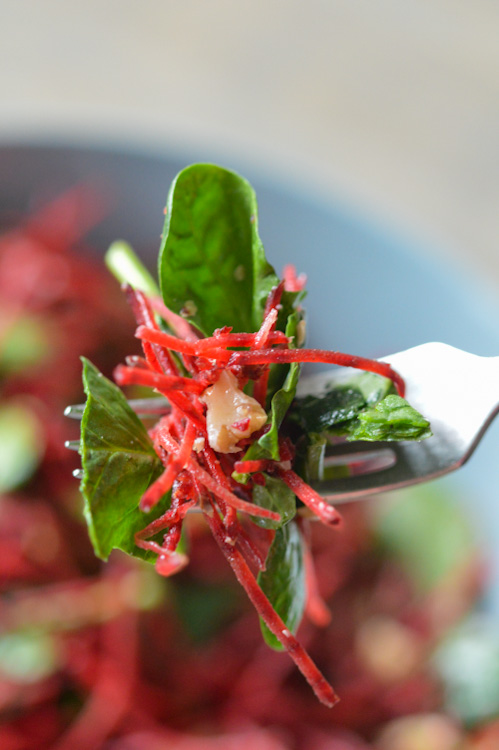 In this simple salad shredded beets and torn spinach are topped with walnuts and dill. Those four ingredients offer a diversity of textures and flavors. So as a salad, they work.
The dressing has a few more ingredients than the salad itself. Per the name, of course there's maple syrup and lime juice. But to bump up the flavor and impact of the dressing, there are some tasty spices in there as well.
The most important are fenugreek and cardamom. Fenugreek has a maple flavor, so it amplifies the maple in the maple lime dressing. It also adds some earthiness and depth. Cardamom is bright and citrusy, amplifying the lime.
We're not sure you'd find this spinach beet salad anywhere in Georgia (and sadly we've not been there ourselves to let you know). But we love it and think you will too.
< This beet spinach salad goes perfectly with khinkali (Georgian dumplings) >
Eet smakelijk!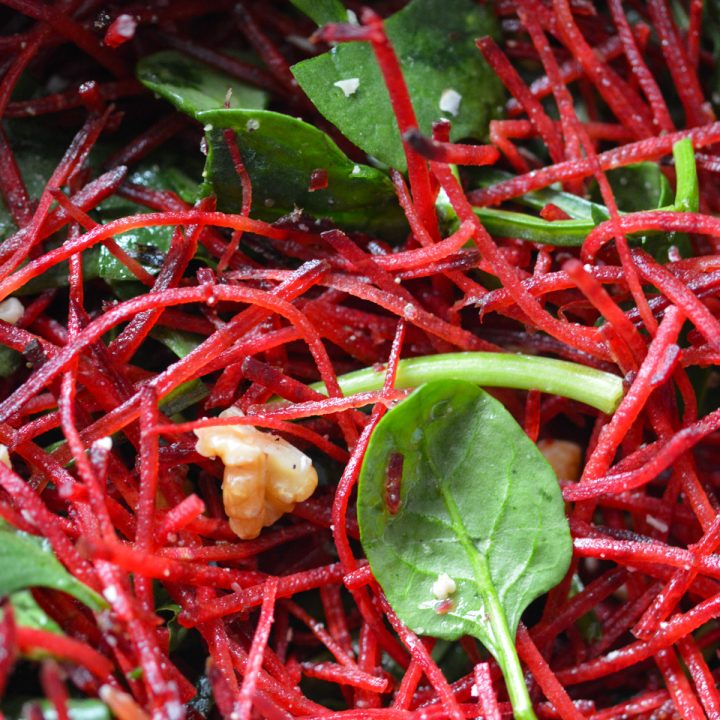 Beet Salad with Maple Lime Dressing
Additional Time:
10 minutes
Our maple lime dressing is perfect on this beet spinach salad. And bonus, it's a vegan salad dressing recipe.
Ingredients
Maple lime dressing
1 Tbsp olive oil
2 tsp fresh lime juice
2 tsp apple cider vinegar
1/4 tsp maple syrup
1/8 tsp fenugreek powder
1/16 tsp cardamom
Salt and pepper to taste
Beet spinach salad
1 beet, shredded or julienned
2 handfuls of spinach, roughly chopped
3-4 sprigs of dill, chopped
1/4 cup walnuts, chopped
Instructions
Slowly whisk together all the dressing ingredients.
Combine the beets, spinach, walnuts, and dill in a nice salad bowl.
Pour the dressing over the salad and let sit ~10 minutes to let the flavors develop and the spinach wilt a bit.
Top with the walnuts and dill and enjoy!
Notes
Another great way to make salad dressing is to add it all to a mason jar (with a lid that closes tight) and shaking it up. If you want to make it that way, we recommend doubling or quadrupling the recipe so you have this delicious maple lime dressing on hand. Just give it a shake before you want to use it again.
There are a few ways to prepare the beets. You can julienne or shred the beet either by using a food processor with a shredding blade, a box grater, or you can purchase a bag of pre-julienned beets. (This last option might be why we've been eating beets so much lately). The goal is to get the beets as thin as possible.