Deprecated
: The PSR-0 `Requests_...` class names in the Requests library are deprecated. Switch to the PSR-4 `WpOrg\Requests\...` class names at your earliest convenience. in
/home/trave398/travelcookrepeat.com/wp-includes/class-requests.php
on line
24
Try our spicy zacusca – a Romanian vegetable spread. This roasted red pepper eggplant dip is great as a starter or condiment.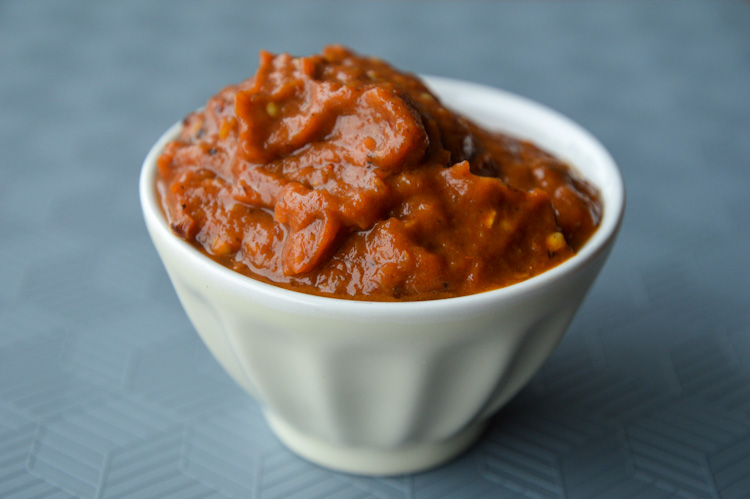 Zacusca is one of our favorite Romanian recipes. We fell in love with it during our two-week trip to Transylvania, eating it at almost every meal.
Zacusca is a roasted red pepper eggplant dip (or spread or condiment) you'll want to put on everything. There are cool, traditional ways to make zacusca, like our friend who is in fact Romanian does. There are overlaps with ajvar, another roasted vegetable spread. The main differences between that and our zacusca recipe are the addition of eggplant, a single solitary spicy pepper, and something sweet.
Warm or cold, it goes on anything and is the exact type of thing that we wonder how we ever went without having at the ready all the time.
Ingredients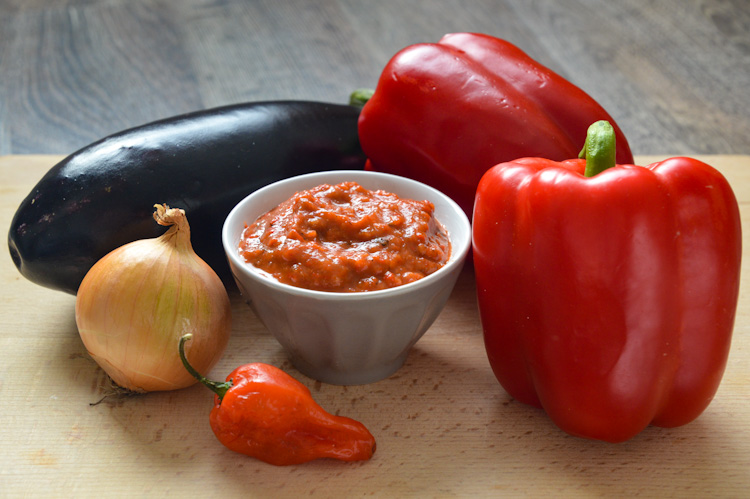 Zacusca is all about the roasted veg. Roasted eggplant, red peppers, and onion to be exact. Traditionally, you can find zacusca that is spicy or not. We wanted to go for it and give ours some zing.
We tried a few different spicy pepper types and our recommendation is to use what you like. In our zacusca recipe experimentation, we found that using more than one spicy pepper overpowers the rest of the veg a bit, but if you like things spicy, go ahead and use two!
To balance out the heat in this spicy zacusca recipe, we use tomato paste for a little heft and maple syrup for sweetness. We like the maple flavor here, but you could easily use honey if it's what you have on hand and you don't care about making it vegan.
To round things out, we add cumin for earthiness and lemon juice for brightness.
Recipe tips
If we were making traditional zacusca, we'd have tips about hand chopping your vegetables with a special wooden tool. But we're not. This recipe uses the modern conveniences of a food processor. So our tips will be brief.
Roast the veg in a hot oven. If you have a convection/fan setting, use it. If not, turn the heat up higher. Char = flavor.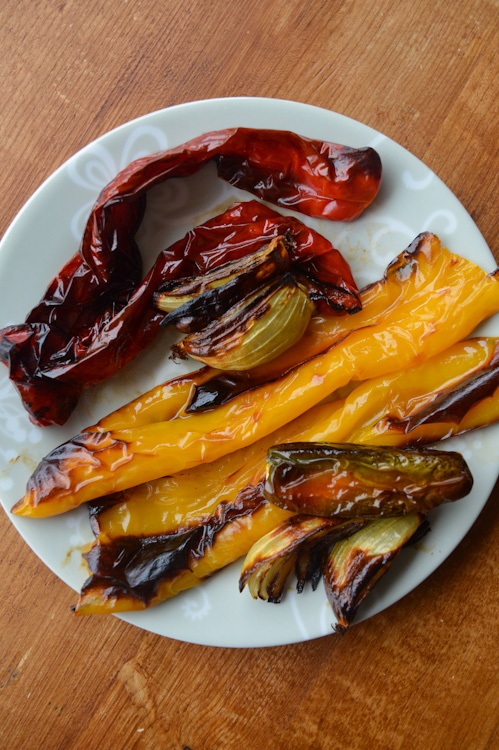 Let the eggplant cool 10 or so minutes before extracting the flesh. You can either peel the skin off the eggplant or use a spoon to scoop it out. Either way, you'll want it cool enough to handle.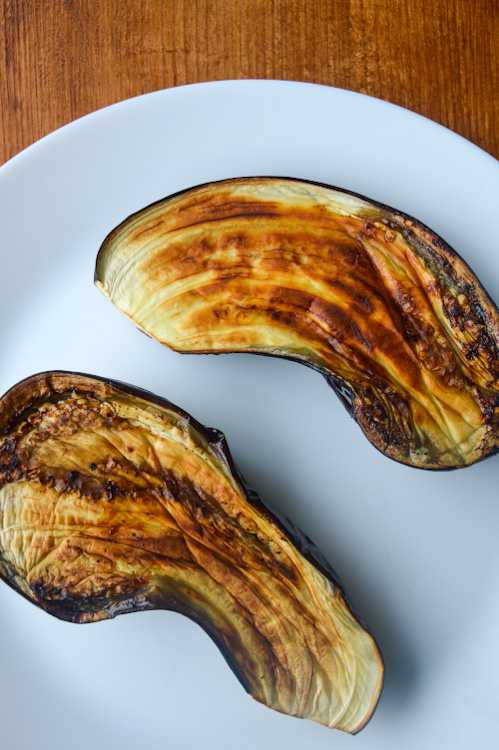 The amount of time you zip everything up in the food processor depends on how chunky or smooth you want your zacusca. We like our on the smoother side, so blend a bit longer. This also makes it airier. But a chunky zacusca is great too so you do you.
Serving options are endless. We recommend smearing it on crusty bread, topping your eggs with it, or as a condiment to a nice piece meat. It goes well with almost everything. You'll be happy you made it.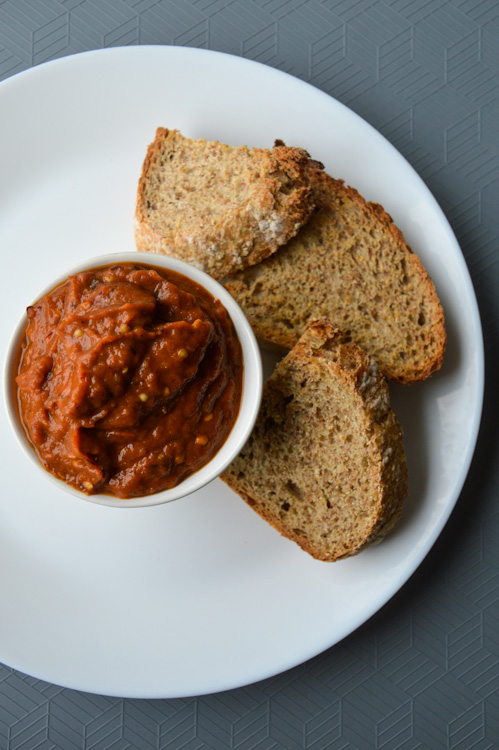 Eet smakelijk!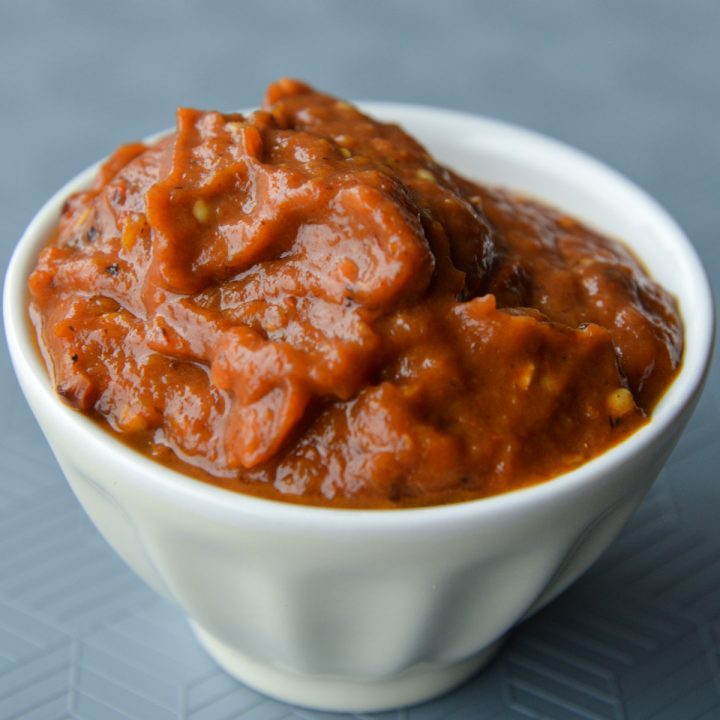 Spicy Zacusca Recipe
Try our spicy zacusca - a Romanian vegetable spread. This roasted red pepper eggplant dip is great as a starter or condiment.
Ingredients
2 red bell peppers
1 eggplant
1 small onion
1 spicy pepper
1 Tbsp plus 1 tsp olive oil, divided
1/2 tsp tomato paste
1/2 tsp maple syrup
1/16 tsp cumin
1/8 tsp black pepper
squeeze of lemon juice
Instructions
Preheat oven on convection/fan setting to 410°F.
Remove stem from eggplant and cut it in half lengthwise. Cut the bell peppers in half lengthwise, removing any seeds and tougher white ribs. Quarter the onion. Leave the spicy pepper whole.
Brush olive oil on both sides of all of the veg, and place them face down on parchment paper. You'll need about 1 Tbsp of oil (this may vary depending on the size of your vegetables).
Cook for 15 minutes, then remove the bell and spicy peppers and turn the oven to bake setting.
Cook remainder of veg for 15 minutes.
Let eggplant cool for 10 minutes or until you can comfortably touch it, then scoop out its flesh.
Cut the stems off the onion.
Put all the veg into a food processor. Add the remainder of the ingredients, including 1 tsp of oil, and blast away.
Serve warm, at room temperature, or cold as an appetizer or condiment.
Notes
If your oven doesn't have a convection setting, start roasting the veg at 450°F.
Honey can sub for maple syrup if you don't need to make this a vegan recipe.
You can control the heat by using more or less pepper, seeds, etc. Traditionally, hotter peppers are served alongside the spread, which makes a lot of sense.