Our vegetarian drunken noodles (pad kee mao) are a healthier and cheaper alternative to Thai takeout. This (also vegan) recipe will satisfy your craving for spicy, savory, seriously delicious noodles.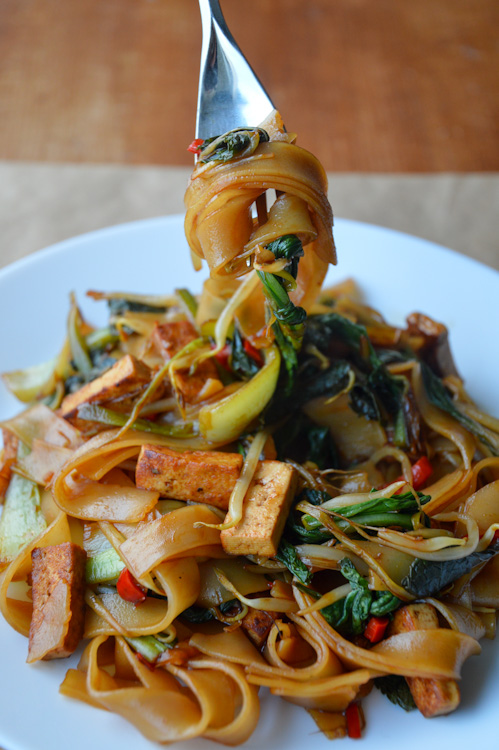 This recipe can go by a few names including vegetarian drunken noodles and vegan pad kee mao. It's our take on one of our favorite Thai food dishes, which we've been lucky enough to actually enjoy eating in Thailand.
Unlike our other Thai food favorite, khao soi, you can find drunken noodles on almost any Thai food menu around the world. And true enough, we were introduced to the dish in New York City, where we ate it for many years. NYC is home to many a tasty Thai restaurant. Unfortunately, we've been hard struck to find a Thai go-to here in Rotterdam. (Although we're open to suggestions). So we decided to make our own pad kee mao recipe.
We made a vegetarian, actually – vegan pad kee mao because we wanted to create a healthier recipe than what you might find on a takeout menu. And we wanted to challenge ourselves to create a sauce that was savory without having fish paste. In crafting this recipe we were actually introduced to a new ingredient that has become a staple in our pantry. (Read on to find out what it is).
Ingredients
The most important part of drunken noodles are the noodles. Rice noodles to be specific. Very wide rice noodles to be even more exact. Though we typically buy medium size rice noodles, for this vegetarian drunken noodles recipe, we buy the extra large size.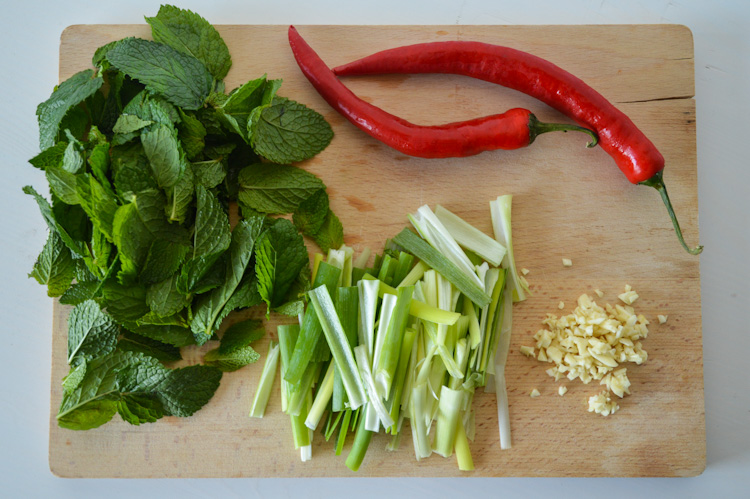 Traditionally, pad kee mao uses holy basil. That's hard to find here. Thai basil is a good substitute, but that's also a bit hard to find. So we most often use mint. It's accessible and does the job of freshening and sweetening up the dish, and acting as a good counterpoint to the heat.
Which brings us to the peppers. Drunken noodles are spicy. Like 4 peppers on the side of your Thai take-out menu spicy. We've read that some say the name comes from the fact that you need to drink a ton of beers to help quash the heat as you eat it. Of course since you're making this at home, you can control the heat. But, then, really, why make drunken noodles? Why not make pad Thai? Anyway, do your best to find Thai chili peppers or something similarly spicy to make these drunken noodles sing.
And now it's onto the sauce. We spent a lot of time trying different things in our vegetarian drunken noodles sauce. Typically, the sauce is made with oyster sauce and fish sauce. And while we love those, we wanted to make a vegetarian, vegan pad kee mao. But as we recipe tested, we were really missing the umami. So we did some research and came across Maggi liquid seasoning. Apparently it's huge here in the Netherlands. And Maggi is vegan! That's why it's in our vegan pad kee mao recipe.
Maggi is a flavor enhancer made of hydrolyzed wheat protein. It's got a whole lot of umami and was exactly what we were looking for to give our vegetarian drunken noodles sauce depth and richness without an animal-based ingredient.
It's somewhat of a weird ingredient, but after discovering it, we've found many other uses for it to give a dish just a little extra oomph. If you're interested in its origins and reading more about Maggi, we recommend this article. As you'll read, however, each country has its own formulation of Maggi liquid seasoning. So – disclaimer – our Dutch version may be slightly different from one you'd find near you.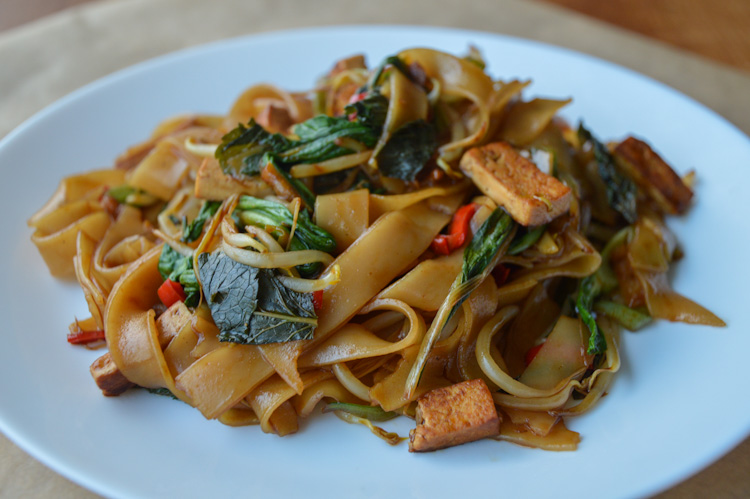 We experimented with different veg for this recipe. We've read that baby corn is quite traditional in this dish, but you'd never catch either of us eating baby corn by choice, so that was a non-starter. We also love the slippery-ness of drunken noodles so didn't want a vegetable that disrupted that (such as broccoli).
As our main veg, we settled on bok choy. And honestly we think it's the best use of bok choy. It can be watery – even if you sauté it properly. But that's an advantage in this dish, because rice noodles can suck up sauce like crazy and dry out. We also threw in some bean sprouts for a bit more crunch.
Recipe tips
Good news… vegetarian drunken noodles are really easy to make. We've just got a few tips to make sure it comes out as delicious as your favorite take-out.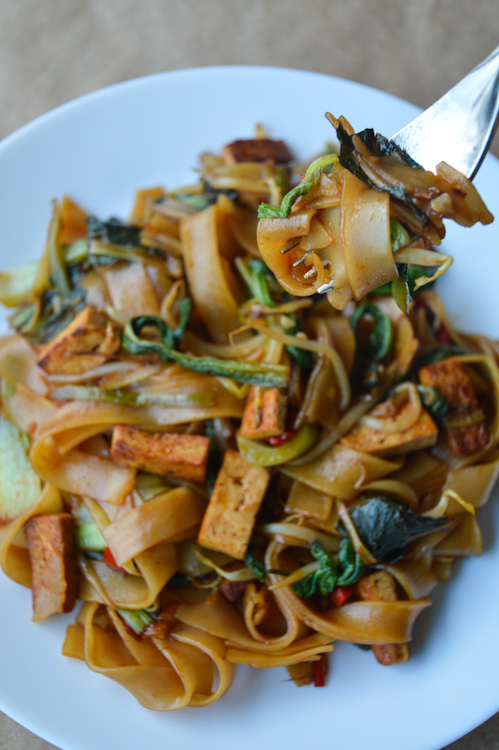 We've found the best results with a three-step soak, cook, rinse rice noodle preparation. First, soak the rice noodles in cold water for at least 30 minutes before you cook them. When you're ready to cook, drain the noodles and then pour boiling water over them, covering them by at least two inches. Then cover with a tight fitting lid and let them sit for 8 minutes (if you're using extra wide/large noodles). Finally, drain and rinse the noodles with cold water before adding them to the pan. The result is perfectly cooked (not overcooked) noodles that don't stick together.
Cook the bok choy stems longer than the bok choy leaves, because the stems take longer to cook.
When you cook the hot peppers, try as hard as possible not to inhale the fumes. If you fail at this, just keep a glass of water nearby to help with the coughing fit that may ensue.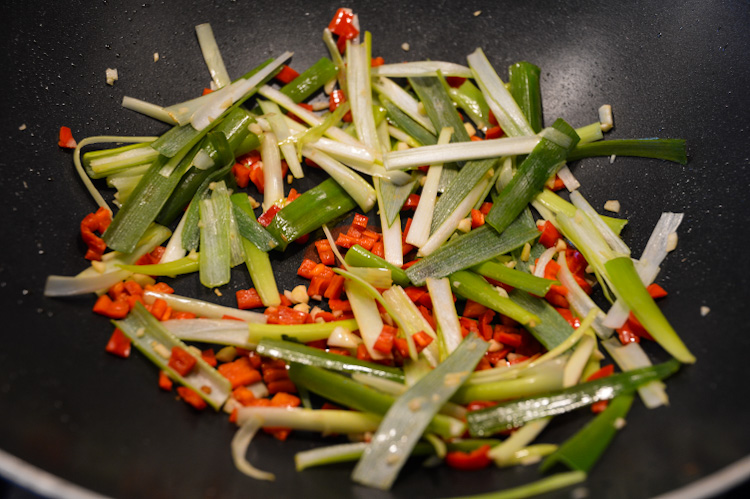 Only pour 3/4 of the sauce on the noodles and veg while the pan is still on and things are cooking. Reserve the last quarter for after you take it off the heat. Rice noodles suck up sauce a lot and if you add it all in while things are cooking, your resulting plate of otherwise beautiful looking vegetarian drunken noodles will be too dry.
Eet smakelijk!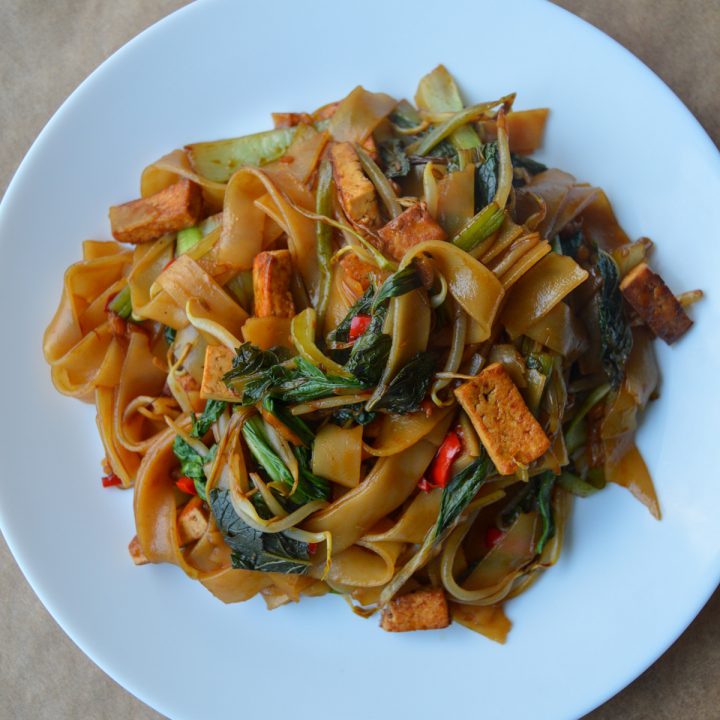 Vegetarian Drunken Noodles
Prep Time:
1 hour
30 minutes
Total Time:
1 hour
50 minutes
Our vegetarian drunken noodles (pad kee mao) are a healthier and cheaper alternative to Thai takeout. This (also vegan) recipe will satisfy your craving for spicy, savory, seriously delicious noodles.
Ingredients
Tofu
1/2 lb firm tofu, pressed and sliced in 1-inch squares that are 1/4-inch thick
1 tsp sriracha
1 1/2 Tbsp light soy sauce
Vegetarian Drunken Noodles Sauce
1 Tbsp hoisin sauce
2 Tbsp dark soy sauce
2 Tbsp light soy sauce
1 1/2 Tbsp rice wine vinegar
1 tsp Maggi liquid seasoning
1/2 tsp granulated sugar
Drunken Noodles
1/2 rice noodles, size XL preferred
2 large green onions, julienned
2 cloves garlic, minced
2 hot thin red peppers, deseeded and minced
2 bunches baby bok choy
1 cup bean sprouts
1 1/2 tsp flavorless cooking oil, divided
1 cup loosely packed mint leaves
Toppings
Fresh cilantro
Optional: sriracha
Instructions
Mix sriracha and light soy sauce together and pour over tofu slices. Marinate for at least 30 minutes.
Soak dry rice noodles in cold water for at least 30 minutes.
While your tofu is marinating and your noodles are soaking, prepare all your veg. Also, make the sauce by mixing all the ingredients together in a small bowl, making sure the hoisin is fully incorporated.
Heat 1 tsp oil in a wok or skillet over high heat and add tofu. Cook for ~8 minutes until golden brown, turning tofu every couple minutes so it cooks on all sides. Remove and set aside.
Boil enough water to cover rice noodles plus 2 inches. This takes us about 3 minutes in our electric kettle, but plan accordingly if you don't have one. You want to try to start cooking the rice noodles at the same time as you start cooking the veg in the pan.
Drain the cold water from the rice noodles. Pour the boiling water on top of them and cover with a lid. Let sit for 8 minutes.
Turn the heat in the pan down to medium, add 1/2 tsp oil to pan and cook the hot peppers, garlic, and green onions for 2 minutes. Try (really hard) not to inhale the hot pepper steam as you cook.
Add bok choy stems, plus a pinch of salt, and cook for 2 minutes.
Add sprouts, plus a pinch of salt, and cook for 2 minutes.
Add bok choy leaves, plus a pinch of salt, and cook for 2 minutes.
Drain rice noodles (reserving 1/8 cup of the hot cooking water), and rinse with cold water.
Add noodles to pan and mix everything together. Stir in 3/4 of the sauce plus the reserved water and mix over low heat for 1-2 minutes. Add in the tofu as well.
Turn heat off, add the rest of the sauce and the mint leaves. Mix everything together until the mint wilts, about 1 minute.
Serve as is or topped with fresh cilantro and more sriracha if you want yours extra spicy.
Notes
The traditional herb used in drunken noodles is holy basil but that's quite hard to come by in our neck of the woods. We find mint a good substitute, but have also used Thai basil (when we can get it - it's also hard to find here). Traditional basil can also be used if you prefer it to mint.