Cold spicy peanut noodles are perfect for a hot summer night. Our recipe is made with rice noodles (no stove required!), a fiery sauce, and a fresh side of vinegary cucumbers. Served chilled, this is a delicious summer savior.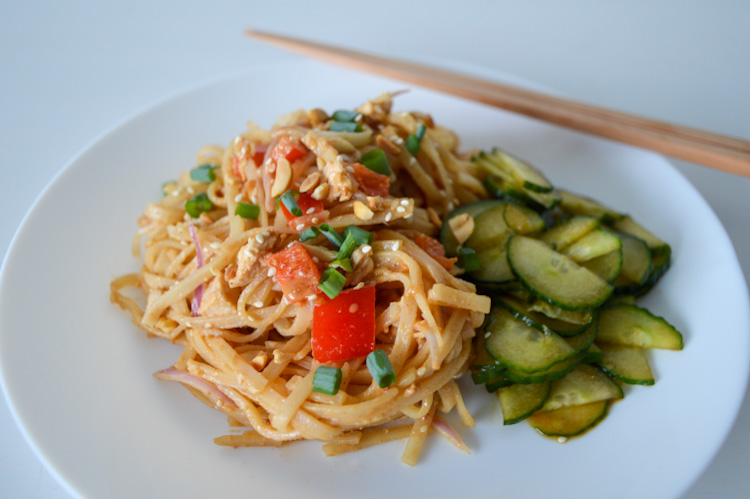 Make it hot to stay cool
We don't need much of an excuse to make peanut noodles, and Justin never needs an excuse to eat spicy food. But it is legit true: eating spicy food – whether in a subtropical country or an overheated city apartment during yet another record-breaking heatwave – cools you off. Science!
We learned this first-hand on our trips to especially warm destinations. Eating pho dotted with red chilies in Vietnam, fiery curry in Thailand, and mouth-tingling Sichuan dumplings in Shanghai helped us stave off the heat (sometimes).
However, there is one very important consideration. Eating a bowl of spicy pho or curry will make you sweat, and while that is the point, sweating while you eat something delicious and spicy served to you is one thing. Sweating in your own kitchen making the dish that will eventually help you out is another. Cooking in the dead heat sucks.
Luckily, that's where cold spicy peanut noodles come in.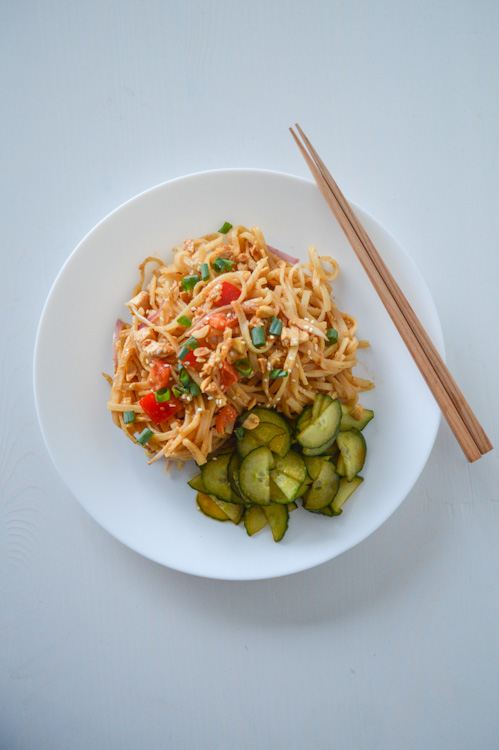 The only cooking involved in this recipe is boiling water. So if you have a microwave or a hot pot, you don't have to turn the stove on to make it. That's a win in our book during summer.
Ingredients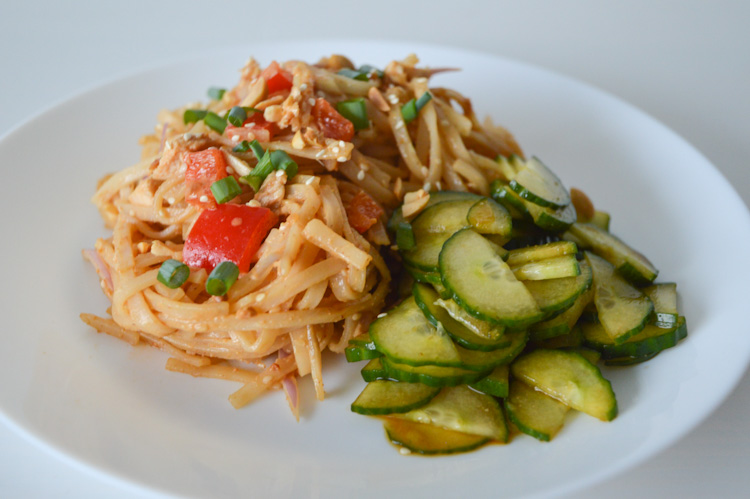 We make this recipe with flat rice noodles, like the ones you'd find in pho. We like the medium size noodle since it's sturdy enough to hold up to the rest of the ingredients.
The ingredients in the peanut sauce are, for the most part, things you should have in your fridge. The key ingredients that give it the most flavor are peanut butter, sriracha, and soy sauce.
You would be happy eating this dish with noodles and sauce alone. Or we would anyhow. But veg and protein make it a more complete dish and a proper dinner.
You could just add in some raw green onions (which we have). But we prefer to make things a little more special and add some pickled shallots to the mix. We also add red bell pepper for sweetness to counteract the heat of the sauce. And either chicken or tofu, depending on our mood and what we have stocked.
How to cook rice noodles
We love rice noodles for their taste and texture, but also that you can make them without turning on the stove.
Soak the noodles in cold water in a pot for at least 30 minutes. Then drain. Then boil enough water to cover them by 1-2 inches in that pot (we use a hot pot and that takes about a minute). Pour the boiling water on top of the noodles and cover with a lid. Let them sit for 6 minutes.
Uncover and drain in a strainer or colander and rinse with cold water. We rinse them thoroughly for this dish, especially because we are preparing our spicy peanut noodles to be eaten cold.
Recipe tips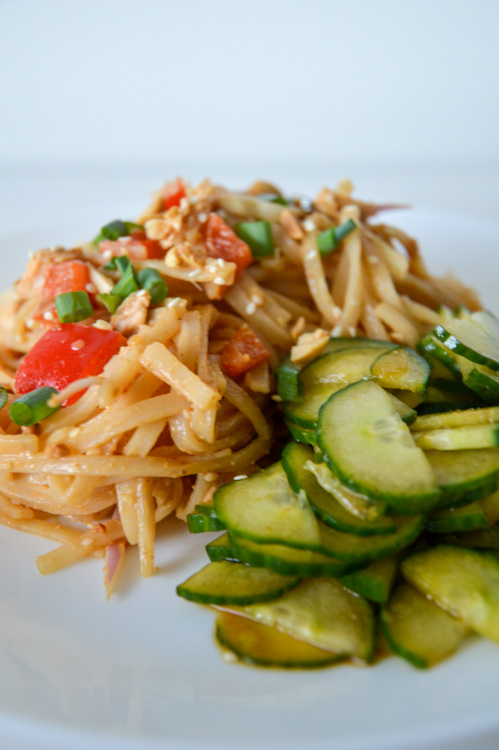 When making the sauce for these spicy peanut noodles, start by mixing the hot water into the peanut butter slowly, a little bit at a time while stirring vigorously. This will make it easier to mix everything else in and help ensure a consistent sauce.
When transferring the drained noodles from the strainer to the bowl, transfer them a handful at a time and shake the excess water off as you do it. When coating the noodles with the sesame oil, do that little by little too, so everything gets coated. It's easiest to do that with your hands.
The key to this recipe is that you use half the sauce before you refrigerate the noodles and half the sauce when you serve them. The noodles will absorb all of the sauce while they're hanging out in the fridge. That means they'll have great flavor, but it also means they'll be dry. So we reserve half the sauce to mix in right before serving.
The noodles will clump together when they're cooling. We transfer the noodles to a much larger bowl than we've kept in the refrigerator to make it easy to mix in the sauce.
Reserve a little bit of the spicy peanut sauce to spoon over the noodles once they're plated. Other toppings we also enjoy are crushed peanuts, fried onions, fresh scallions, and cilantro.
You are also more than welcome to drizzle even more sriracha or chili oil on top if you'd like some more eat. Just make sure to eat them asap after you take them out of the fridge so you can enjoy them nice and cool.
Eet smakelijk!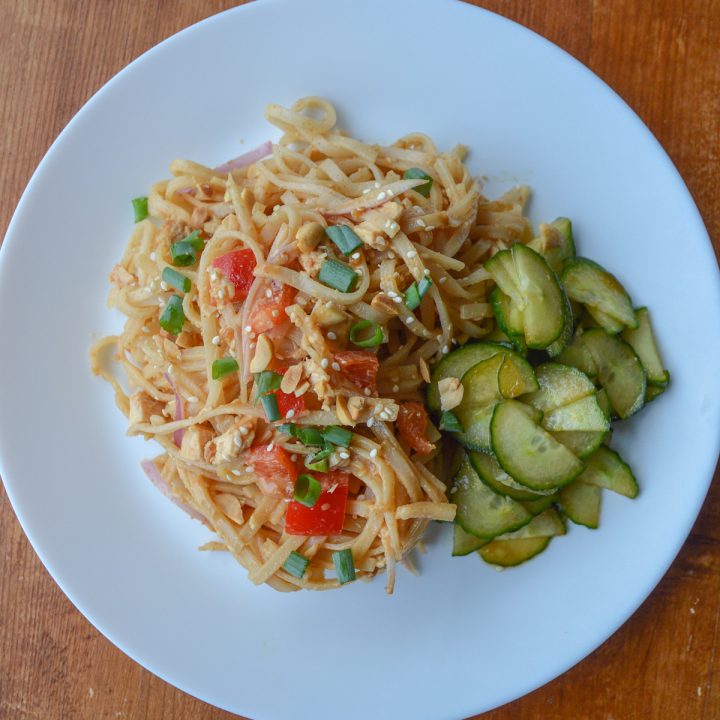 Spicy Peanut Noodles
Total Time:
2 hours
40 minutes
Cold spicy peanut noodles are perfect for a hot summer night. Our recipe is made with rice noodles (no stove required!), a fiery sauce, and a fresh side of vinegary cucumbers. Served chilled, this is a delicious summer savior.
Ingredients
Pickled Shallots
1 shallot, sliced thin lengthwise
1 tsp rice wine vinegar
1 pinch salt
Peanut Sauce for Noodles
1/4 cup peanut butter
1/4 cup hot water
3 Tbsp light soy sauce
1-2 tsp sriracha (depending on your heat preference/tolerance)
1 Tbsp rice wine vinegar
1 tsp kecap manis
1 tsp sugar
2 tsp toasted sesame oil
1 garlic clove, minced
1 Tbsp toasted sesame seeds
Cold Noodles
1 lb rice noodles (we prefer size M)
1 tsp toasted sesame oil
1 cup red bell peppers, diced
4-5 oz cooked boneless, skinless chicken breast or 1/2 lb cooked tofu
Pickled Cucumbers
1 1/2-2 cups cucumbers, thinly sliced
2 tsp rice wine vinegar
1/2 tsp dark soy sauce
1 dash garlic powder
Toppings Suggestions
For something fresh: green onions or cilantro
For texture: toasted sesame seeds, chopped peanuts, or fried onions
For more heat: sriracha or Sichuan chili oil
Instructions
Soak the noodles
Put the dry noodles in a pot and cover with cold water. Soak for at least 30 minutes.
Make the pickled shallots
Soak the shallots in cold water for a few minutes.
Drain and mix the shallots with the vinegar and salt. Set aside.
Prepare the peanut sauce
Slow incorporate the hot water, pouring a little at a time, into the peanut butter, stirring to make a paste.
Add the rest of the sauce ingredients one by one and stir together.
Prepare the noodles
Boil 6-8 cups of water (enough to cover the noodles in the pot with at least an inch of room).
Drain the soaked noodles and put them back in the pot.
Pour the boiling water over the noodles and cover with a lid. Let sit for 6 minutes.
Drain the noodles in a mesh sieve or colander and rinse with cold water.
Transfer the noodles to a bowl and toss with the toasted sesame oil.
Put the pickled shallots (with their liquid) and a few spoonfuls of sauce on the noodles and mix to incorporate. Add a few more spoonfuls of sauce and mix. Add the red pepper and Asian baked tofu or cooked chicken to the bowl and a few more spoonfuls of the sauce and toss all together. You want to use half the sauce now and leave half the sauce for later.
Cover the noodles and the sauce and put in the fridge for at least 2 hours.
Make the pickled cucumbers
Slice your cucumber in half lengthwise and then cut super thin half moons.
Mix cucumber with vinegar, soy sauce, and garlic powder. Cover and refrigerate at least 2 hours.
Serve it up!
Remove noodles and sauce from the refrigerator. Transfer noodles to a large bowl and loosen them up with a fork. Toss all but a few spoonfuls of the sauce in with the noodles.
Plate noodles with a side of the pickled cucumbers. Top each portion of noodles with a final spoonful of sauce and any of the other tasty toppings suggested.
Notes
When we transfer the drained rinsed noodles to the bowl we do a few things. 1) We put a little sesame oil in the bottom of the bowl so the first noodles get covered. 2) We take the noodles out of the strainer a small handful at a time and let some of the water drip off, and then add a little more oil on top of each bunch. 3) We toss everything with our hands because it's easiest.
This dish is vegetarian if you choose to make it with tofu instead of chicken.