Shakshuka for two is perfect for brunch or as a healthy dinner. We add miso paste and sambal oelek to ours to boost the umami and heat. Up your egg game with this spicy, vegetarian, one-pan meal.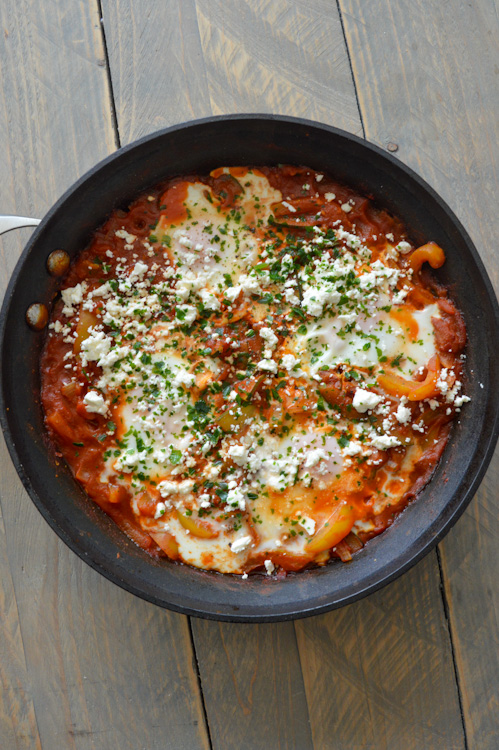 What is shakshuka?
Shakshuka (also shakshouka or chakchouka) is a dish of eggs baked or poached in tomato sauce with peppers and onions. It is commonly seasoned with paprika and cumin.
We've never been to Yemen, from where the dish originates, and we've never been to Israel, where shakshuka is especially popular. But that's one reason we love cooking. You can virtually travel to and taste places you've never visited through food.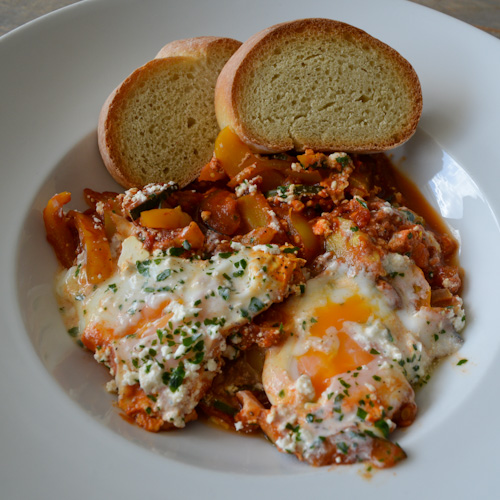 Shakshuka for two or three or four or…
Shakshuka is great for two people. It'll make a brunch a bit more special than just some fried eggs, although it honestly doesn't take that much more work. It's a one-pan recipe and half the cooking time is just letting it simmer on the stove top.
So shakshuka looks impressive while actually being pretty straightforward to make.
If you have guests, or more people in your family, this shakshuka for two can serve four, with one egg per person. We would recommend adding some other sides to your brunch spread in this case. A spinach salad and paprika roasted potatoes would go very nicely.
We use an x-inch pan to make shakshuka for two with four eggs. That's all that will fit, so if you want to make a larger shakshuka for more people, use a bigger pan.
Shakshuka variations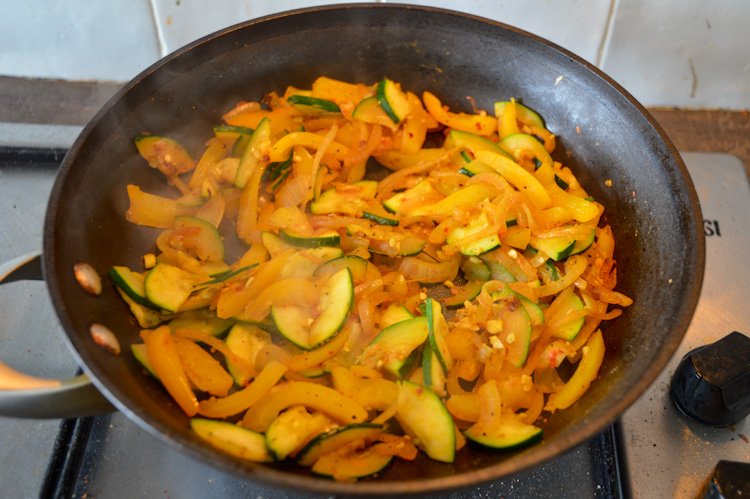 From what we've read, traditional shakshuka always has bell peppers and onions. We like using yellow peppers because they look nice, visually contrasting with the tomatoes, but red or orange peppers will work as well.
Shakshuka for two would be great just like this. But if you want to bulk it up with more healthy vegetables, go for it.
We like ours with zucchini (Sarah is a zucchini super fan), but other vegetables will work just as well. Choose vegetables that will absorb all the delicious tomato sauce and spices you're adding to it.
Mushrooms would be great (just not to Justin, who is the opposite of a super fan). Spinach would be great. But if you add liquid-exuding vegetables like those two you should saute them separately first so as not to water down the shakshuka.
This is most commonly a meat-free dish, but rumor has it that bacon or Italian sausage go really well with eggs.
Why sambal and miso shakshuka?
The addition of two ingredients makes our shakshuka for two different from other recipes you'll read: miso paste and sambal oelek.
When we started experimenting with miso, we tried it in lots of things. One dish it worked especially well in was chili. Shakshuka has a lot of the same ingredients as chili (tomatoes, peppers, onions, cumin) so we thought it was worth a try. It worked. Miso shakshuka is awesome.
Miso paste adds depth of flavor in the form of umami and a velvety texture to the dish. We would recommend red miso paste since it's a stronger flavor, but if all you have is white, it will work just fine.
When we first tried making shakshuka we reached for harissa, to then realize we were out of it. What we're never out of living in the Netherlands? sambal. Its base is hot red chili peppers and we like egg dishes spicy so it was a perfect fit.
If you want to keep your shakshuka vegetarian, make sure to check the ingredients of your sambal. One type we buy has fish paste, but sambal oelek typically does not.
Recipe tips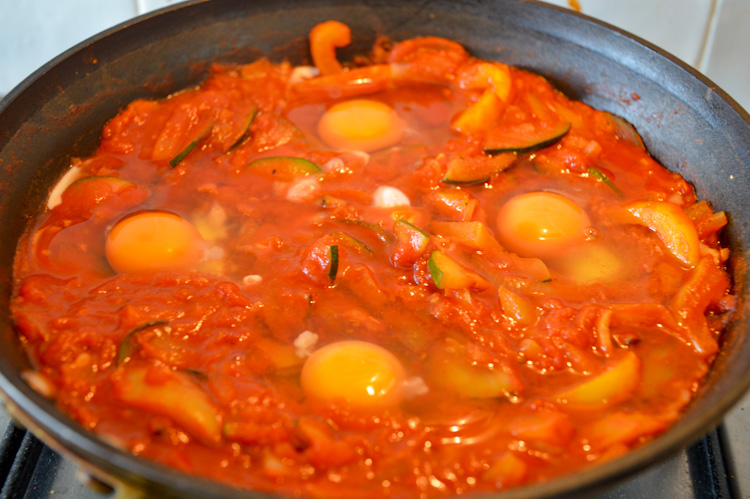 First, chop and sauté the veg with all the spices. Next up, deglaze with some vegetable broth, add the tomatoes, miso paste, and sambal. After stewing a bit, it's time to make your egg wells.
This is easiest done with two people, which is great because shakshuka for two is… for two! One person makes a hole in the stew with a wooden spoon and the other person cracks an egg into it.
Make sure your egg wells are about an inch from the side of the pan.
Now it's time to cover. In an ideal world one would have a lid for their skillet. We don't. Good thing aluminum foil works almost as well. It just doesn't form a seal so the eggs won't cook as perfectly evenly. Foil also doesn't have a handle, so you have to be careful when lifting it (we recommend tongs).
Shakshuka is best with runny yolks, like you'd have in poached eggs. When you eat it, the yolk will mix with the sauce and become even more delicious. But if you don't like runny eggs, don't be scared off. It's pretty good with them cooked all the way through too (we may have learned this the first time we attempted this dish and overcooked our eggs).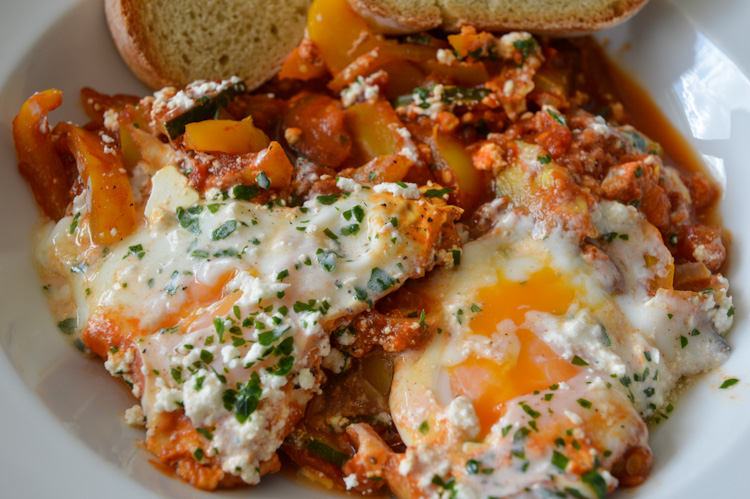 Getting the eggs right is the hardest part of cooking shakshuka and it's the hardest thing to write a recipe for. Everyone's stove and pans are different. It takes between 5-7 minutes to cook our eggs the way we like them. But it may take you 4 or 8 minutes. It just means you have to experiment and make the dish more than once to test it out.
Shakshuka toppings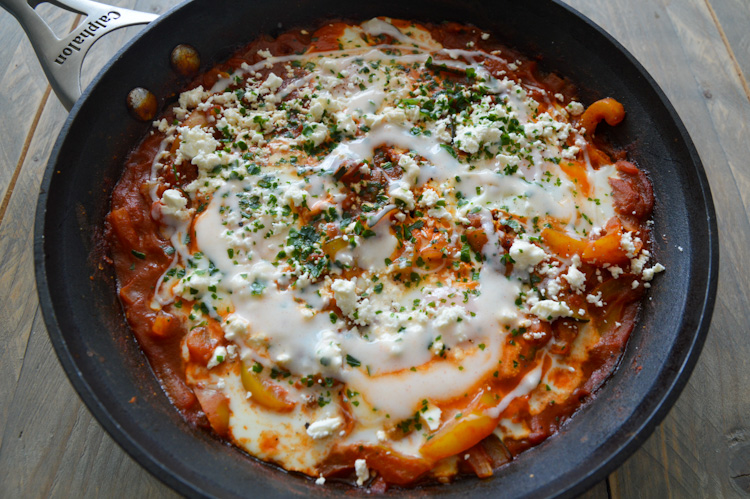 We like topping our shakshuka with something (or a few somethings) that will bring contrasting flavor, texture, and temperature to the dish.
We quite enjoy yogurt sauce. It's both refreshing and decadent tasting at the same time, adding a layer of creaminess you otherwise won't get from the dish.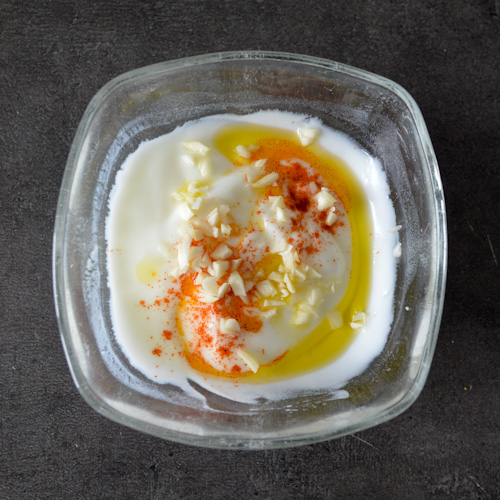 We mix together plain yogurt with fresh garlic, lemon, olive oil, and smoked paprika. Make it first, and keep it in the fridge while you cook the shakshuka so the flavors in the sauce have time to come together. Spoon some on top and serve the rest on the side.
Feta is a common topping choice. It's tangy and creamy, but won't melt. Crumble some on top right before serving.
You can never go wrong with a sprinkle of fresh herbs. We usually have parsley on hand, but most leafy green herbs will go really well on the dish. Cilantro, basil, or mint will each just offer something different. So try them all to change it up a bit.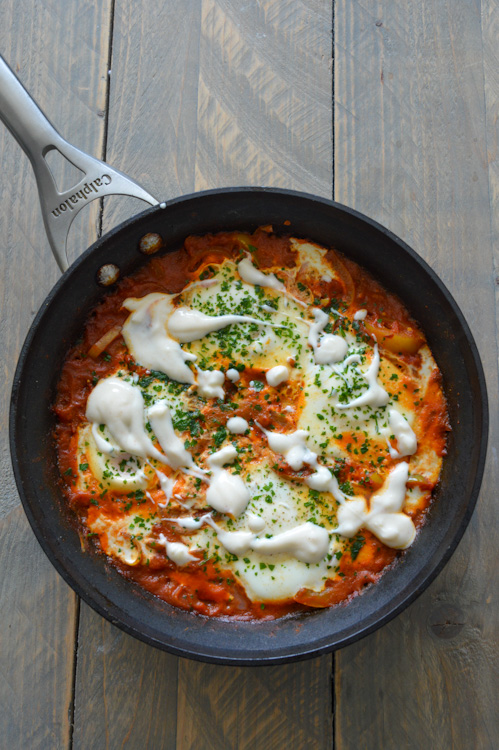 Eet smakelijk!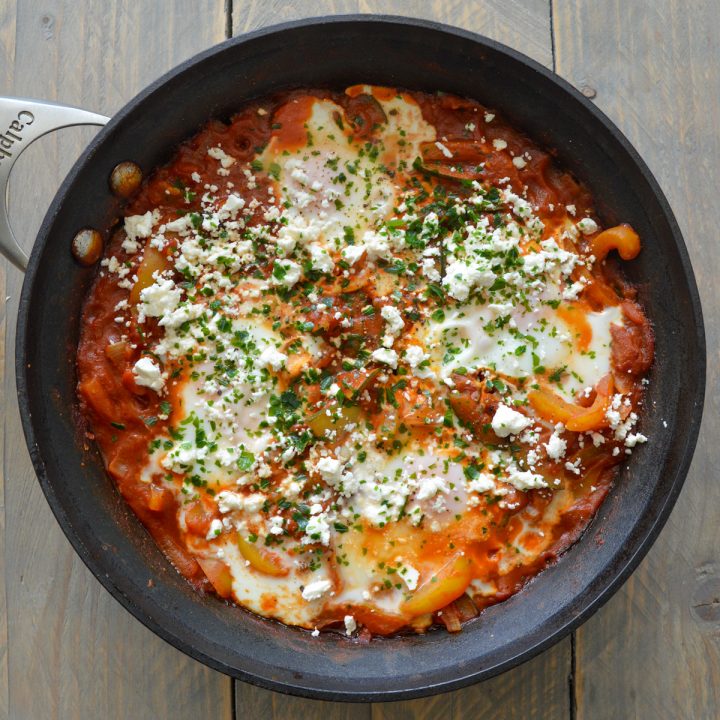 Shakshuka for Two
Shakshuka for two is perfect for brunch or as a healthy dinner. We add miso paste and sambal oelek to ours to boost the umami and heat. Up your egg game with this spicy, vegetarian, one-pan meal.
Ingredients
Yogurt Sauce
1/4 cup nonfat yogurt
1/2 tsp lemon juice
1/2 tsp oilve oil
1/2 clove garlic, minced
2 dashes smoked paprika
1 pinch salt
Shakshuka
1 14 oz can tomatoes, crushed (yields 1.75 cups)
1 tsp olive oil
1 medium yellow onion, sliced
1 yellow pepper, sliced
1/2 zucchini, quartered and sliced thin
3 pinches of salt
1/4 tsp red pepper flakes
1 1/2 cloves garlic, minced
1/4 tsp cumin
1/4 tsp tumeric
1/8 tsp black pepper
1/4 cup vegetable broth
1 tsp miso paste
1 tsp sambal oelek
1 tsp brown sugar
4 eggs
1 oz feta (or any crumbly white cheese)
Parsley or cilantro, to taste
Fresh cracked black pepper, to taste
Instructions
Combine yogurt sauce ingredients in a small bowl and refrigerate while you cook the shakshuka.
Squish the tomatoes in a large bowl or zip them up in a food processor (or buy canned crushed tomatoes).
Heat olive oil in a skillet over medium heat.
Add onion (and a pinch of salt) and saute 2 minutes.
Add peppers (and a pinch of salt) and saute 2 minutes.
Add zucchini (and a pinch of salt) and saute 2 minutes.
Add red pepper flake and saute 1 minute.
Add garlic and saute 30 seconds.
Add cumin, turmeric, and black pepper and saute for 1 minute.
Deglaze with veggie broth, scraping up anything that browned on the bottom.
Add tomatoes to the pan and stir everything together.
Add miso paste, sambal olek, and brown sugar and stir.
Turn heat down to medium/low and let simmer, unovered, for 10 minutes.
Turn heat all the way down to low. Make a well in one corner of the pan with a wooden spoon. Crack an egg into a bowl and pour it into the well. Repeat with the other 4 eggs.
Cover pan with a lid (or aluminum foil if you don't have one like us) and cook 5-7 minutes until eggs are cooked but still runny.
Remove pan from heat. Crack some fresh pepper on top. Sprinkle with cheese and parsley. Pour a little yogurt sauce on top and then serve the rest on the side.
Also serve with crusty toasted bread.
Notes
We have been making this in an 10-inch pan which fits all the ingredients and eggs perfectly. If you have a larger pan, you may need to increase the quantities, but that means more shakshuka for everyone which is never a bad thing.
Cooking time for the eggs will depend on your stove top, if you have a lid for your pan or if you're using aluminum foil, and how you like your eggs. You might need to experiment with this, which should be fun and delicious.