Warm up with our vegan white bean soup. Using dried beans and a little chipotle, it's hefty, hearty, and healthy. This vegan soup recipe will become one of your favorites year-round.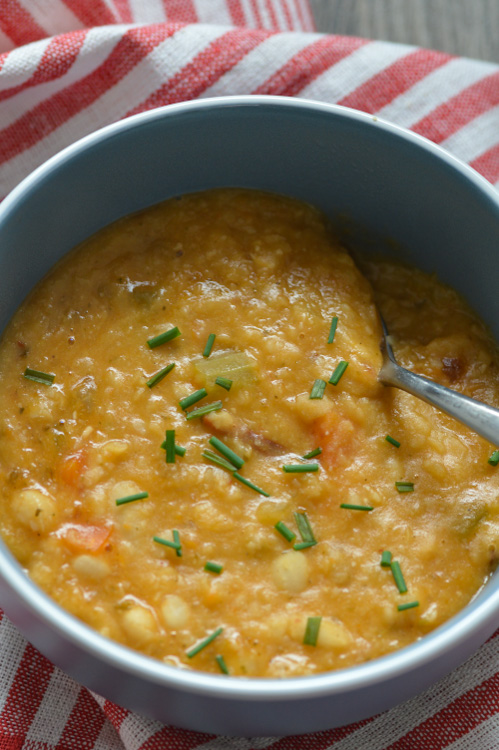 We're soup people. We eat it all the time – at home and on the road. Some of our favorite food travel memories are tied to piping hot bowls of goodness.
While meaty bowls of ramen or pho are spectacular, often a hearty bowl of vegetables or beans can be just as satisfying (take the bowls that warmed us up during our weekend in Sofia, Bulgaria for example).
We digress. Time to make soup.
Ingredients
We're using some pretty standard ingredients in this vegan white bean soup. A few worth mentioning:
Dried beans are key to making any good bean soup. That statement is even truer when you're talking about a vegan soup recipe. They add more flavor and heft. They give you more textural options. They are good, and make a better soup than canned beans.
(And we're not opposed to canned beans, as you know if you've read our tavče gravče inspired Macedonian beans recipe.)
So anyway, use dried beans in this vegan white bean soup. Cannellini, great northern, whatever type you fancy or can find.
The other ingredient that makes this soup interesting, and gives it depth, is chipotle in adobo. This is not a spicy soup. We use just enough to add smokiness and depth of flavor that is otherwise hard to achieve without meat, but not too much to make it hot (we're talking spiciness not temperature).
Last, but not least, there's sherry wine in this recipe. It adds a background sweetness that makes for a well-balanced soup.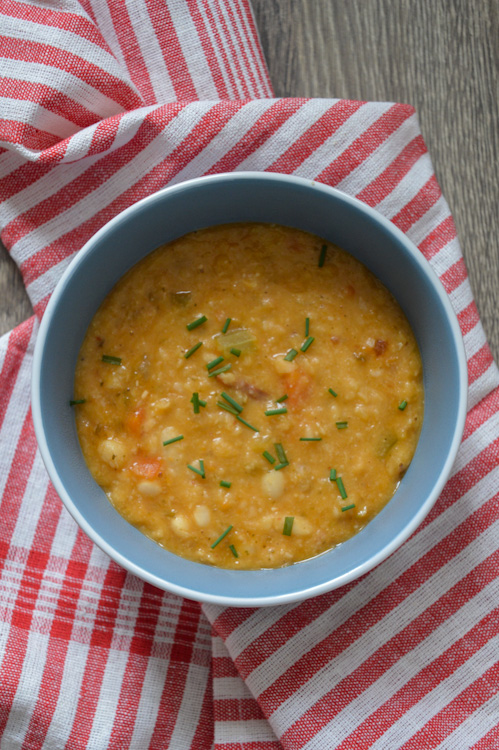 Recipe tips
This is an easy vegan soup. You do have to deal with dried beans, but that just takes time. We prepare our beans in two ways: soaked overnight and then also par-cooked by themselves before cooking in the soup. There are other ways, but this is how we do it.
The other tip related to this soup is regarding blending. When it comes to bean soups, you have a bunch of options. You could not blend it at all and it would be brothier and more veggie-forward. To us, bean soup should be thick.
You could blend it all the way into something smooth and silky. We think that results in something too homogenous and ultimately boring.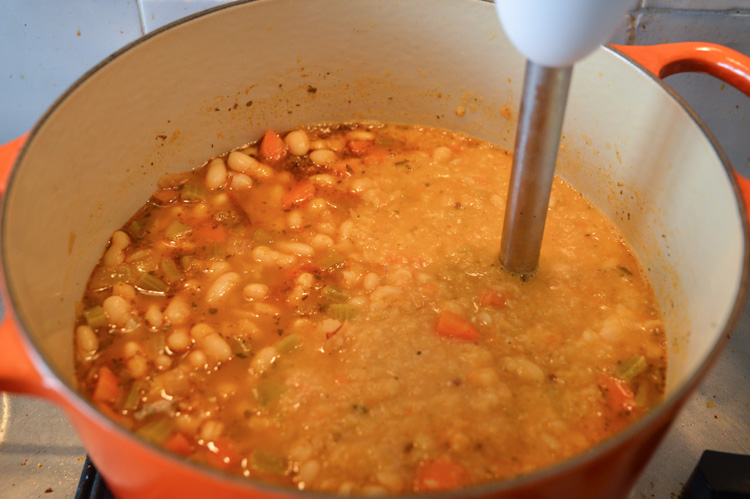 Our preferred soup texture is somewhere in the middle. When it's done cooking (meaning your beans are an edible texture), we blend about two thirds of the soup. We use a stick blender which makes it especially easy, and we turn the heat off when we do this to avoid splattering ourselves with boiling beans. Then we cook it for another five minutes or so to bring it all together.
The result is a thick soup with enough texture (i.e., lumpy bean bits) to keep you wanting to eat the whole bowl.
Serving the soup
This soup calls out to be eaten with crusty bread. It's a must. As far as toppings, go for snipped chives for freshness and hot sauce if you do want to add some spice.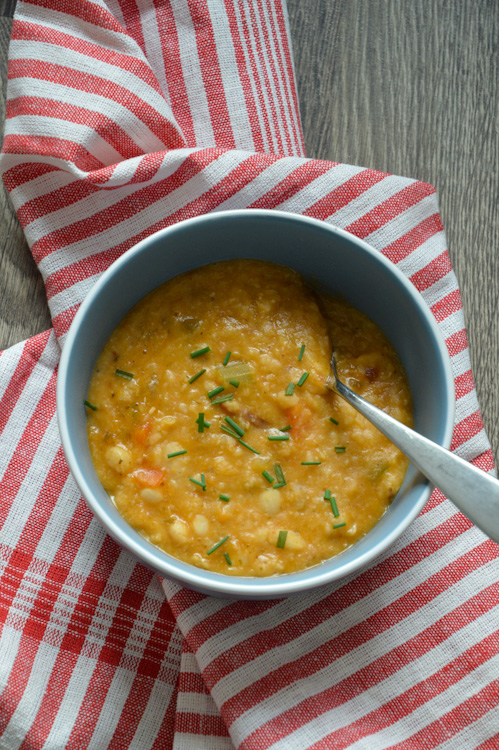 Eet smakelijk!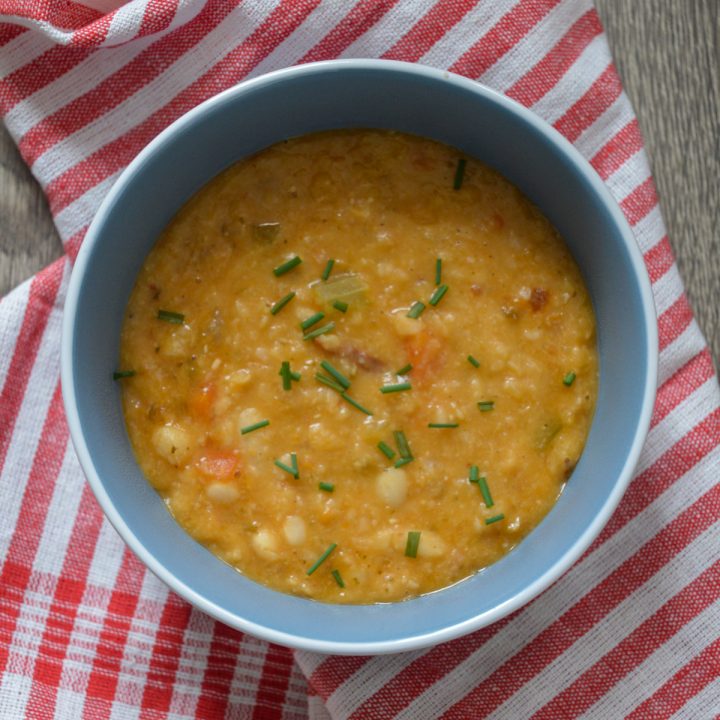 Vegan White Bean Soup with Chipotle
Cook Time:
1 hour
30 minutes
Additional Time:
18 hours
Total Time:
19 hours
35 minutes
Warm up with our vegan white bean soup. Using dried beans and a little chipotle, it's hefty, hearty, and healthy. This vegan soup recipe will become one of your favorites year-round.
Ingredients
2 cups dry white beans
2 bay leaves
1 Tbsp plus 1 tsp olive oil
1 carrot, chopped
1 large yellow onion, chopped
2 stalks celery, chopped
1/4 tsp salt
2 cloves garlic, minced
1 Tbsp chipotle in adobo
2 tsp tomato paste
1 Tbsp dried rosemary
1/2 tsp dried oregano
1/8 tsp black pepper
1/4 cup sherry wine
3 cups vegetable broth
Toppings (optional): chives, hot sauce
Serving companion: crusty bread
Instructions
Soak the beans in water overnight. Rinse the beans and put in a large pot with water, salt, and bay leaves. Bring to a boil, cover, lower heat, and cook for 15 minutes. Turn heat off, and let sit (still covered) for 1 hour.
Drain the beans and reserve one cup of the cooking water.
In a heavy bottomed pot, heat oil over medium-low heat and cook carrot, onion, and celery in the olive oil for 8-10 minutes until soft. Add the garlic and cook for 2 more minutes. Add the chipotle, tomato paste, rosemary, oregano, and black pepper and cook for yet another 2 minutes or so.
Deglaze with the sherry. Add the bean water and the vegetable broth and bring to a boil (4-5 min).
Cover, lower heat, and cook for 45 minutes.
Turn off the heat and blend with a stick blender until you achieve your desired consistency (see note).
Turn heat back on and cook for ~5 minutes.
Top with more black pepper, chives, hot sauce, and serve with crusty bread.
Notes
If you don't have a stick blender, you may have to transfer the soup in batches to your regular mixer.
You can blend this soup as much or as little as you want. We like a thick soup, but also like it to retain some texture (i.e., lumpy bean bits).