Our Flammkuchen with white asparagus is a seasonal twist on a classic. This light and crispy pie is topped with rich and decadent ingredients.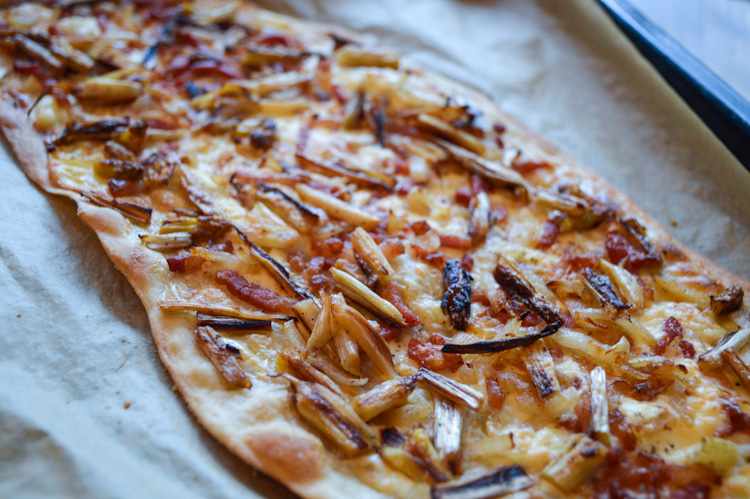 What is Flammkuchen?
Flammkuchen is a flatbread that has been baked in (preferably, though not in this household) a wood-fired oven.
It's a German word for a German and French dish, coming from the Alsace and surrounding regions along the border of the two countries. In France, it's called tarte flambée.
A traditional Flammkuchen consists of a super flat, super thin crust smeared with crème fraîche or fromage blanche and topped with bacon lardons and onions. It's a great combination of different textures and flavors: crispy and creamy, luxurious yet light, and salty with a hint of sweet. When done right, it's pretty perfect.
We first ate the dish on our honeymoon in Strasbourg, France, capital of the Alsace. We loved it so much, after finishing our individual pies, we ended up ordering a third to share between the two of us.
Our next foray into the world of this baked delight was several years later in Freiburg, just across the border in Germany. It's a beautiful city near the Black Forest. You can visit our other site to read more about our most recent trip there and all the Flammkuchen in Freiburg we ate (it was a lot).
What is white asparagus?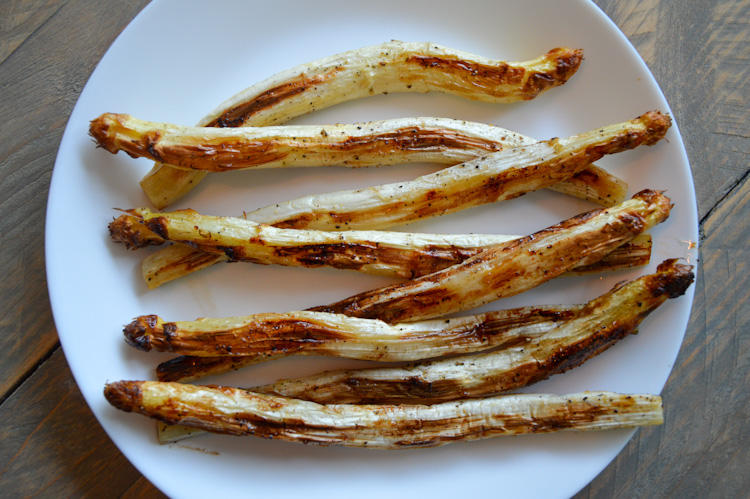 White asparagus is green asparagus' more regal relative. Known as "white gold" in Germany and the Netherlands, it's juicier and sweeter than the green variety.
Germans adore the stuff, and so do we. So we thought it would make the perfect addition to a Flammkuchen. Because even though the classic is good as is, you really can add whatever you want to a Flammkuchen.
Ingredients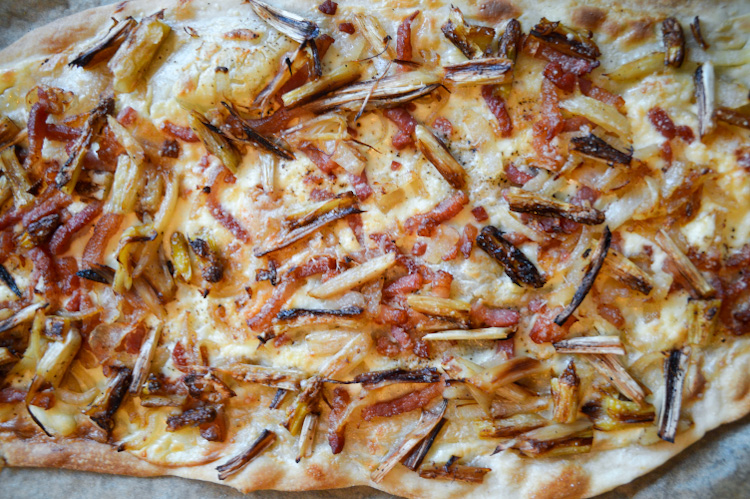 Flammkuchen dough
When we created this recipe, we had no idea how to make Flammkuchen. (You can read more below about how our first attempt didn't turn out so well.) So we started by researching all the different Flammkuchen recipes out there.
We learned Flammkuchen crust recipes fall into two camps: with leavening agent and without. We first made Flammkuchen early in the global pandemic when there was a major leavening shortage. We were psyched to have scored a kilo of flour, but there were no leavening agents to be found.
Other than that, most of the recipes for Flammkuchen crust are very similar. The one that worked best for us, that we've adapted slightly for this recipe, is Ester Kocht's Flammkuchen recipe.
It's incredibly simple: flour, salt, water, and olive oil. Ester's recipe calls for a pinch of nutmeg. We increased the amount of that just a bit because nutmeg works really well with white asparagus and we wanted that flavor to come out more.
To make the dough, you just mix it all up in a bowl until it forms a ball. Set it aside (covered) while you make the rest of your toppings, and roll it out (super thin – more on that in the tips section) right when when you want to top and bake it.
Flammkuchen toppings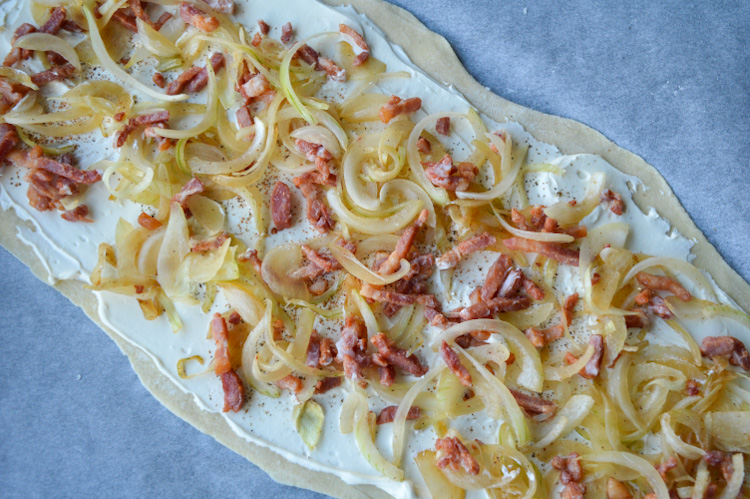 The first thing that goes down on the rolled out Flammkuchen dough is the crème fraîche. We sprinkle salt, pepper, and nutmeg on top (some people mix it in first, but we think the payoff is the same with less work here).
Next, come the toppings.
Traditionally, the bacon and onions are thrown onto the crust raw and only cooked when the whole Flammkuchen is being cooked. That gives the dish a bit of a bite because the onions aren't fully cooked through and it also means you're not getting the crispiest of bacon.
We made a few adjustments for our recipe. Though we don't shy away from raw onions, we much prefer lovely cooked, caramelized onions. And in our opinion, bacon only gets better the crispier it is. So we cook both the bacon and the onions a bit before topping our crust with them.
And then we add our roasted white asparagus. We tweak our recipe slightly by adding a little nutmeg to the recipe before roasting it (to continue with the theme of nutmeg).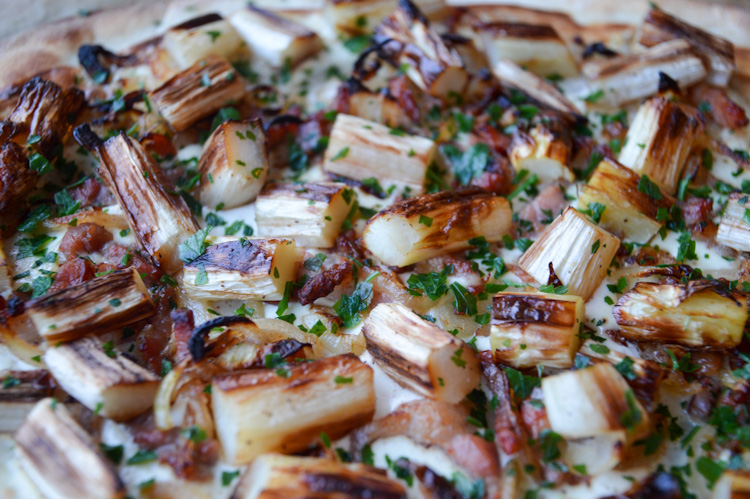 We cut the asparagus up into bite-sized pieces before adding it to the Flammkuchen. As we discussed in that recipe, white asparagus can be a bit stringy and you don't want to have that detract from the enjoyment of eating your Flammkuchen. Cook the asparagus so it has at least 10 minutes to rest and cool off a bit before you cut it up.
Our last topping is also not traditional. Halfway through cooking, we sprinkle some Italian-style grated cheese (like parmigiano regiano or grana padano) on top. It adds even more salty, nutty, umami flavor to the dish.
Tips for making good Flammkuchen
We must admit the truth. Our first attempt at making Flammkuchen was a complete fail. But we learn from our mistakes, and more importantly, we know what we did wrong. Here are our tips for how to make a great Flammkuchen.
Tip #1: roll out your dough super super thin. The biggest mistake we made on Flammkuchen attempt #1 (eg, the big Flammkuchen fail) was not rolling it out thin enough. We were afraid it wouldn't support the weight of all the toppings. And we didn't know what we were doing. The result was a leaden brick of a thing. So if you want a light and crispy crust, roll out that dough as thin as you possibly can.
Tip #2: don't just dump all the water that this recipe calls for into the flour when you're making the dough. Start by pouring 3/4 of it in, and check the consistency. Then pour the rest little by little as you need it. You may need a little less or even a little more. Though the recipe we follow is generally correct, if you're not weighing your flour (we don't), you're probably using a slightly different amount than we are.
Tip #3: don't use the fan/convection setting on the oven. This may seem obvious to you not so novice bakers out there, but it wasn't to us. Put your oven on regular bake.
Tip #4: don't shy away from the crème fraîche. We didn't use enough the first time around. Really, there's no "enough" when it comes to crème fraîche. Slather it on. Oh, and while you can substitute crème fraîche with sour cream, that should really be a last resort.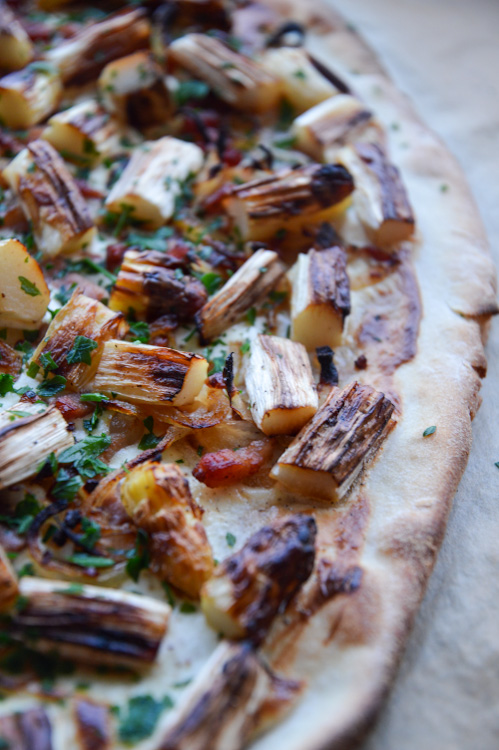 Eet smakelijk!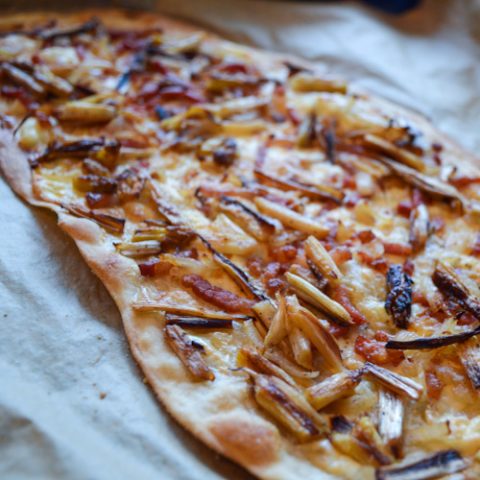 Flammkuchen with White Asparagus
Our Flammkuchen with white asparagus is a seasonal twist on a classic. This light and crispy pie is topped with rich and decadent ingredients.
Ingredients
Flammkuchen Dough
1 cup flour, plus more for rolling
1/4 tsp salt
1/8 tsp nutmeg
1/4 cup lukewarm water
1 Tbsp olive oil
Flammkuchen Toppings
1/2 pound roasted white asparagus, plus 1/4 tsp nutmeg
1 cup bacon lardons
1 medium onion, sliced
1/2 cup crème fraîche 
1/4 tsp salt
1/8 tsp pepper
1/8 tsp nutmeg
1 1/2 Tbsp parmesan cheese (or similar), grated
Optional: parsley
Instructions
Preheat the oven to 425°F. Make our roasted white asparagus, but tweak the recipe slightly by adding 1/4 tsp nutmeg with the rest of the seasoning. When the asparagus is cooked, let it rest and cool off a bit and turn the oven up to 450°F.
Make the dough by mixing the dough ingredients in a bowl until they come together in a ball. Cover with plastic wrap or a towel and set aside.
Cook the bacon lardons in a skillet over low heat until halfway cooked, approximately 5 minutes. Remove from pan and set on a paper towel to drain.
Remove all but approximately 1 tsp bacon fat from pan and turn to medium heat. Cook onions until they start to soften, approximately 3-5 minutes. Remove and set aside.
Lay a piece of baking paper on your work surface and sprinkle it generously with flour. Knead the dough 2-3 times and then roll it out as large (within the confines of the baking paper) and as thin as possible. Transfer to your baking sheet.
Smear the rolled out dough with crème fraîche and sprinkle it with salt, pepper, and nutmeg. Scatter your bacon, onion, and asparagus on top.
Bake the Flammkuchen in the oven for 8 minutes. Take it out and sprinkle with cheese and put it back into bake for another 7 minutes. Sprinkle with parsley (if desired), cut into squares, and enjoy.
Notes
When making the dough, don't pour all the water in at once. Go a little shy to make sure you need it all. If you end up needing a little more, add it as tiny a bit as a time.
Roll out the dough as thin as possible. This will ensure a light and crispy crust.
Go heavy on the crème fraîche and enjoy every bite.