Schupfnudeln are one of our favorite Christmas Market foods. Turns out these German potato dumplings are pretty easy to make at home too.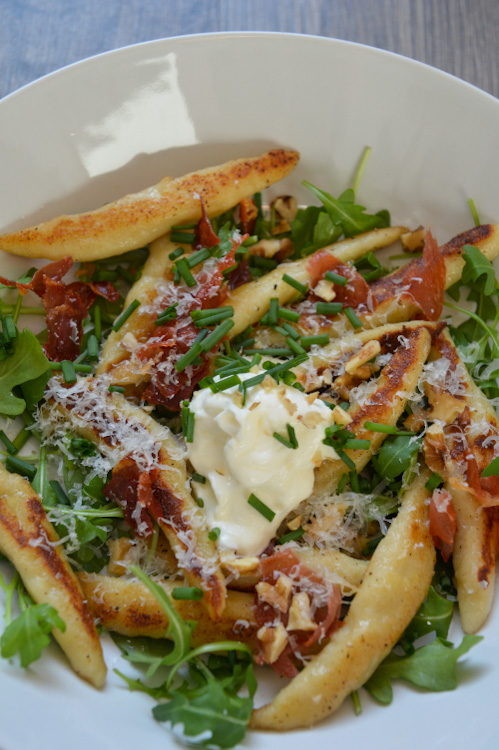 Schupfnudeln are hand-rolled dumplings. The dough is made from flour, potatoes, and eggs. They are a simple food really. But everyone knows that sometimes the simplest foods are the best.
Schupfnudeln are a staple German Christmas Market food. Typically, you'll see these tasty fellas being sautéed in enormous quantities in enormous woks with sauerkraut and speck. And when you're standing outside in the cold and you want some hearty food to warm your body, heart, and soul there's no better dish to turn to.
And yet, the version of Schupfnudeln that has stuck with us as one of the best Christmas Market dishes we've had was a bit different. A bit special. Fancy if you will. It even had green vegetables which are few and far between at these stalls.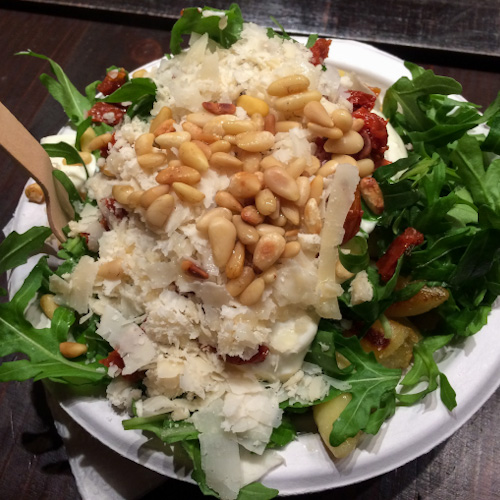 This year, we decided to have a Weinachtsmarkt zuhause and make it. This is the dish that inspired this recipe. It did not disappoint. It's delicious, even without the festive surroundings.
Ingredients
The Schupfnudeln themselves are the simplest part of this dish. They're basically the same as gnocchi (if you're more familiar with that potato dumpling), made from flour, potato, egg, salt. But they also have a little nutmeg because they're German potato dumplings.
They're essentially a blank canvas for whatever toppings you want to add. As we mentioned above, the most common iteration of the dish at German Christmas Markets includes speck and sauerkraut.
But our version is not that simple. It is instead topped with arugula, crispy serrano ham (or prosciutto), chopped walnuts, parmesan cheese, crème fraîche, and chives for good measure.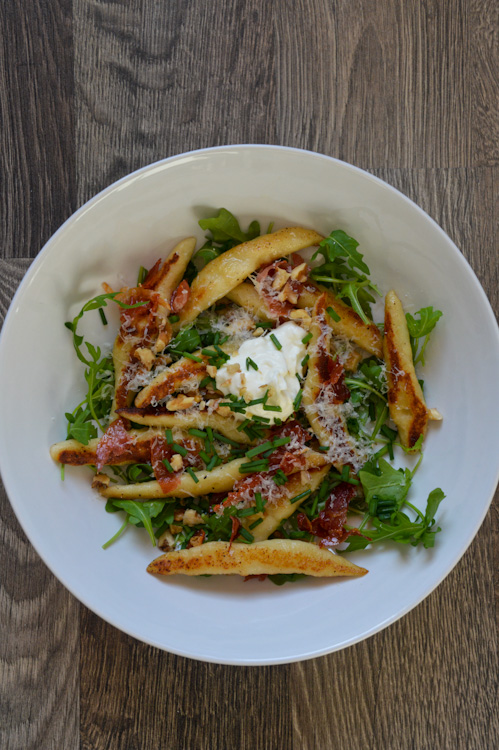 Recipe tips
We only really have one tip for making the Schupfnudeln: a light touch. The dough gets a bit sticky and the dumplings are easier to roll and form if you handle them lightly.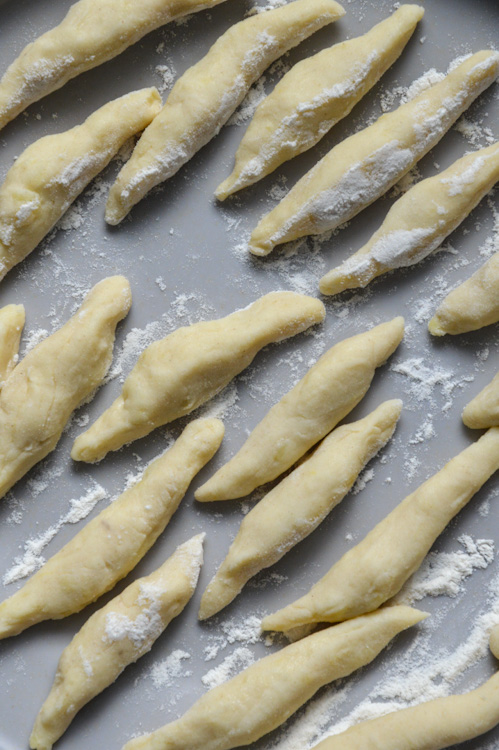 Though some recipes call for putting the raw dumplings right into the pan to sauté, we recommend boiling them first. And actually, you can form the dumplings and boil them in advance so dinner will be nice and quick.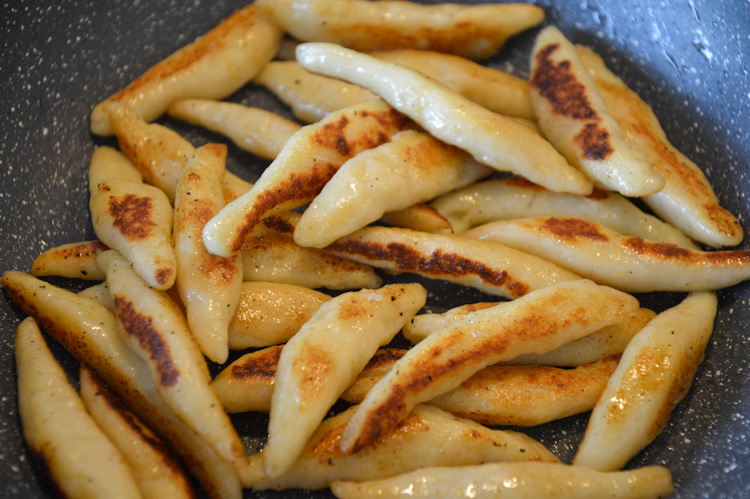 Aside from those things, though you'll want to eat them faster, let them sauté in the pan with butter for enough time to get properly brown (~7 minutes).
< Try another German specialty next: Flammkuchen with white asparagus >
Eet smakelijk!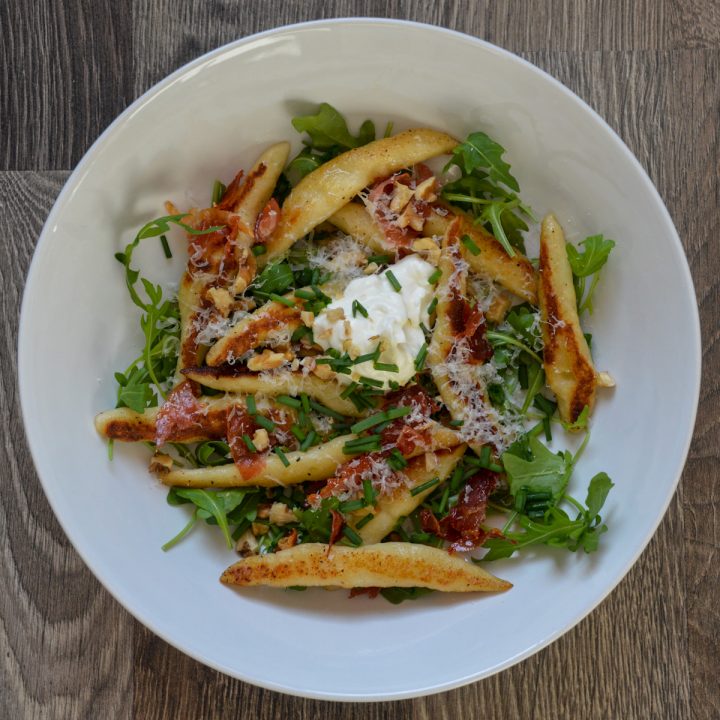 Schupfnudeln Rezept
Additional Time:
20 minutes
Total Time:
1 hour
32 minutes
Schupfnudeln are one of our favorite Christmas Market foods. Turns out these German potato dumplings are pretty easy to make at home too.
Ingredients
1 lb potatoes
1 cup all purpose flour
1 egg, beaten
1/2 tsp salt
1/8 tsp ground nutmeg
1/8 tsp olive oil
3 slices prosciutto or serrano ham (or similar)
1 tsp unsalted butter
Cracked black pepper, to taste
2 large handfuls of arugula
8 walnuts, chopped
Crème fraîche or sour cream
Parmesan cheese, grated or shaved
Optional: Chives
Instructions
Boil potatoes until tender. Drain, peel, and let them cool a bit. Mash them well enough to remove any large lumps.
Knead into a dough (on a floured surface) with the flour, salt, nutmeg, and egg. Divide dough into 3 smaller balls.
Roll each ball out (on a floured surface) into logs 1 inch in diameter and cut that into 1-inch pieces. Roll each piece between your palms to form a dumpling that is thicker in the middle and tapers off at the ends.
Set your Schupfnudeln aside to rest for at least 20 minutes.
Bring a large pot of water to a boil (while the Schupfnudeln are resting). Salt it generously and add in your dumplings. Cook for 2-4 minutes until they float to the top. Remove with a spider and put in an oiled bowl.
Heat olive oil over medium-low heat. Add ham and cook for a few minutes until crisp. Remove to a paper towel lined plate to drain. Crumble when cool.
Add butter to the pan and cook your Nudeln until they start getting brown and a bit crispy (around 7 minutes). Crack some black pepper into pan as they're cooking.
To serve, make a bed of arugula on the bottom of a bowl, add the Schupfnudeln, and top with crispy ham, walnuts, crème fraîche, cheese, and chives.
Guten Appetit!
Notes
You can form and boil the dumplings in advance. We tossed them in a little olive oil and put them in the fridge overnight and they were easy to sauté up the next day. Great!
A more traditional way to serve Schupfnudeln is by sautéing the dumplings with sauerkraut and bacon.