This spiced plum chutney will become a staple in your fridge. The onions and dried spices make it the perfect combination of savory and sweet. You'll want to put it on everything.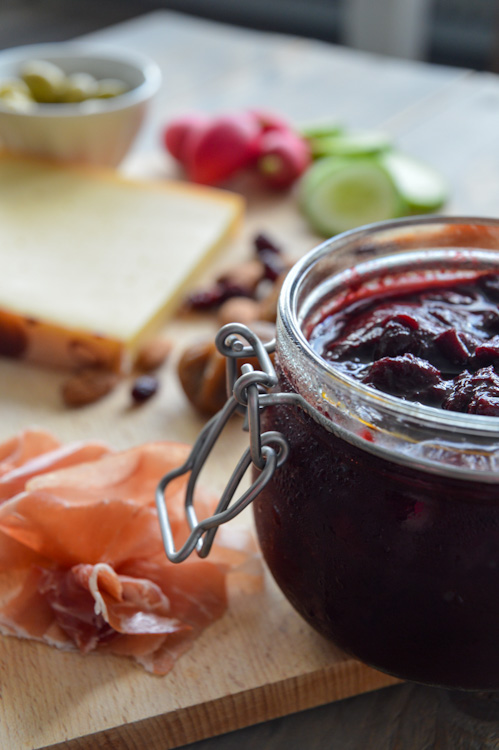 The inspiration for this cooked chutney came not from our travels, but from a plum sale at our local market. We couldn't resist buying a kilo for a Euro. When we got home, we realized they were a little bruised and mushy and not the best for eating out of one's hand.
And so the spiced plum chutney was born.
Our history with chutney prior to creating this recipe was limited, though always positive. Most often we find it as a welcome accompaniment to the Indian feasts we've enjoyed.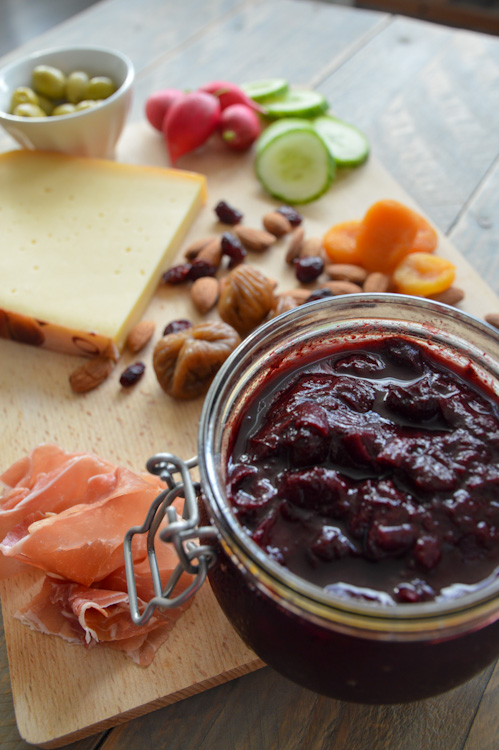 In researching chutney further, we've learned that the chutneys of India are more often than not fresh. We are more familiar with the British invention of cooked chutney and so that's what we have here. It benefits us – especially this year – to have something that keeps well in the fridge for weeks if not months at a time.
Especially when that thing is sweet and savory and adds a pop of flavor and fun to any spread.
This spiced plum chutney has plenty of spices, but it only has a hint of heat. Though it takes a while to cook (~3 hours), it's incredibly easy. So make it and enjoy it with cheese or bread or meat or just on a spoon.
Ingredients
This chutney does indeed have a lot of plums. As mentioned above, they don't have to be the best, freshest plums. You're cooking them so long they will break down. Riper is better since you want them to add as much sweetness as they can.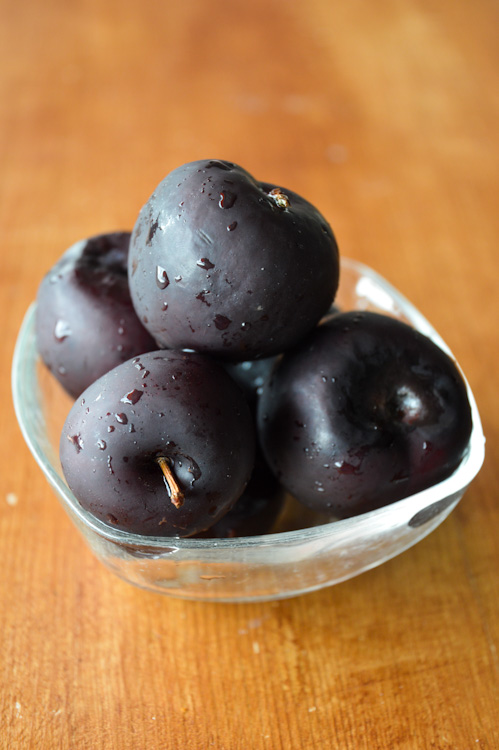 This is also an onion chutney, as onions are the next main ingredient. Use what you have. Yellow, Vidalia, shallots will do. We haven't tried this recipe with red onions but are pretty sure it would be just fine, if not a tad bit bitier.
Dried cranberries go in as well, adding tartness and texture.
This is a recipe made for your spice cabinet. We enjoyed searching through our little jars and tossing in what sounded delicious. Cardamom, coriander, cinnamon, and mustard powder are the bulk of the flavor. Don't be scared of the cayenne. After cooking so long, you'll just get a hint of heat in the final result. And it's needed to cut through all the sweetness.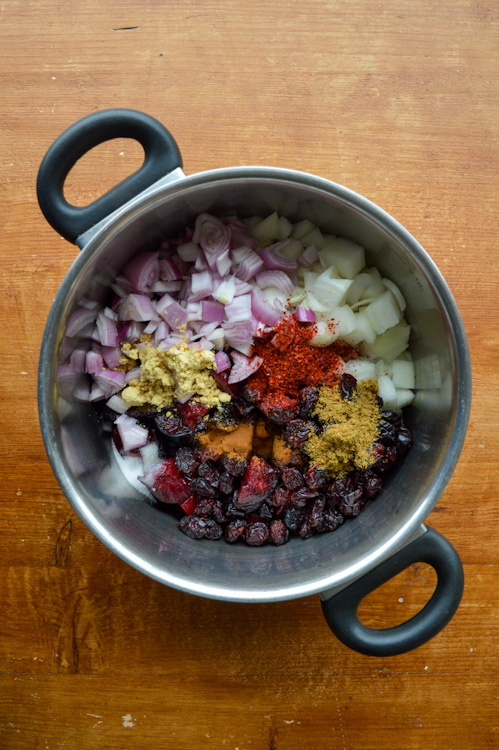 We use a combination of two vinegars: apple cider and balsamic. They both add different levels of acidity, sweetness, and tang. The balsamic also adds a bit of heft to balance everything out.
There are other ingredients of course including sugar and salt, so be sure to read the recipe card for the full list.
Recipe tips
We have three tips to make sure your spiced plum chutney turns out perfectly.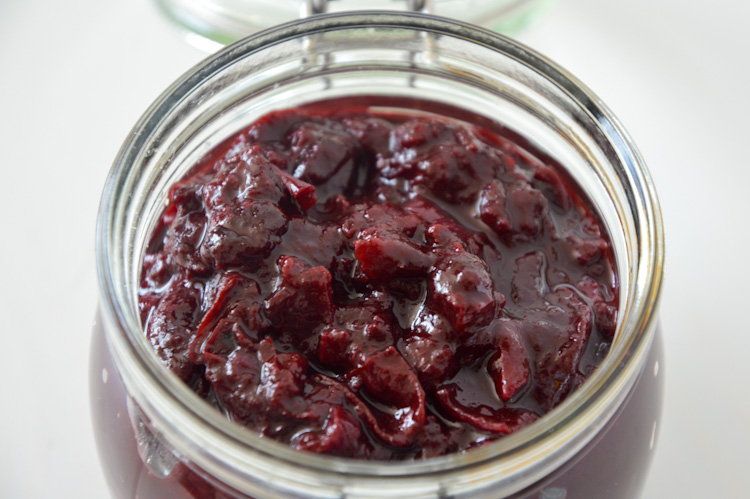 First, after putting all the ingredients in the pot, add enough water so it comes up to about 1/2 inch below the surface. The amount of water will vary depending on the size of your pot.
Second, keep an eye on it. In the beginning check and stir every half hour. Towards the end, do this every 10 minutes or so. Otherwise it will stick to the pot and burn and that would be dreadful.
Third, get yourself a good jar to keep it in. We've never presereved it. But we do keep it in a glass jar with a lid that properly seals with a rubber ring. In the fridge, it's lasted us 2 months. Honestly it might last longer if we didn't eat it so much.
Serving ideas
Our favorite part of Dutch culinary culture is what's known as the borrel. It typically consists of a gathering of friends or family around drinks and plates of finger foods including the most delicious Dutch kaas (cheese) and bitterballen.
Our spiced plum chutney (along with our whole wheat beer bread) has raised the stakes when it comes to our borrel spread. It will elevate any cheese plate to the highest levels.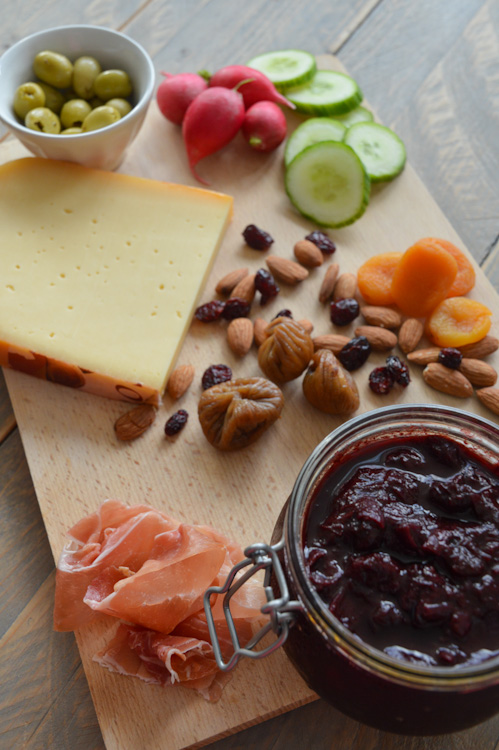 However, it is also delicious on a chicken sandwich. Or (as we recently learned) as a cranberry sauce stand-in on Thanksgiving. If you want to add something sweet and bright to a dish or a spread, give it a try.
Eet smakelijk!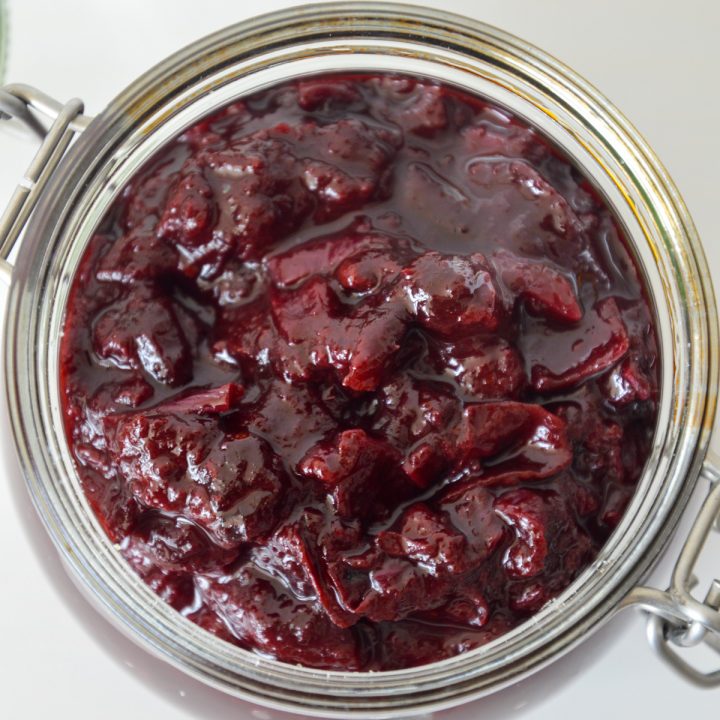 Spiced Plum Chutney
Cook Time:
2 hours
45 minutes
Additional Time:
10 minutes
Total Time:
3 hours
5 minutes
This spiced plum chutney will become a staple in your fridge. The onions and dried spices make it the perfect combination of savory and sweet. You'll want to put it on everything.
Ingredients
2 lbs plums
3/4 lb onions (yellow or Vidalia, or even shallots)
3/4 cup dried cranberries
1/2 cup brown sugar
1/4 cup white sugar
1 1/2 tsp mustard powder
1 tsp coriander powder
1/2 tsp cardamom powder
1/4 tsp ground cinnamon
1/4 tsp cayenne
1 tsp salt
1/8 tsp black pepper
3/4 cup apple cider vinegar
1/2 cup balsamic vinegar
1/2 - 3/4 cup water (depends on how big your pot is)
Instructions
Pit the plums and cut them into 8 pieces.
Chop the onions into 1/2-inch pieces.
Put everything into a medium-large sized pot. Adjust the amount of water depending on the shape and size of your pot. The ingredients do not need to be completely submerged. The liquid should come up to about 1/2-inch below the surface.
Turn heat on and bring to a boil. Reduce heat to low and cover for 30-45 minutes. When you remove the lid, all the ingredients should now be completely submerged.
Cook on low, uncovered for another 2 hours. Check on it every 30 minutes until the end, when you want to check every 10 minutes. The goal is to cook and break everything down into something that looks like a chutney. There should still be a little liquid at the end, which will congeal nicely.
Remove from heat and let sit at least 10 minutes to cool and settle before putting into clean jars. Let jars cool completely before putting in the fridge.
Notes
The chutney should keep at least 2 months in the refrigerator. That's based on our own personal experience. It may keep longer, we wouldn't know because once we make it we want to put it on almost everything.